Can You Really Get Braces At Home?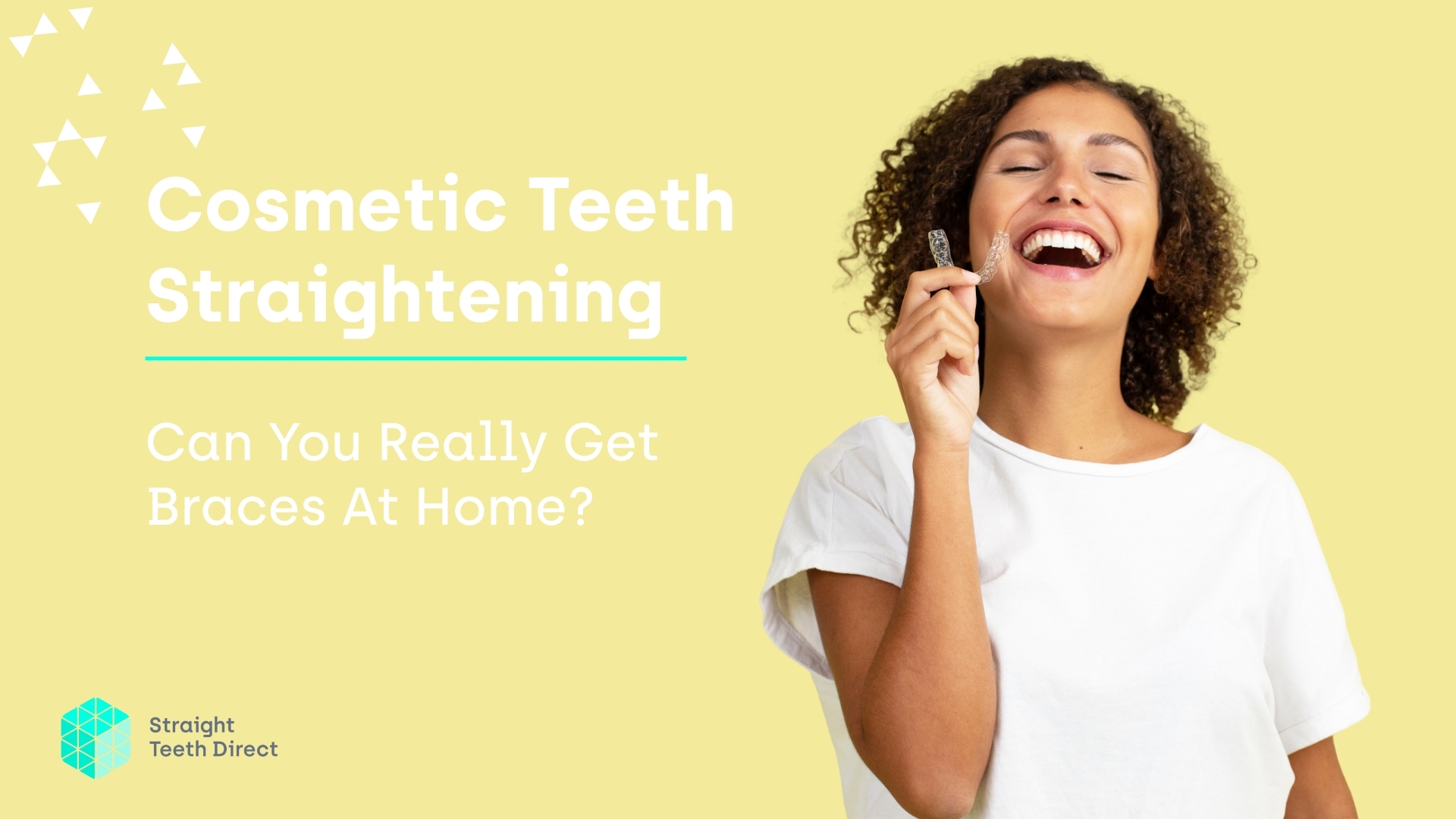 Table of contents
#1 What is Cosmetic Teeth Straightening?
#2 The impact of teledentistry in cosmetic teeth straightening
#3 Why Straight Teeth Direct isn't DIY
#4 Your dream smile in 3 simple steps!
Many people think it's impossible to straighten teeth at home. And these are some common objections to cosmetic teeth straightening at-home methods:
Have you heard this before?
After ages of fixed braces being the only teeth straightener available, it's only natural that people would not choose teeth straightening at-home over them.
So, in this blog, you'll learn how it's possible to safely and professionally straighten your teeth from the comfort of home with Straight Teeth Direct's invisible aligners.
#1 What is Cosmetic Teeth Straightening?
Cosmetic teeth straightening focus on moving the front teeth – those visible in your smile line. As the name implies, this kind of treatment is only suitable for a cosmetic fix. For more complex cases other types of orthodontic treatments would be a more suitable option. That is why at Straight Teeth Direct we treat each case individually and the first step is always for you to start your free e-consultation to see if you're suitable.
This type of teeth straightening treatment focuses on fewer teeth. As such, it's possible to achieve visible results a lot quicker, in as little as 6 months. That's its biggest benefit in comparison to fixed braces or other traditional methods. Apart from that, it is also more comfortable and less painful moving your teeth – being more gentle on gums and soft tissue.
#2 Teledentistry role in cosmetic teeth straightening
1.1 Dental technology at your service
As a rule of thumb, innovation in dentistry results in more expensive tools and gadgets, making it less affordable and more elitist. Even though it enables more precise and powerful procedures, they usually come at an extra cost for the patient.
With Straight Teeth Direct, patients finally have something to smile about! We use technology to make the whole cosmetic teeth straightening process more affordable and convenient through teledentistry practices. To sum up: you can get straight teeth entirely remotely from the comfort of your own home.
1.2 Ditching the in-clinic dentist
Have you ever doubted whether you actually needed the dental procedure your dentist recommended? Or if you really needed to have certain teeth removed? Over time, many people lose trust in their dentists, and avoid visits to the clinic at all costs.
"Research shows that as many as 7,500 people a week visit their GP rather than a dentist when experiencing dental problems." (Cardiff University Research).
The three main reasons found were the high cost, fear and inconvenient office hours. 
Additionally, many patients just didn't get what they wanted out of their visit and already wasted their time to get there. When you go to a clinic, you are seeing a clinician but you are also going to a business where the different options have an economic impact on the practice. As such, they're interested in selling you the most profitable option.
They might recommend fixed braces because "You're not suitable" for invisible aligners treatment, or simply because your dentist doesn't offer that type of treatment.
In actual fact, they would be happier if you opt for fixed braces as their lab fees for custom aligners are too high. Additionally, you might be recommended braces to remain in treatment for 3 years, as the clinic receives money for each visit you pay them.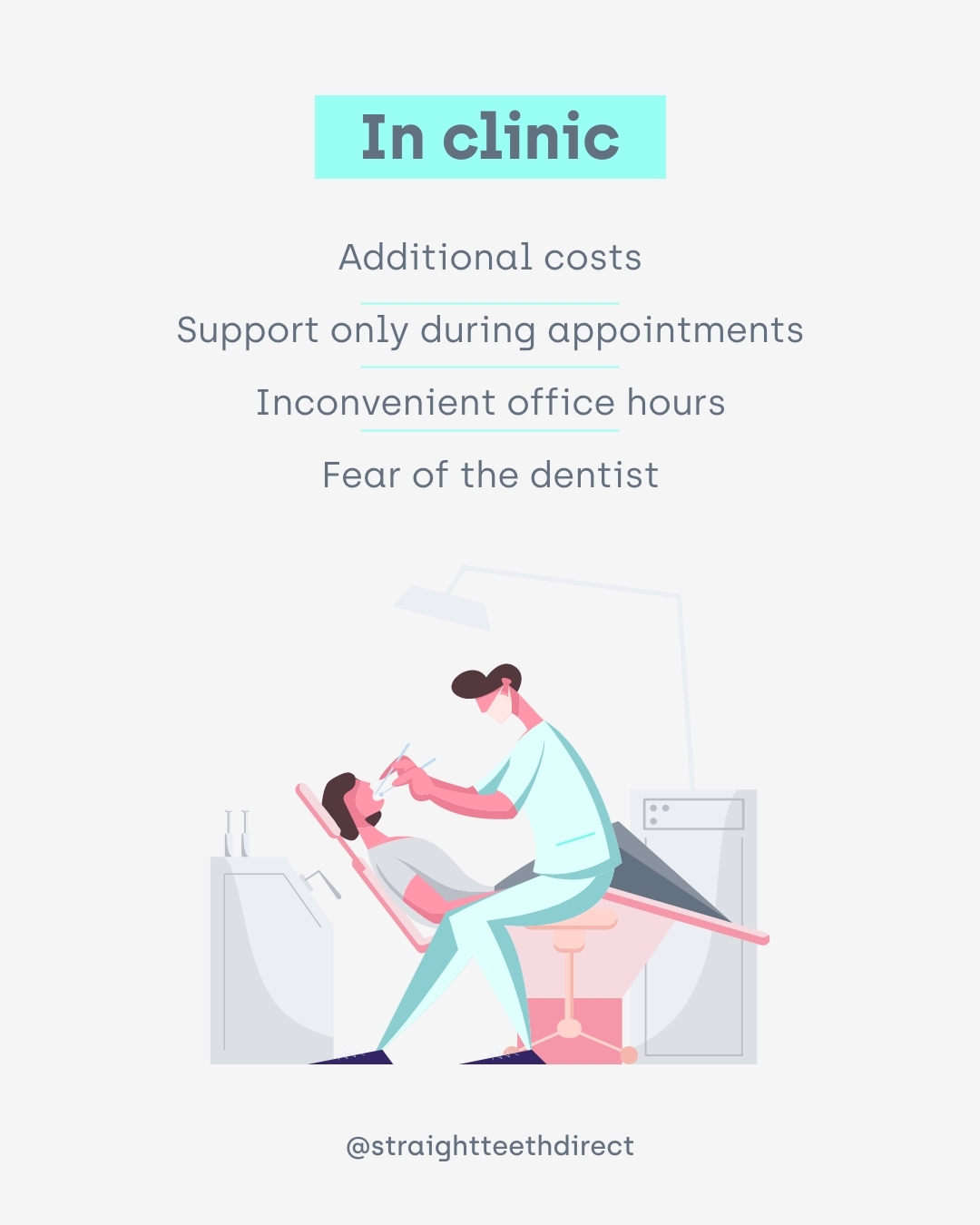 1.3 Teledentistry and Straight Teeth Direct
We want everybody to feel good about themselves and believe in the beauty of a naturally straight smile. This means that, even when straight, no two smiles look the same and every treatment case is highly specific. Our method is designed to work around your busy lifestyle, there is no pressure or confusion. All your records are saved within the Straight Teeth Direct app and you yourself can access them whenever, wherever you want. Say goodbye to closed conversations – we'll never ask you to just listen to what your dentist says, which, let's face it, is often intimidating.
#3 Why Straight Teeth Direct isn't DIY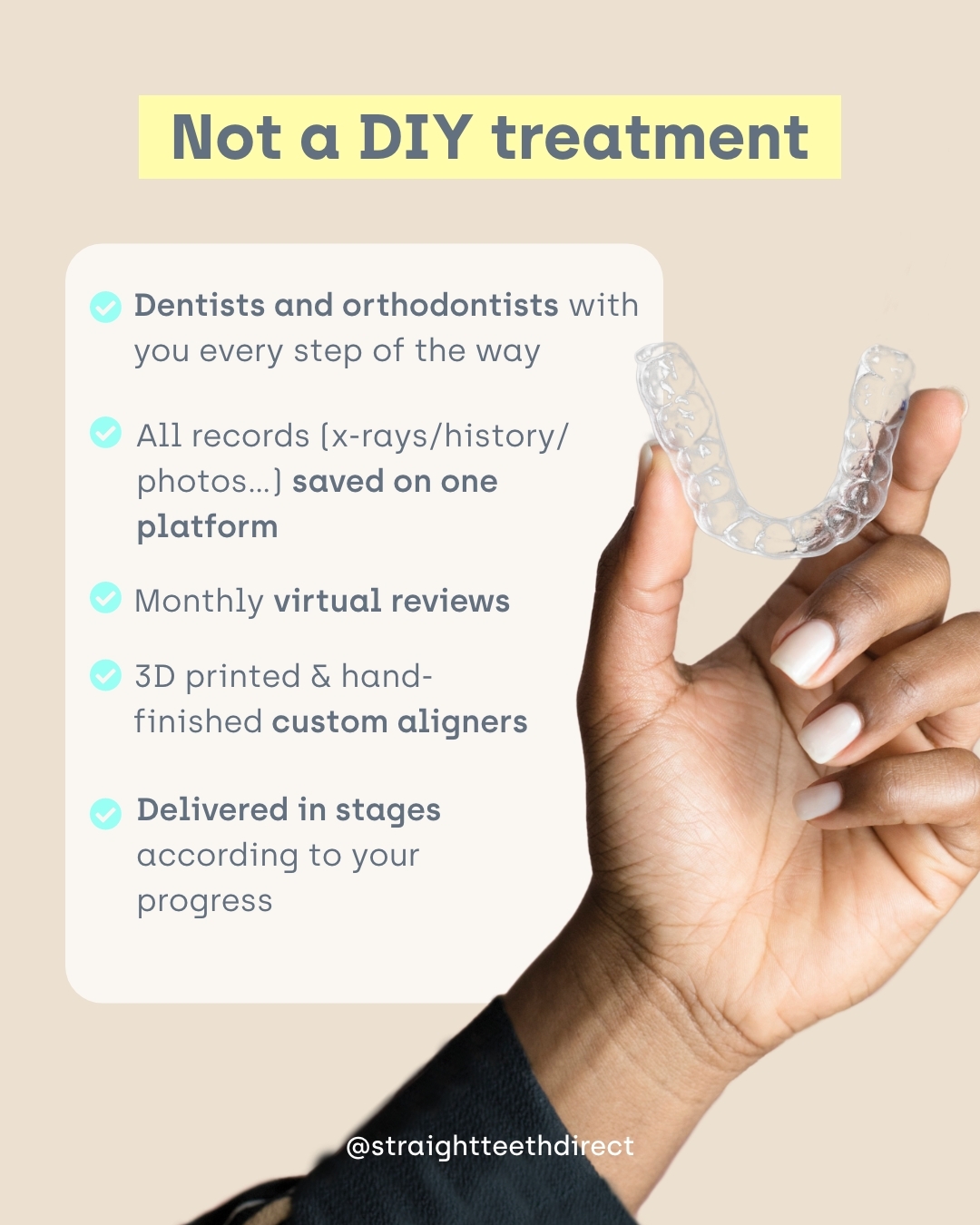 You may have heard about DIY orthodontics companies or DIY teeth straightening methods. How is Straight Teeth Direct different from those?
 Here are the main reasons why
we're not DIY
:
We have real professionals reviewing your e-consultation

You have the option to share your recent dental records

We provide you with an unique, detailed orthodontic report

You have monthly virtual reviews with your dentist –

every step is monitored by us

Your aligners are delivered in stages – straight to your door
As a matter of fact, Straight Teeth Direct is the only at home aligner company in the world with:
An integrated system

In-house production

Dynamic monitoring to guarantee you results.
#4  Your dream smile in 3 simple steps!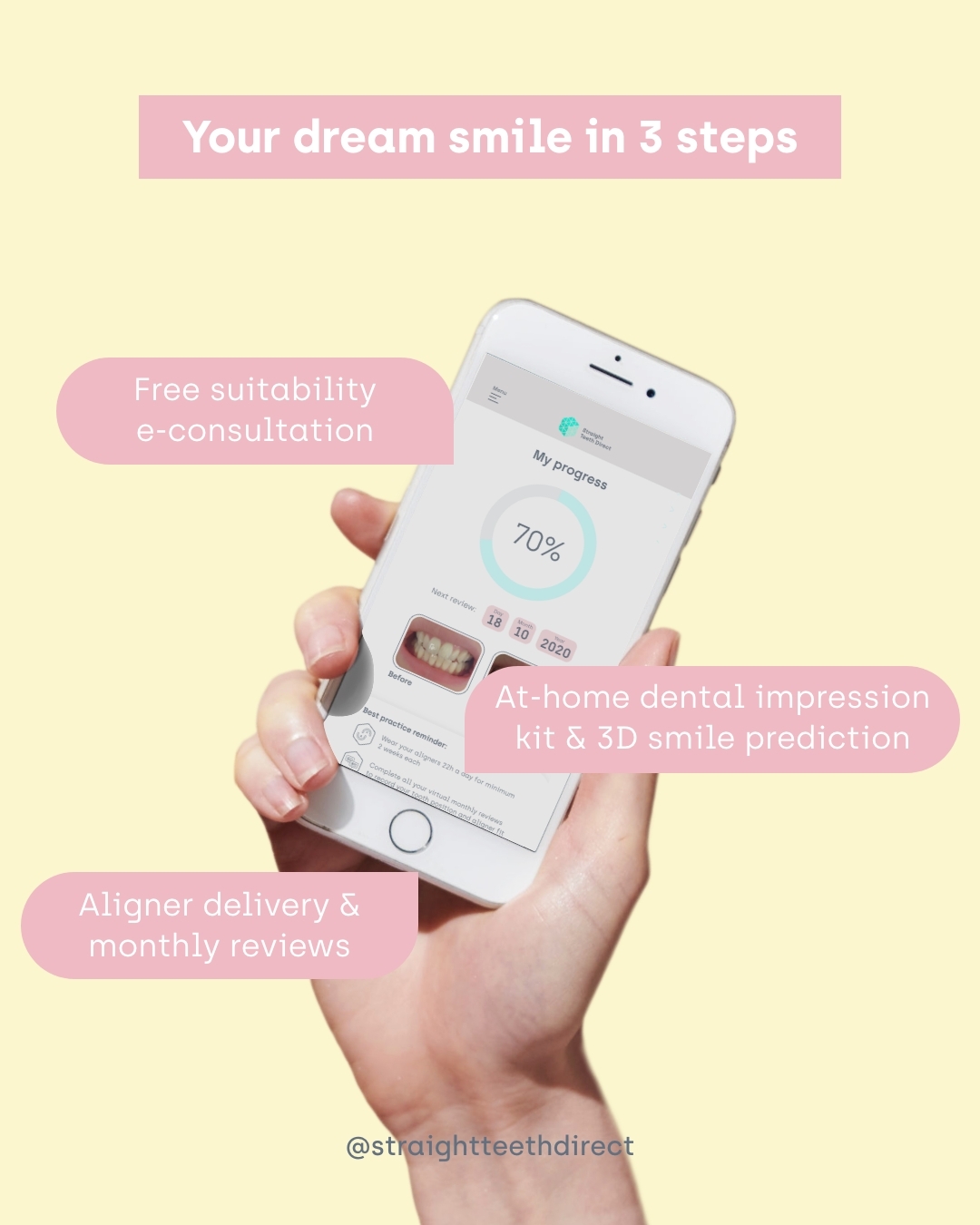 4.1 Step 1: Free e-consultation
First you'll need to complete an online consultation by answering a few questions about your dental situation and smile goals, as well as uploading a few pictures of your teeth from different angles. This stage is designed to assess your case and suitability, which will be determined by one of our dentists.
Unlike other online smile assessments, you won't receive an automatic reply. Your photos and answers will be personally reviewed by dentists and technicians working together to give you the best and most personalised experience you could get.
Additionally, your e-consultation results serve as your suitability guarantee, meaning you can be 100% sure that this method will work for you as soon as the dentist approves your case.
4.2 Step 2: At-home dental impression kit
At-home teeth impressions…that's difficult, right? No!
In actual fact, there is no "impression science". Dentists train to take impressions, but they also need to retake them all the time. Your SmileBox™ at-home teeth impression kit comes with a step by step Impression Manual and video instructions. Our users all around the world find it very easy to capture good quality impressions of their teeth, even finding it fun sometimes! Check out our community's impressions video for instance!
In your SmileBox, we included enough material for you to be able to take 6 impressions – 3 of both your upper and lower teeth. These impressions will then be digitally scanned at the lab to create a 3D model of your teeth, a simulation of your predicted smile and your treatment plan. If our lab team decides you need to make new or additional impressions for complete accuracy to be achieved, you will receive a custom follow-up impression kit free of charge.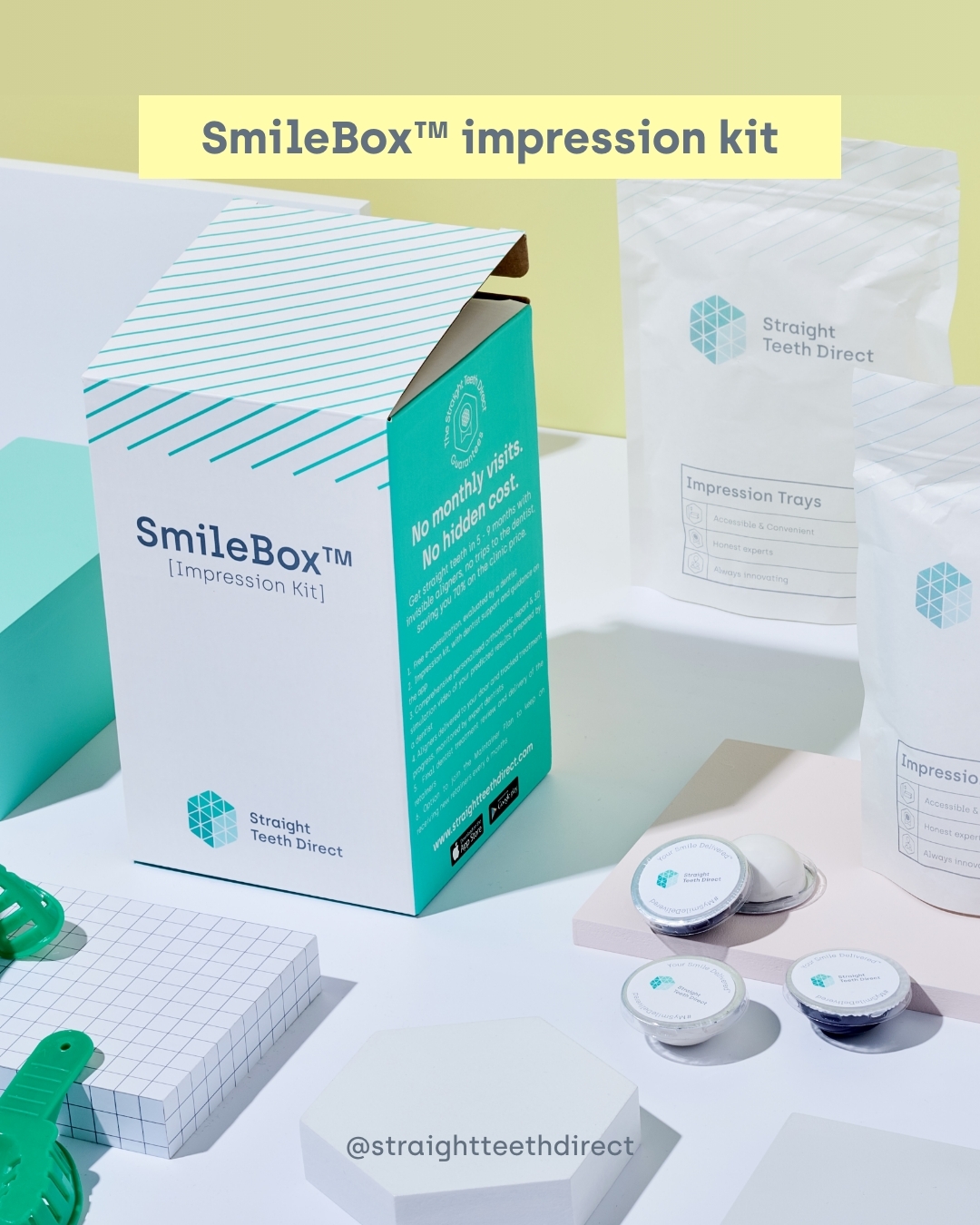 Transparency is key
Your assigned dentist will then prepare a full report with all details regarding your current dental situation, any potential limitations, orthodontic recommendations, expected treatment results (incl. a realistic simulation of how your teeth will move), as well as the expected treatment duration. This way, you'll have a full overview of exactly what to expect from your dream smile before spending a penny on your aligners. Your Straight Teeth Plan includes much more information than you would regularly receive in clinics – it's all recorded and laid out for your understanding rather than a quick conversation.
Once you are happy with the plan, you can order your StraightBox™ and will also be sent an e-signed copy of it that acts as a result agreement between you and Straight Teeth Direct.
4.3 Step 3: StraightBox teeth straightening kit
Once you've placed your order, it'll take a couple of weeks for your first sets of aligners to be ready and shipped directly to your door. Your teeth straightening starter kit contains the first 2 months' supply of aligners, the Aligner Success Guide, a handy aligner case, and a few other items to make sure you get off to a perfect start on your journey to a new smile.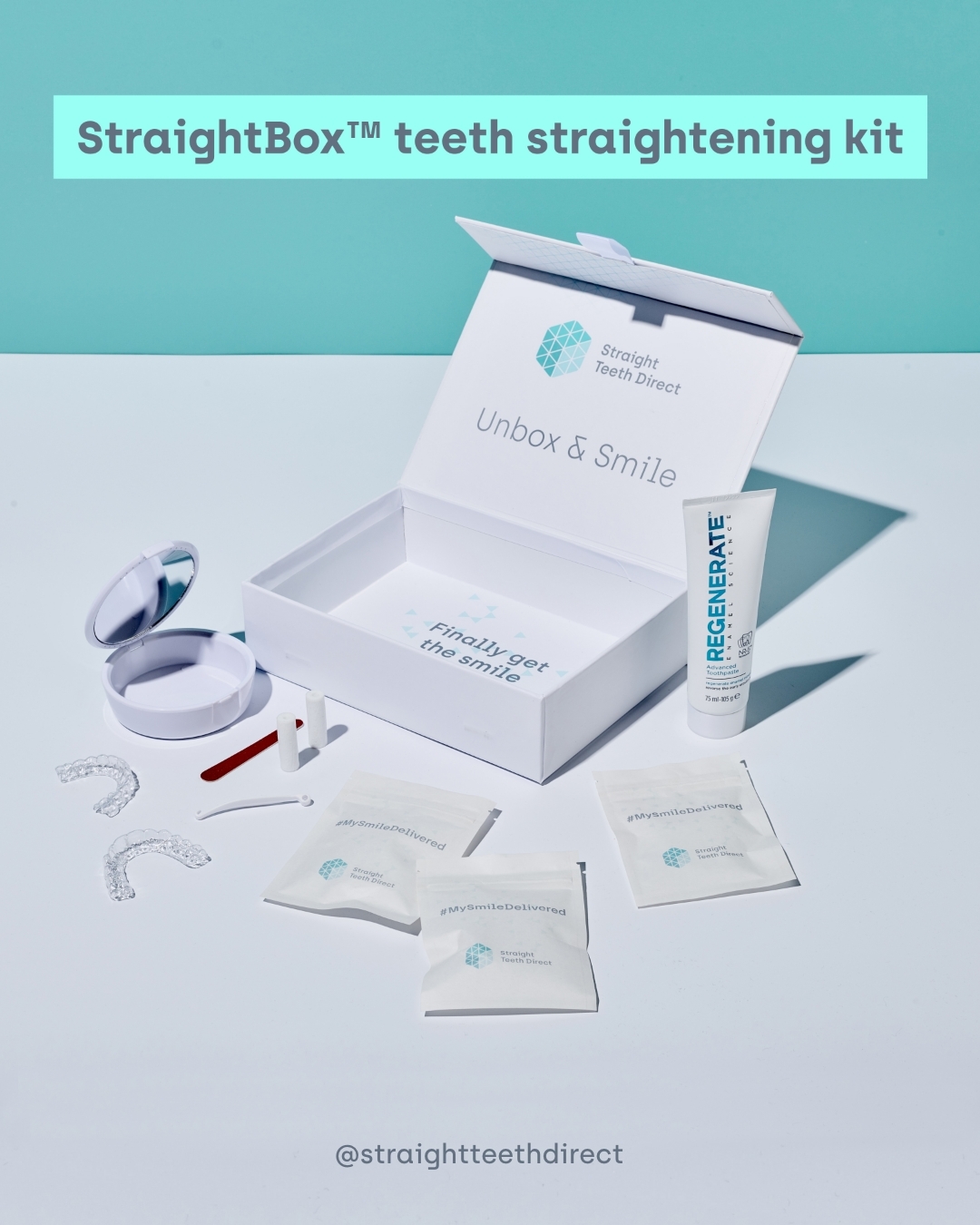 No visits to the dentist needed
As long as your local dentist confirms your dental health is top notch within the last 6-12 months, it'll be smooth sailing from now on! Throughout your teeth straightening journey, your assigned dentist will be able to closely monitor your treatment via the Straight Teeth Direct app. 
Unlike other in clinic solutions, which require the use of visible Attachments (dots on the teeth), IPR (filing between the teeth) or extractions, our aligners work using a combination of soft and hard sets. Those labelled "A" are softer and prepare your tooth for the full movement, while the "B" aligners ensure your tooth is fully aligned into the necessary position for the next treatment stage. Currently, we are the only remote aligner company to offer this innovative service, and it also makes your treatment more comfortable than ever before.
Full support during your cosmetic teeth straightening journey
Your cosmetic teeth straightening package is all inclusive, meaning all progress reviews with your orthodontist are covered! So, even though you won't need to visit a dentist clinic, you will still benefit from your orthodontist's full dedication and the support team's on-going support. Any questions you may have can be asked through your secure app account, where all your information, documents and conversation history is stored. This allows the support team to efficiently deal with any requests or inquiries, ensuring you're always on the right track.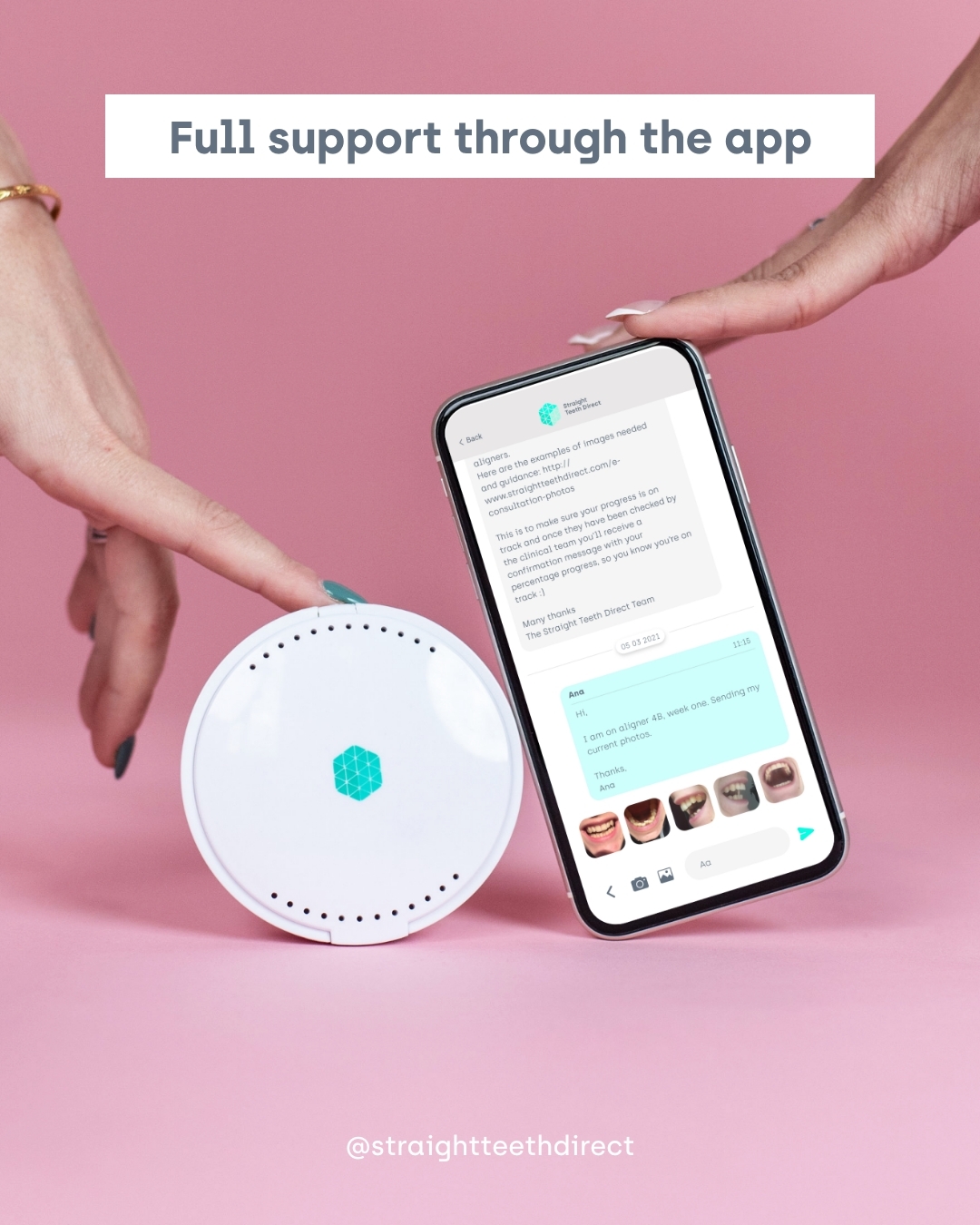 Gradual treatment for guaranteed results
Your aligners are sent in stages based on your progress. So your dentist will order your next batch once you complete your monthly review to make sure they all fit properly and effectively straighten your teeth as programmed. Some companies send the aligners all in one go, which causes delays and extra costs if your treatment needs to be amended at any point. With Straight Teeth Direct, you won't have to worry about that.
We can't wait to get you started! You deserve your best, confident smile, so once you complete your free e-consultation, you can ask any questions you may still have about cosmetic teeth straightening at home and find out if cosmetic teeth straightening with Straight Teeth Direct would work for you.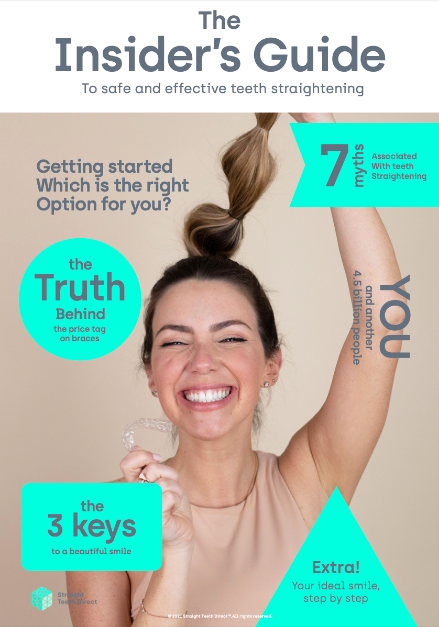 Still thinking about it?
Fill in your email to receive
your free guide!