What is teledentistry? And why it is here to stay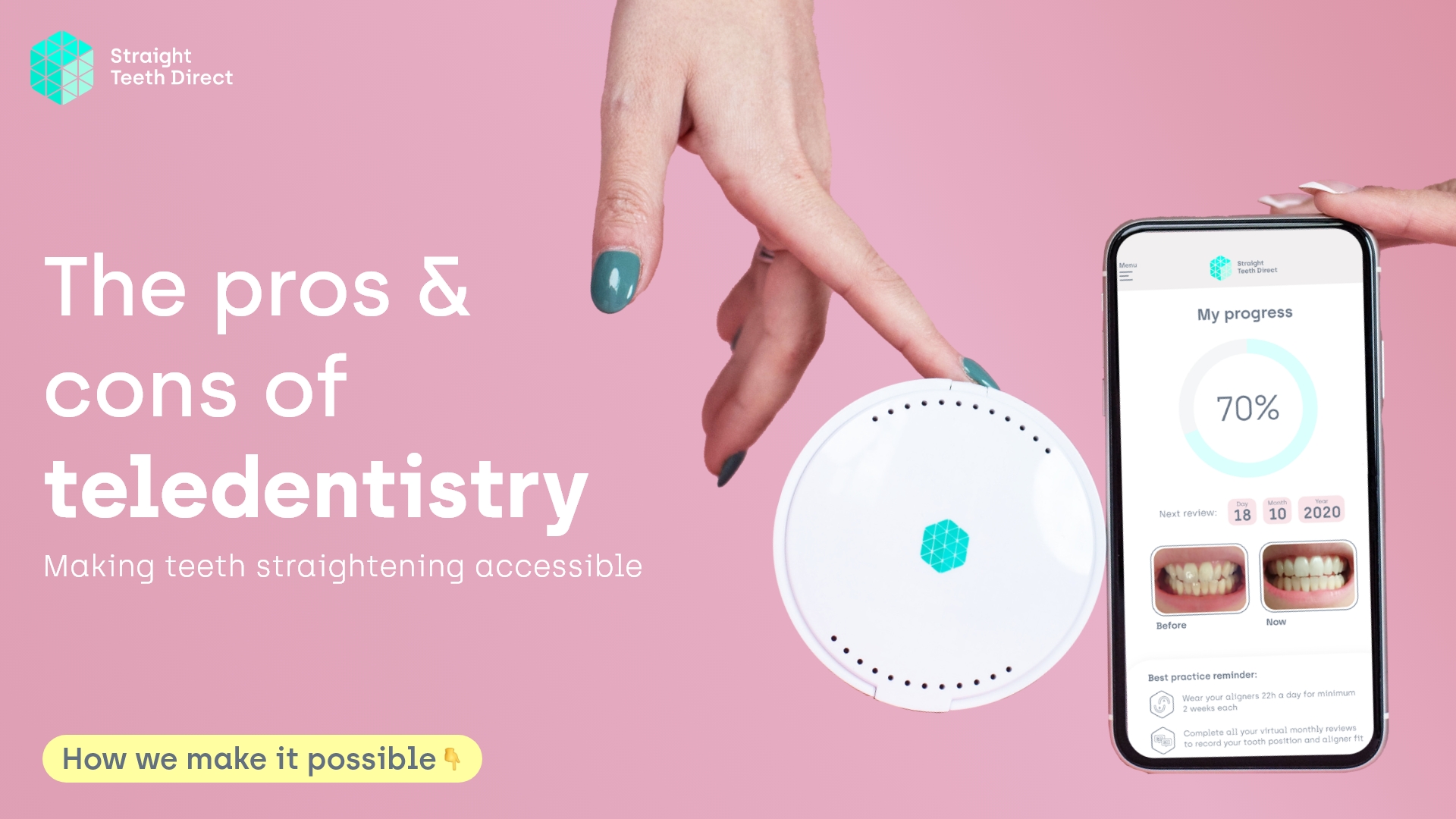 Key points
Teledentistry, tele-orthodontics, or remote dentistry is a form of telemedicine. In short, it's the use of information technology and telecommunications to facilitate dental care and other related dentistry matters.

One of the main benefits of remote dentistry is that it allows you to cut out on unnecessary trips to the clinic, thus optimising the patient and dentist experiences and the cost of dentistry. 

There are essentially two types of teledentistry: Live, in real time (synchronous) and at your own time without the need for an appointment (asynchronous)

Straight Teeth Direct is a great example of remote dentistry where a mobile teledentistry app connects users to a dentist expert in digital dentistry. This revolutionary model makes orthodontic treatment more accessible, convenient and affordable.
Interested in learning more about remote teeth straightening? Watch this video or keep reading!
What is telemedicine?
According to News Medical: telemedicine refers to the provision of remote clinical services, via real-time two-way communication between the patient and the healthcare provider.
Here are a few examples of telemedicine:
GP services;

Dermatology apps;

Home blood tests;

DNA tests at home;

Ear exams at home;

And of course…remote dentistry.

What is remote teledentistry?
Remote dentistry often involves the use of telehealth systems and methods for remote dental care, advice, or treatment. All through information technology, telecommunications and virtual consultations. No need for trips to the dentist.
To sum up, remote dentistry allows for an efficient way to:
Deliver dental care;

Give diagnosis;

Complete consultations;

Assign appropriate treatments;

Share patient information.
Types of teledentistry
There are essentially two types:
Synchronous:

Real-time, two-way interaction between the patient and the provider. An example for this is a pre scheduled video call with the dentist.

Asynchronous: This type doesn't require to schedule an appointment so the communication can be done within a short period of time between the dentist and patient at a time that is most convenient for both. This type would work with the use of data such as photos, recorded videos, x-rays, etc.
How is asynchronous dentistry more convenient?
Traditionally, records and consultations only exist in a physical location, creating the necessity for interactions with "middle men", such as reception staff, rather than a direct conversation with your dentist. Even if you can book a consultation online, slots are usually far and few between and it can take several days or even weeks to get an appointment.
In contrast, an asynchronous, specialised system with a digital patient journey can provide professional evaluations within hours or minutes! This allows for a much more accurate and personalised report, lowering costs for you and making it more convenient at the same time. As for your dentist, the asynchronous model allows them to consult with colleagues for a more thorough approach. Information is stored centrally and all collaborating dentists have access to the same data, so they can make sure they've not missed anything in a "peer review" type process.
This type of teledentistry associated with a customised platform for patient records and dentist monitoring enables a continuous care model. In other words, you can submit photos, videos and messages from whenever and wherever you are with only the use of a smartphone and a logged in secure account. This means that personalised, specific, detailed responses and diagnoses can be given to you from anywhere in a shorter period of time!
What can then be done with teledentistry?
Teledentistry makes dental assessments very accessible. The patients themselves take the photos and videos used to complete it. Dentists can also take dental records in person and examine them remotely. Finally, it's also useful for treatment planning as well.
When patients are in pain and need antibiotics they need prescriptions. Dentists can provide them remotely through virtual visits. There's no need to send the patients to their GP. The worst scenario is doing nothing and having someone in terrible pain until they can have a physical appointment.
Teledentistry is a cost effective way to track dental treatments, particularly in the case of orthodontics. It's a great way to supervise and check the progress of teeth movement remotely. No need to call the patient every month.
What are the advantages & disadvantages of teledentistry?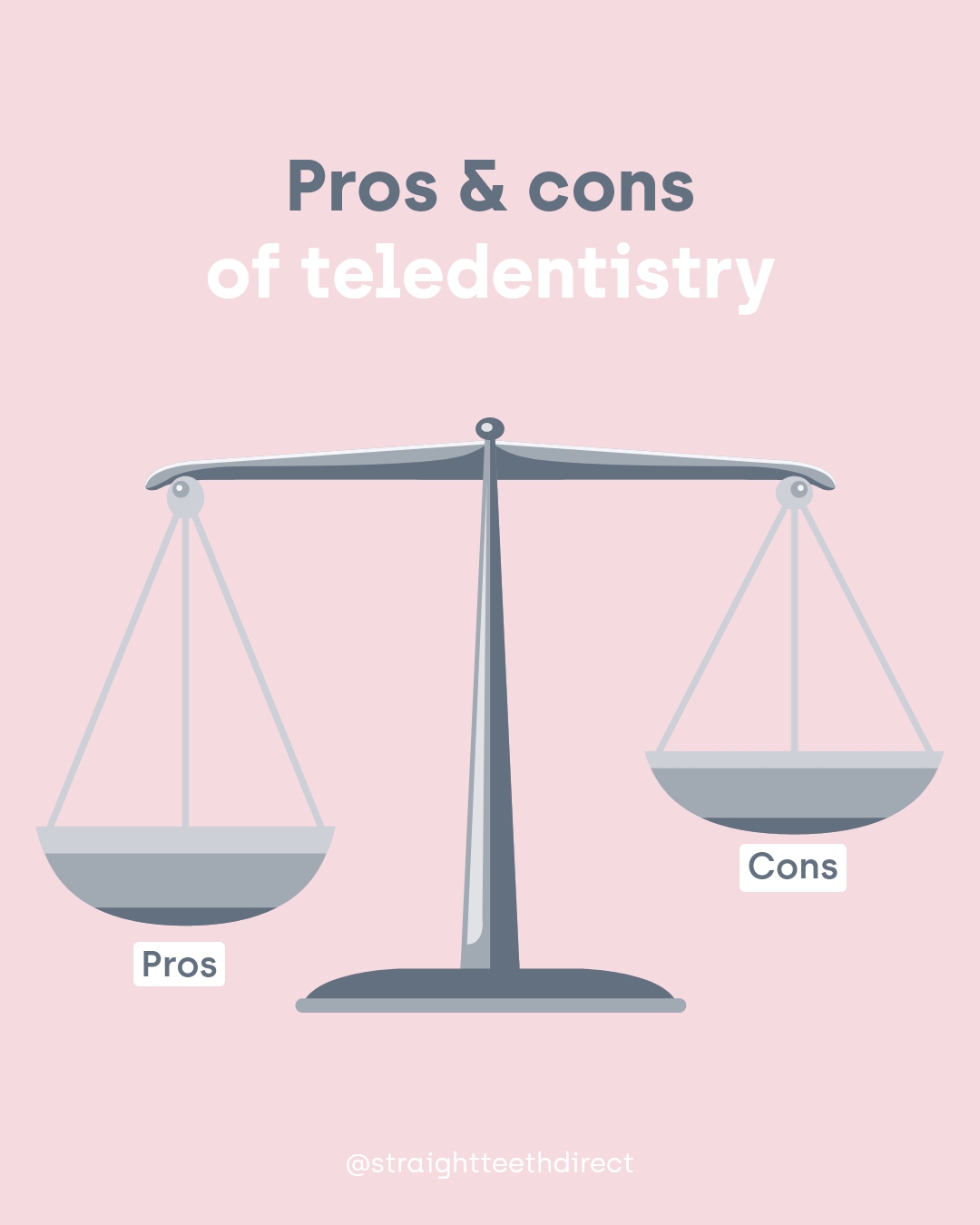 Pros:
If there's an emergency you have access to 24/7 consultations and examinations online with a licensed dentist; 

You can get antibiotics prescriptions on demand when necessary;

It's easier and in some cases more affordable than going to the dentist. This way people that didn't have easy access to dental care are now closer to dental professionals;

Waiting time is consequently lower due to unnecessary emergency rooms visits being now done via a teledentistry platform.
Cons:
No every practice can provide you with a teledentistry method;

You'd expect your concerns to be addressed quickly. So it is important for the clinician to be efficient on the other side of the line;

Privacy. You might worry that your data is not as safe as in a clinic. However, when used properly your data will be safe and privacy laws are not being violated;

Internet connection may be unreliable sometimes.
Role of tele-orthodontics during Covid-19
As you can see, the pros far outweigh the cons. One of the best examples of this would be the use of telemedicine and teledentistry during the Covid-19 outbreak.
The pandemic forced the implementation of remote dental practices around the world. Now that life as usual is coming back, remote dentistry practices continue to thrive. Many of the elderly population in care homes aren't able to travel to access a dentist easily, and there are children in schools that can't access the care they need either. In some parts of the world, many people who live in rural areas cannot visit a dental office because it's too far to travel.
Remote teeth straightening
Over 70% of adults have crooked teeth. And at least half of them would consider improving their smile. But less than 2% actually seek a form of orthodontic treatment.
Straight Teeth Direct is a teledentistry platform that connects you with a registered digitally trained dentist through a teeth straightening app. Making orthodontic treatment more accessible, convenient and affordable.
The whole process is done remotely, so you don't need to visit a dentist in person, provided you saw one for an exam in the last 6 months. You'll be assigned to a remote dentist who reviews your dental records, prescribes your treatment, and monitors your progress remotely. It's super convenient because all the reviews are done through our revolutionary app on your computer, or your iPhone / Android smartphone.
With this tele orthodontic process, no corners are cut. The results are just as good, and all without breaking the bank or visiting your dentist every month.
FAQs
Teledentistry is a way of providing dental care via telehealth systems and methods. It usually takes place between patients and clinicians through information technology, telecommunications and virtual consultations. In other words, it's a way of getting access to dental care without having to physically be at the clinic.
What types of remote dentistry are there?
There are mainly two types of teledentistry: synchronous – where there's a real-time interaction between the dentist and the patient; and asynchronous – basically the opposite. The patient records their information and forwards it to the dentist without any real-time interaction.
What is remote teeth straightening?
Remote teeth straightening or at-home teeth alignment is a service that allows you to get the smile you always wanted through the use of telehealth technologies. This way you don't need to pay visits to the dentist to get your teeth fixed. The process is usually done through the use of clear aligners instead of train-track braces.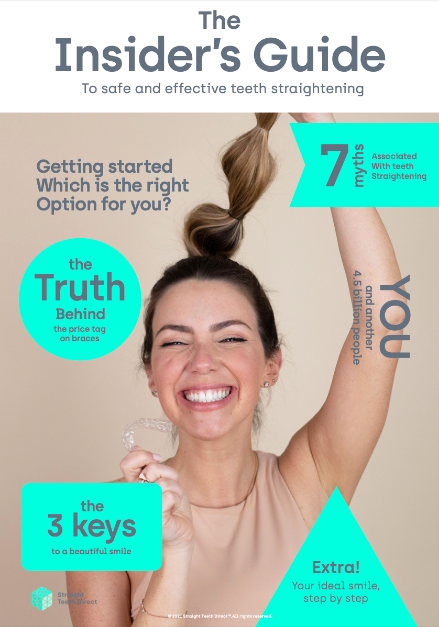 Still thinking about it?
Fill in your email to receive
your free guide!