Dental monitoring: in-clinic vs at home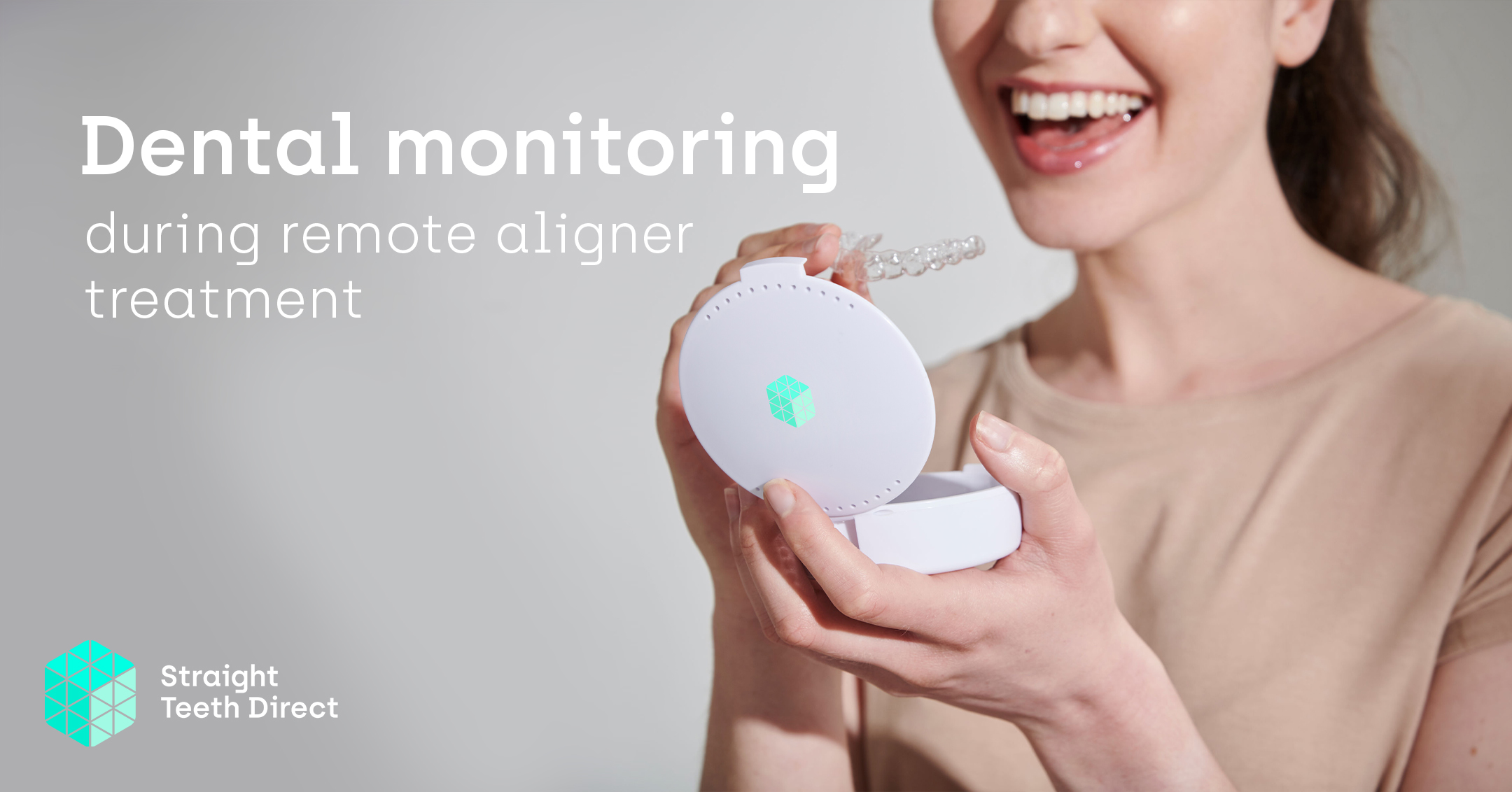 There's more to aligner treatment than asking your dentist for some tooth-shaped plastic! In fact, there is a lot of dental monitoring that goes on behind the scenes, and it varies quite a bit between at home vs in clinic models. This blog will help you understand how much work is needed and which experts are involved in achieving your smile results, and why a remote option will most likely provide you with more detailed insights about your treatment journey than an in-clinic option ever could.
Contents
#1 What is dental monitoring
1.1 How is dental monitoring done in-clinic?
1.2 How is aligner monitoring done remotely?
#2 Aligner monitoring: in clinic vs. at home
2.1 In clinic vs at home: a detailed comparison
2.2 The main difference between in clinic and at home monitoring
#3 The danger of no advanced dental monitoring at home
#4 Dental monitoring done the right way!
#5 Benefits of the at-home model: insights you won't get in a clinic
5.1 Nifty % progress tracker
5.2 Detailed reviews from start to finish
5.3 All your records stored in one platform
#6 What people say about remote dental monitoring
#1 What is dental monitoring?
During orthodontic treatment, a dentist needs to make sure your teeth are moving and responding correctly according to your treatment plan. That is what dental monitoring is all about: keeping your tooth movement in check. However, dental monitoring practices can differ depending on if you have fixed braces, aligners, or go through treatment at a clinic or remotely.
1.1 How is dental monitoring done in-clinic?
With fixed braces and in-clinic aligners, monitoring is completed through in-clinic appointments. In the case of aligners, they are designed by an orthodontist, manufactured and then delivered to your dentist by an aligner production facility. Your dentist then checks to make sure they fit you correctly. However, as the treatment plan is made by an orthodontist and the aligners are manufactured at a third-party facility, your dentist is not able to change or influence the aligners in case they don't fit as planned.
Apart from small modifications with pressure pliers, clinic dentists are not able to prescribe movement stages, as they don't know what is possible per each clear aligner or how to best organise tooth movement to ensure a safe, optimal outcome. Although an in-clinic dentist may recommend or request certain movements, they do not actually create them. Additionally, there is no easy way to look at an aligner and determine if it is programmed correctly or not. This can only be determined through proper design protocols, detailed use tracking and dental monitoring with all treatment records at hand, which clinic dentists cannot guarantee. Our remote model, on the other hand, can.
1.2 How is aligner monitoring done remotely?
Thanks to teledentistry platforms like Straight Teeth Direct™, you are now able to buy aligners online and complete the entire treatment from the comfort of home. Despite what you might think, this online model actually allows your treatment progress to be tracked and monitored even more closely and seamlessly than during traditional in-clinic appointments.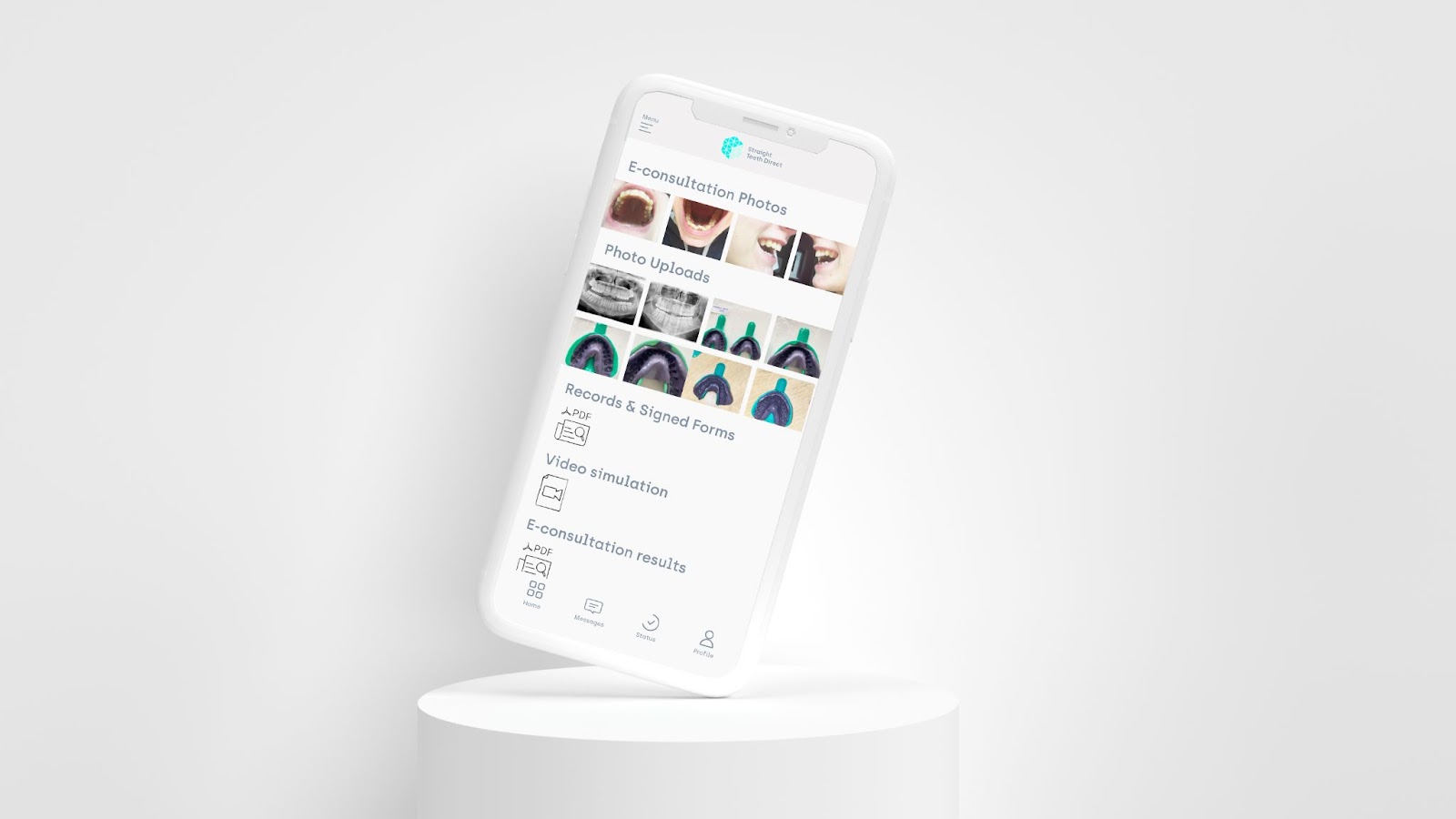 Throughout remote treatment, it is essential that you be in direct contact with your monitoring dentist, which is why we have developed our unique app platform. Every month, you are reminded to upload a number of pictures of your teeth and aligners from various angles. These can then be reviewed by your assigned dentists and compared directly with your digital treatment model to assess whether or not the required tooth movement has been achieved. Based on this, your dentist then gives the OK for you to move onto the next set of aligners. 
#2 Aligner monitoring: In clinic vs. at home
Let's look at the difference between in-clinic dental monitoring and remote monitoring via a multichannel platform like Straight Teeth Direct™. Be aware this unique protocol and advanced aligner monitoring is specific to Straight Teeth Direct™ and other at home aligner brands do not monitor progress this way, if at all. To find out more about how Straight Teeth Direct™ differs from other online aligner companies, read our blog on The 10 most common customer complaints with aligner at home companies – The Straight Teeth Direct™ difference.
2.1 In clinic vs at home: a detailed comparison
2.2 The main difference between in-clinic and at-home monitoring
In the above tables, you can see how an in-clinic dentist does little more than take dental impressions and deliver aligners. Without the patient coming in for appointments, their dentist can neither change anything, track their progress, nor can they answer any questions or address any issues the patient may have. 
However, in the Straight Teeth Direct™ remote model, dentists and the aligner lab & production facility are always in contact and are able to more closely monitor the patient's progress almost in real time: they have access to photos taken at each stage and can compare them to the programmed tooth position predicted in a 3D model for each stage. If any changes are needed at any point, the lab is immediately informed and can alter the next aligners as needed before they are produced. This enables almost real time tracking and monitoring without wasted appointments or products, while simultaneously increasing the predictability and tracking of tooth movement with an in-app % tracker.
#3 The danger of no advanced dental monitoring at home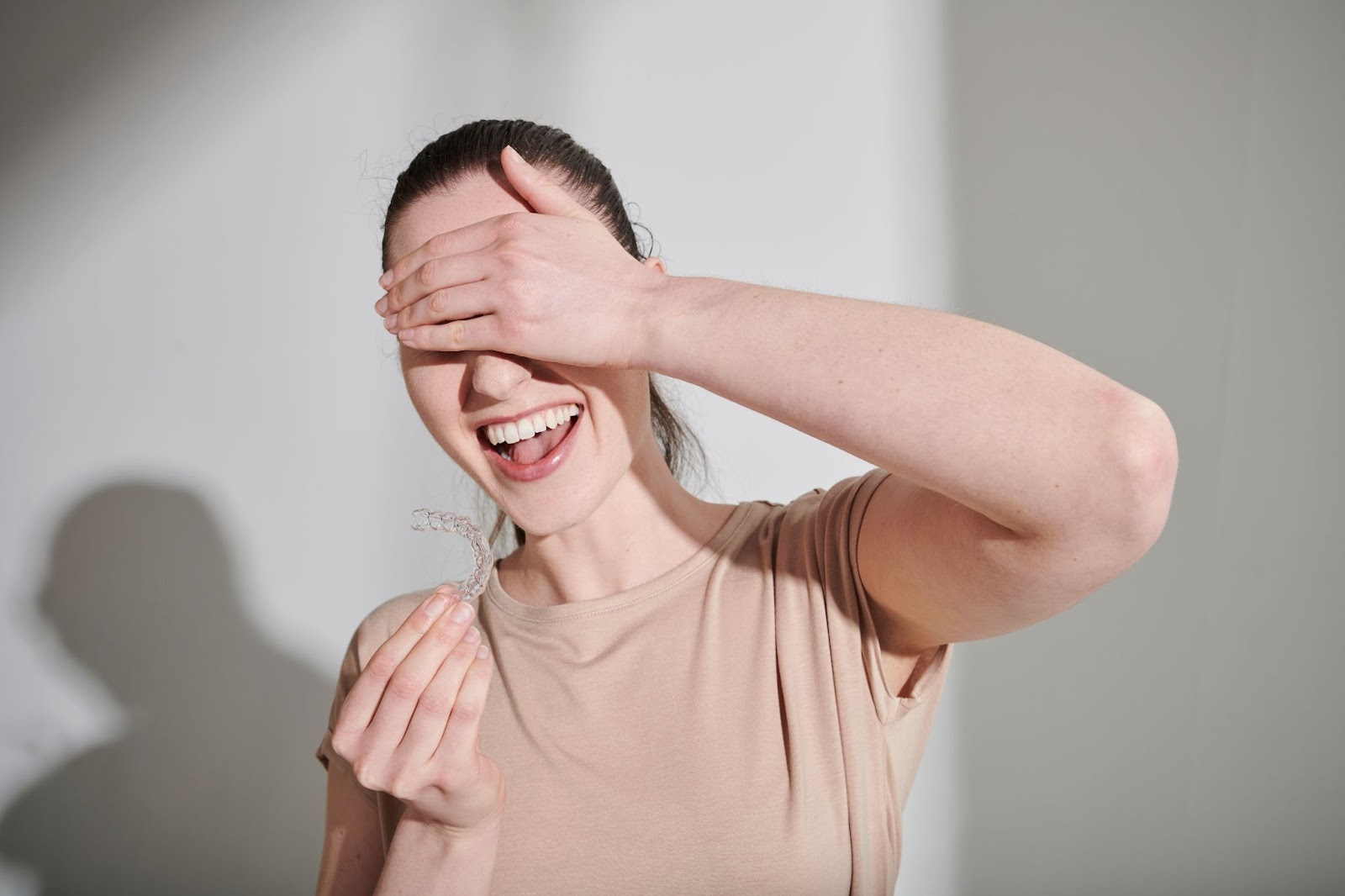 There are many online services offering remote aligner treatment today, but only few of them guarantee dental monitoring throughout your treatment. This is especially important to consider when choosing a remote aligner company: if they do not offer monitoring, move on! The reason for this is that there is no dentist making sure that your teeth are moving correctly and according to plan, meaning those services are putting your dental health at risk. At Straight Teeth Direct™, every user has an assigned dentist who checks their progress on a monthly basis to ensure that the treatment is progressing safely and effectively.
Another important feature in our remote service is the delivery of aligners in stages. Most at-home aligner companies deliver all aligners at once, meaning no changes can be made in case of unforeseen tooth movement issues. At Straight Teeth Direct, however, your aligners are manufactured and delivered according to your progress, so the precise and regular dental monitoring of your treatment allows for any necessary changes to be made with regard to your aligners.
#4 Dental monitoring done the right way!
Although online services often seem automated, treatment with Straight Teeth Direct™ is tailored to every individual user's needs. Our processes have been streamlined and our team is trained to ensure maximum efficiency and minimum time for the user, but automation is simply not an option for something as highly unique and custom as orthodontic treatment, and a lot of manual work goes on behind the scenes. 
Each of our case-assigned orthodontists work closely with our small in-house team of experienced dentists, all working hard to precisely assess your treatment progress. Here is an example of jobs that need to be handled individually and manually in order for you to receive replies to all your questions, the correct aligners on time, your predicted results and more (on a monthly basis for each user!):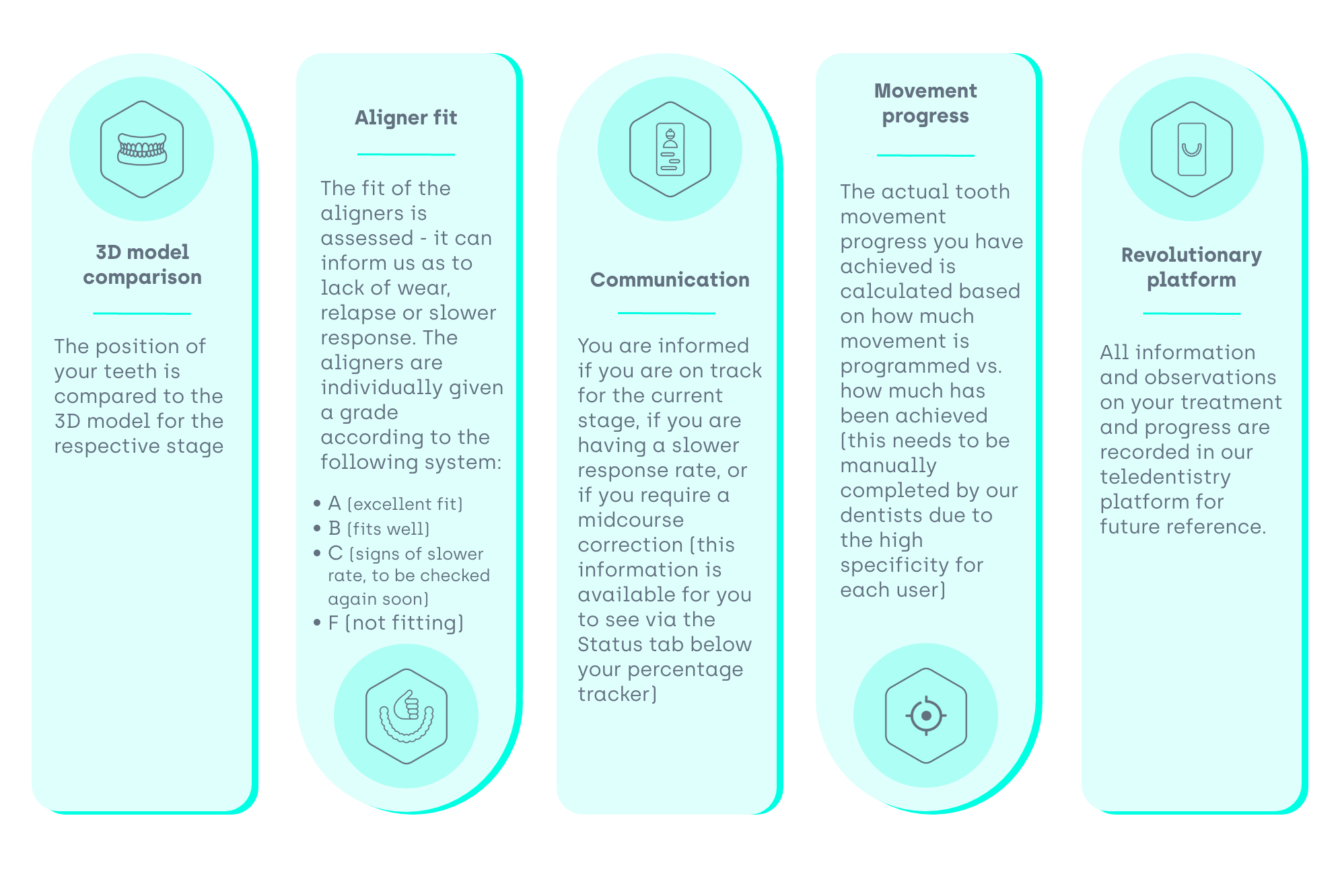 #5 Benefits of the at-home model: insights you won't get in a clinic
At Straight Teeth Direct™, we are proud to be data driven as this allows us to deliver world class results directly to your door, while also providing you with a lot more insights into your treatment progress than you would ever have in in-clinic treatment. The reason for this is simple: your local dentist does not deal with all the detailed background data on your treatment that our integrated team uses, as several parts of your treatment are traditionally outsourced to other experts and facilities. 
5.1 Nifty % progress tracker
A good example of this in-depth data is the % progress: the percentage progress bar in the secure app account keeps users on track and motivated to continue wearing the aligners as instructed; they can also go back to old monthly review pictures at any point via the Records tab to see how far they've come.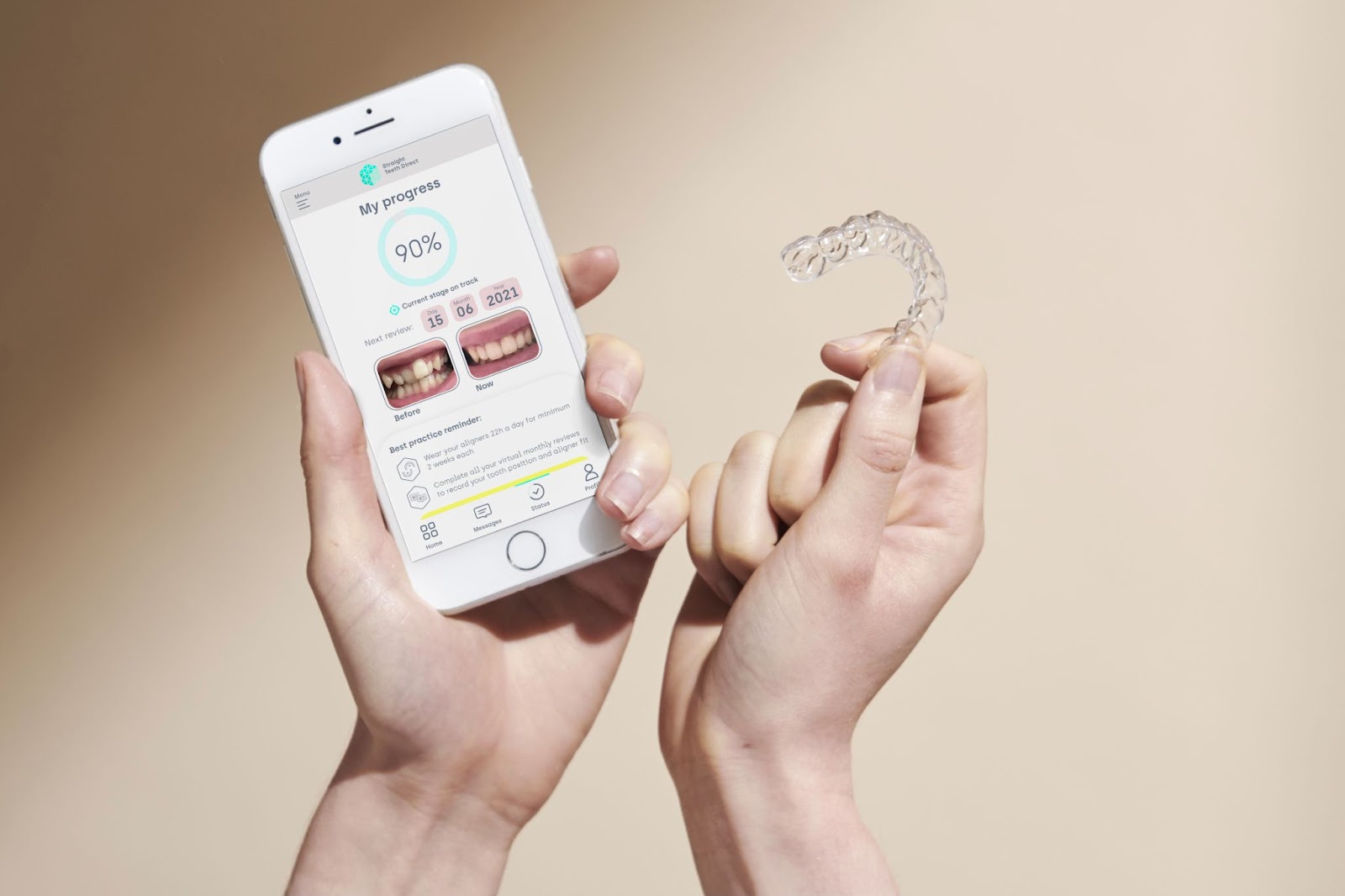 5.2 Detailed reviews from start to finish
It's also interesting to note that your first and last in-app aligner reviews are not the same. The first review is designed to check the fit of your first aligners through pictures taken, and to confirm instructions on further use. The last review also requires a video, and all the footage is precisely compared to the predicted and agreed upon result to assess if the teeth have moved accordingly. If not, a refinement plan is initiated to achieve the results with more targeted aligners.
5.3 All your records stored in one platform
Arguably one of the most insightful perks of our at-home model is the ability to store every step of your journey on one platform. From your free e-consultation pictures, all messages to dentists and smile coordinators, to your very last review: you can access all records at any time. In a clinic, communication is almost entirely verbal, meaning you have no record of details, questions, answers, or progress.
#6 What people say about remote dental monitoring
As technology evolves more and more, it is crucial to record as much information as possible to enable better results with less complications. It's clear here that aligner monitoring through a teledentistry platform is more predictable, efficient and convenient for both users and dentists, and it is shaping the future of teeth straightening. Here's what a few of our users have said recently about their experience using our app for remote dental monitoring!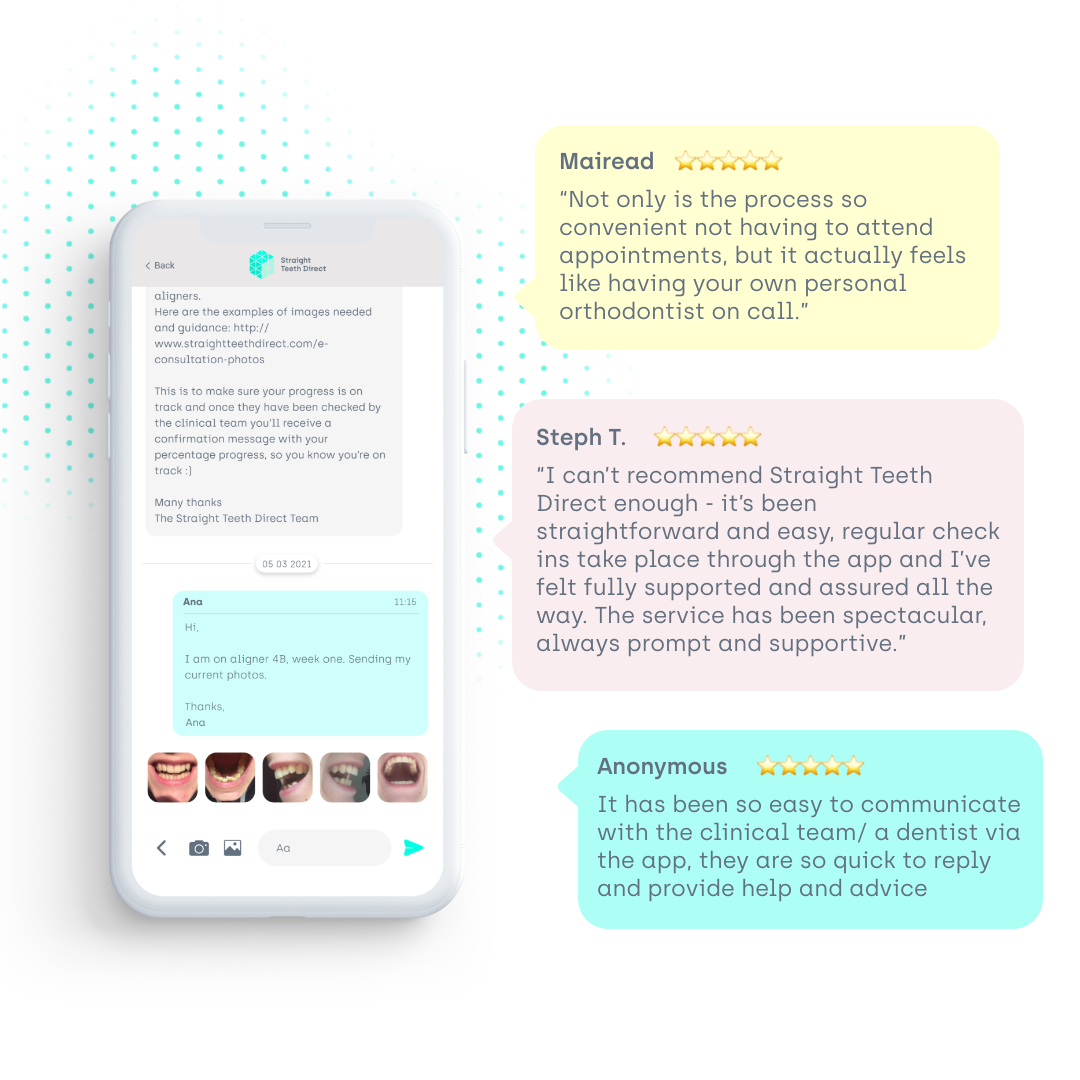 For more reviews and real user transformations, check out our Results page and Trustpilot!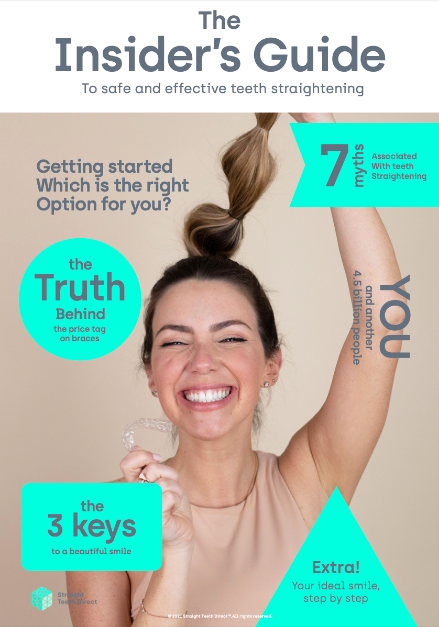 Still thinking about it?
Fill in your email to receive
your free guide!