The complete guide to your wedding smile makeover – 5 brides stories
Flowers, dresses, seating arrangements, catering … on the to-do list of things that a wedding needs to fulfil, smiles must be near the very top! When it comes to the big day, you want to make sure you're 100% confident in your own skin and smile. If your teeth are getting in the way of that confidence, you've come to the right place. This wedding smile makeover guide has all the information you need, with expert tips and testimonials from 5 of our own brides…
When we reached out to our community asking for those who chose to transform their smiles with our invisible aligners ahead of their wedding, we were so pleased with the feedback. Allow us to introduce you to 5 wonderful brides and their infectious smiles: Sarah, Chanelle, Jo-Anne, Lauren, and Rhian.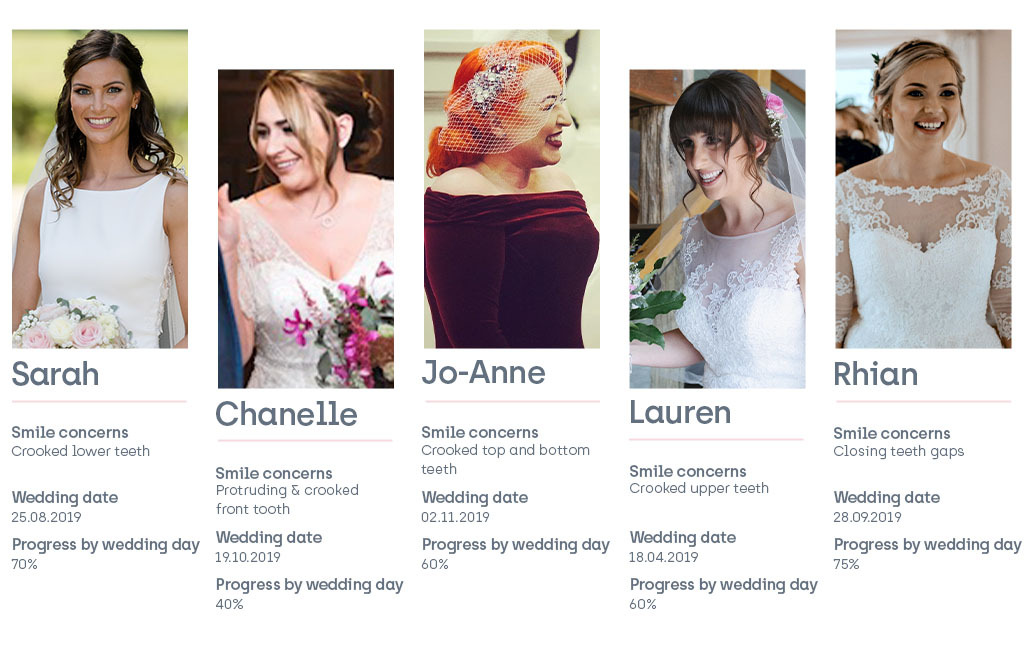 Contents
#1 Top 3 reasons for wanting a wedding smile makeover
#2 How can you achieve your wedding smile goals?
#3 How long will your wedding smile makeover take?
#4 How to save money on your wedding smile transformation
#5 Why choose invisible aligners for a wedding smile makeover?
#6 Leave nothing to chance with your wedding smile – Instant dental assistance 
#7 Wedding smile makeover tips from 5 brides who went through it
Smiles are so personal to each and every one of us that people go to extreme measures when it comes to dental work before a wedding, spending tens of thousands on straightening, veneers, and even postponing the big day. Adults from all over the world admit they would smile more if they had a perfect smile, and the most common dental wedding preparation is teeth whitening. With a recent study showing over 50% of Brits are unhappy with their smiles, let's take a look at exactly why people want a perfect smile for their wedding…
#1 Top 3 reasons for wanting a wedding smile makeover
The reasons for wanting to straighten your teeth ahead of a wedding are as individual as our smiles, but there are some common factors that affect most of us, such as self confidence, wedding pictures, as well as lifelong career and personal benefits.
You deserve your most confident smile
All smiles are beautiful, but that doesn't mean everybody is happy with theirs. Surprisingly, even though social media plays a big part of our lives nowadays, 100% of the brides we questioned said it played no role in their decision to go for teeth straightening: It was a decision they made for themselves and their self confidence.
"I didn't feel pressure from social media, for me the most important thing was self confidence. I wanted to have photos I could be proud of and look back at without me judging my own smile." – Lauren
Due to inconveniences of accessibility and affordability, people often have felt unable to do anything about it so far. That's why the Straight Teeth Direct™ at-home method has been gathering popularity among future husbands and wives, making smile dreams more accessible and affordable than ever. Take it from Rhian: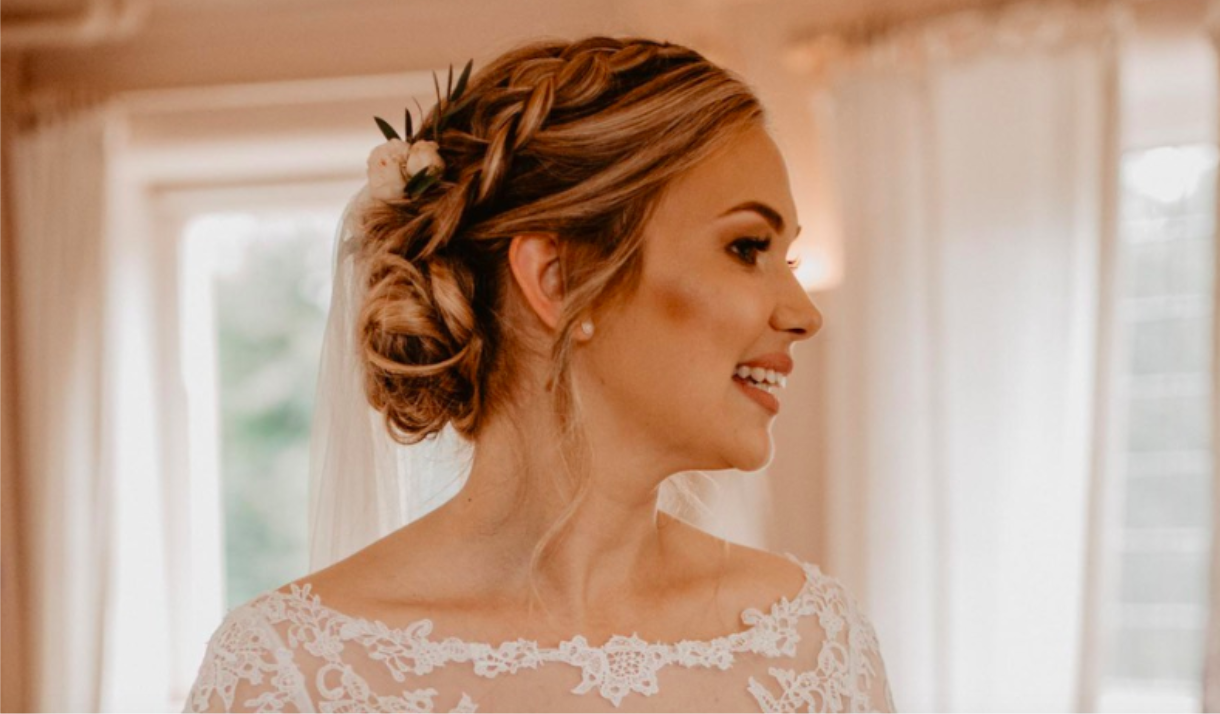 "I'd been thinking about sorting my teeth out for a while but I thought it'd take too long or would be too invasive. It was such a pleasant surprise to know it wouldn't be any of those things. Once I enquired with Straight Teeth Direct, I found it was feasible to get done before the big day." – Rhian
We absolutely agree: it's your big day, and you should be happy. If that means investing in your smile and investing in yourself, that's more than a worthy investment.
Smile freely in wedding photos
Another reason many opt for a wedding smile makeover is because of the pictures. Weddings and pictures go hand in hand like a married couple. This can be quite daunting for people like Jo-Anne, who previously was anxious about her smile in photos:
"There aren't many photos of me and my teeth before the process because I was super self conscious. I found that all my old pictures were from a certain angle so that you can't see my little snaggle tooth or any of my bottom teeth." – Jo-Anne
Wedding pictures hold such special memories and something as small as a tooth shouldn't overshadow that beauty. It may seem like a small change, but the knock-on effect that a wedding smile makeover has is quite remarkable. We asked Chanelle and Lauren how they felt about their smiles on the special day, and here's what they said:
"The difference that was made was incredible! I felt confident and able to smile and laugh without a worry. I'm so glad that I made the decision to get straighter teeth." – Chanelle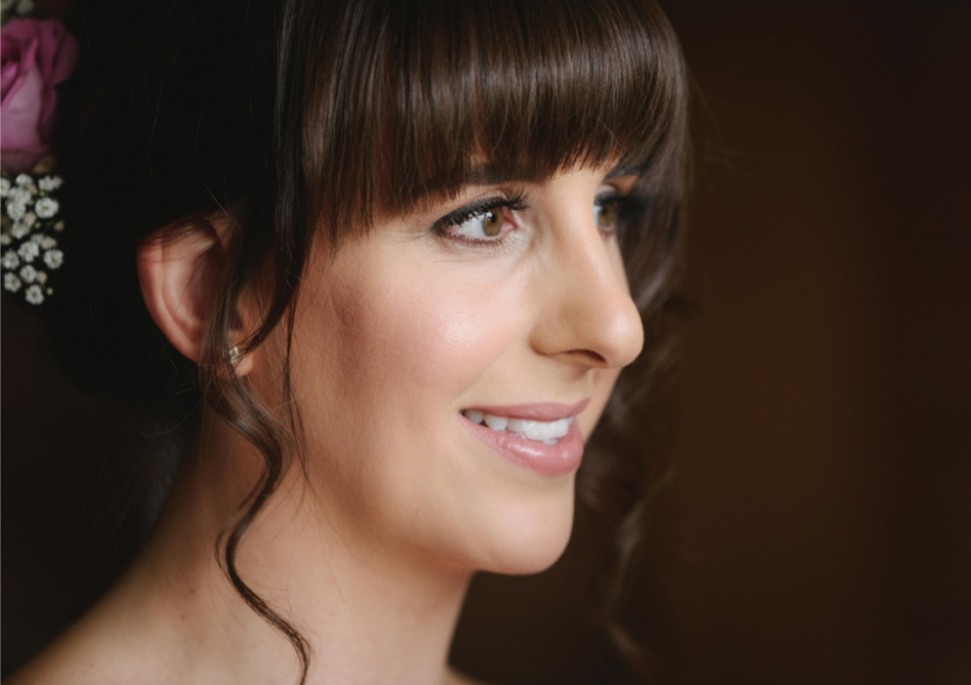 "I felt amazing, it was one of the best and happiest days of my life and having straighter teeth made me feel confident and happy to be photographed." – Lauren
Teeth straightening benefits that last a lifetime
Just like the memories in wedding pictures, the benefits of orthodontic treatment last a lifetime. It can be hard for us to justify investing in ourselves, especially if we think of everybody else's needs before ours. So, sometimes, something like a wedding smile makeover is the little push that we need to make a decision that will benefit us for years to come – like Sarah in both her career and personal life:
"Having a smile I love helps me to be more confident everyday which in hand helps me to be as professional as possible. In my personal life having the smile I love has helped me to be so much more confident and happy without needing to be conscious every time I talk or laugh!" – Sarah
Whatever your reason for wanting a wedding smile makeover, let's take a look at how and how fast you can achieve yours.
#2 How can you achieve your wedding smile goals?
In the past, orthodontic treatment was a long project spanning several years of painful braces and expensive dentist visits. Thanks to innovation and technology, companies like Straight Teeth Direct™ have been able to completely turn this around: using invisible aligners sent straight to your door, cosmetic orthodontics is now faster taking only 5-9 months on average, up to 70% cheaper and 100% done online. With dentists and orthodontists monitoring your treatment via a unique app platform, there's also no compromising when it comes to safety and professionalism. This is especially important when looking to get your wedding smile makeover: your mind is busy organising everything else, so you need to find a teeth straightening option that is hassle-free and discrete, so you can concentrate on even more important things. 
#3 How long will your wedding smile makeover take?
So, how soon can you achieve your wedding smile goals? Let's take a look at three scenarios:
1-3 months: Starting your orthodontic treatment and teeth whitening
At home teeth straightening
With everything going on around wedding planning, you might not have thought about teeth straightening until just before the pre-wedding photoshoots come around. Although this doesn't leave much time for a full wedding smile makeover, a world of difference can be achieved in as little as 1-3 months.
With Straight Teeth Direct, first teeth straightening results can be visible within 3 months, and the great thing about wearing clear aligners is that they won't be visible at the wedding – or you can just take them out as and when it suits you best.
Teeth whitening at home
Another fast and effective way to give your smile that extra edge in time for the big day is teeth whitening. For example, once you have started your treatment with Straight Teeth Direct, you can easily upgrade to the advanced teeth whitening gel by 360 Whitening, a fast and predictable tooth whitening system to whiten and brighten your teeth. This safe, dentist approved system works by applying a gel overnight, giving it enough time to lighten your teeth from within. The 360 whitening gel comes with a unique trolamine formulation that will give you maximum comfort for long lasting results with reduced sensitivity. Another advantage is that it requires no extra appointments and can be easily combined with the aligners you receive from Straight Teeth Direct: they fit your teeth perfectly and ensure even, effective teeth whitening and your brightest smile on your special day.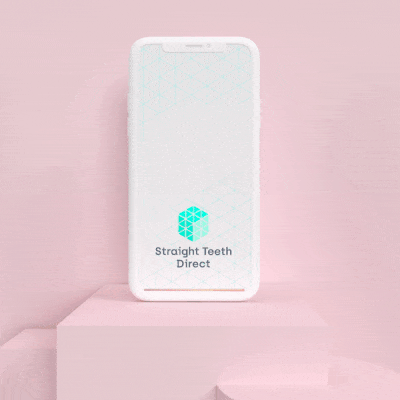 3-5 months: visible teeth straightening results
Depending on your individual case, 3 – 5 months could well be enough for you to achieve your smile goals or get very close to them! Straight Teeth Direct™ aligners are specifically designed to deliver fast and comfortable results thanks to the innovative soft and hard aligner system. Your aligners are delivered in "A / B" sets: softer and more rigid aligners. The "A" sets prepare your teeth for the necessary movement, easing them into their new position, and the "B" sets complete the required alignment so that your teeth are ready for the next stage. This way, you'll see results faster while enjoying the most comfortable straightening experience on the market, just like Sarah: in only 5 months time, she was able to achieve results that would previously had taken her years.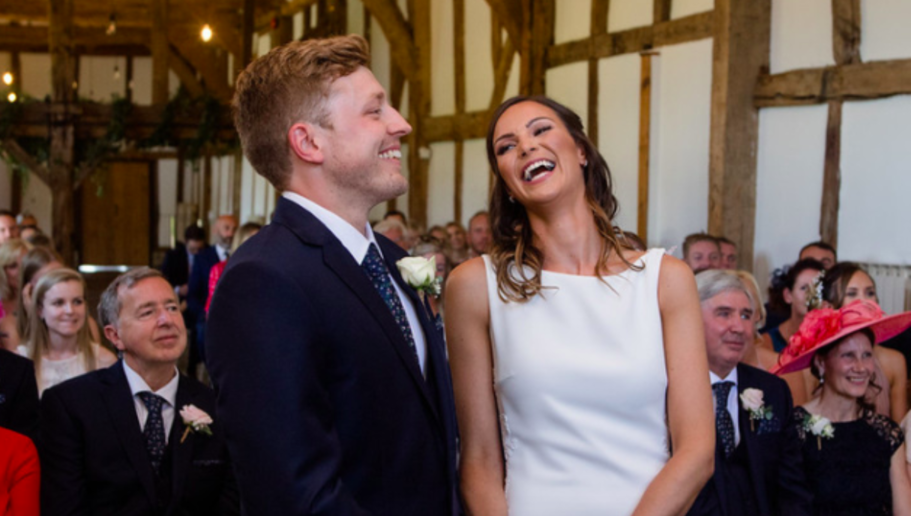 "By the time the wedding came, I was at 70% of my journey and the top teeth were pretty much completely straight, giving me confidence to smile. As for the pictures, I wasn't afraid to laugh and smile all day!" – Sarah
6-9 months: Meet your best smile
Congratulations! If you have another 6 – 9 months time for your wedding smile makeover, there's a good chance you'll complete your full treatment in time for the big day. Whether only one arch or both your bottom and top teeth require straightening, the great thing about Straight Teeth Direct™ treatment is that the price is fixed and includes everything you need to achieve your individually straightest smile: no hidden costs, no extra aligner fees. Additionally, you are covered by several industry unique guarantees, ensuring you achieve the results set out in your straight teeth plan – one less thing to worry about 😉
Here's a look at how you might feel after 6 – 9 months of at-home teeth straightening: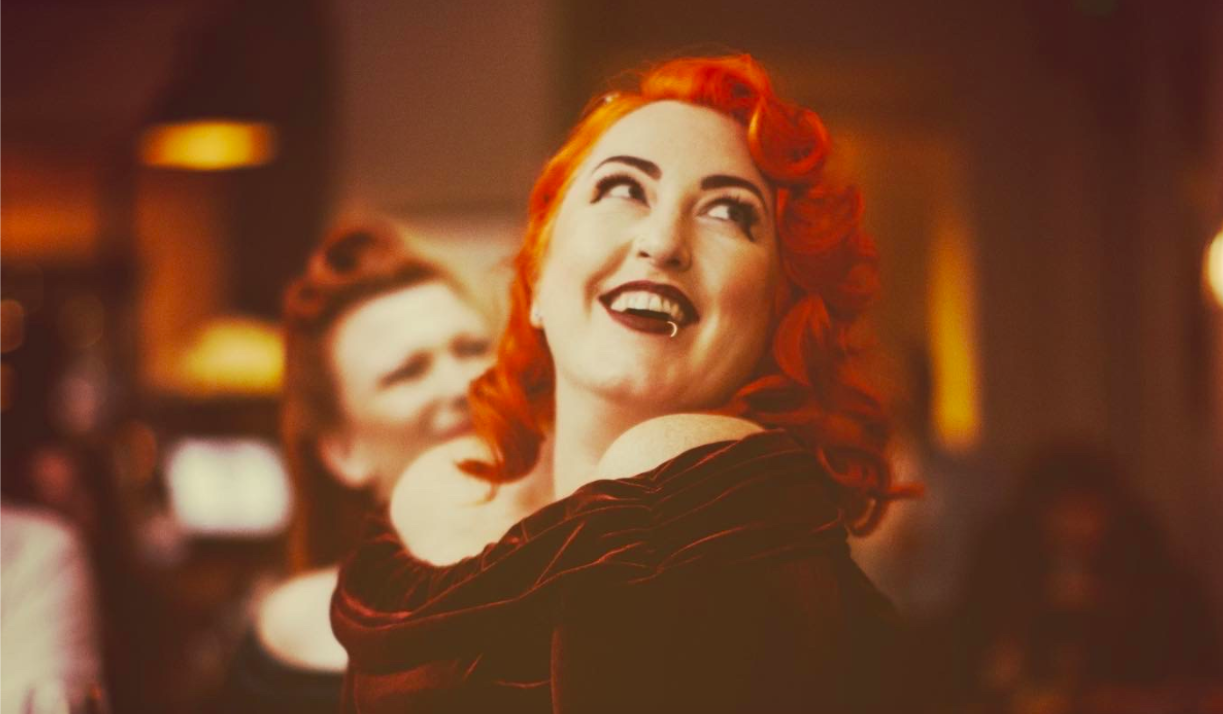 "I felt so much more confident grinning from ear to ear!" – Jo-Anne, 7 months into 10 month treatment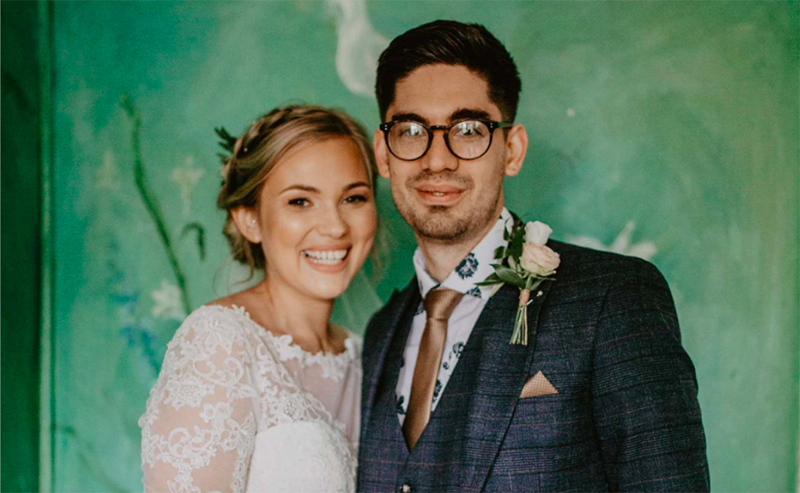 "To be honest, AMAZING! Since I've started the process, I've felt so much more confident with my teeth and more than happy to show them off anytime." – Rhian, 6 months into 8 month treatment
Now that we know what you can expect to achieve in your individual time-frame, how does teeth straightening with Straight Teeth Direct™ fit in with wedding planning?
#4 Save two thirds of the cost on your wedding smile transformation
Possibly the most important aspect in any wedding preparation is the financial one: enough money is already spent on creating the perfect day, who could possibly afford orthodontic treatment on top of that? Well, it so happens that teeth straightening costs in the 21st century don't have to be nearly as high as it may seem. 
If you choose to go down the in-clinic route, you will easily spend upwards of £3500 for basic aligner treatment, and that doesn't even include initial consultations, lost or broken aligners guarantees or retainers. If, however, you choose the at-home option, you can save up to 70% on that extortionate rate.
At Straight Teeth Direct™, we produce your aligners in our own, state of the art aligner production facility, cutting out the third party manufacturers and clinic overheads. Our innovative app also makes for much more efficient progress check-ups. These savings are passed directly onto you, so that you can enjoy professional cosmetic orthodontics at a fixed price of £1650 with no hidden costs, leaving you plenty of financial wiggle-room for more important wedding investments.
#5 Why choose invisible aligners for a wedding smile makeover?
As mentioned before, a wedding to-do list is already incredibly long, and to then add something like teeth straightening on top can seem quite daunting – but only if you're dependent on clinic visits and the high prices that come with them. Let's take a look at the 3 top reasons why teeth straightening with invisible aligners by Straight Teeth Direct™ fits perfectly into anybody's wedding plan.
Invisible aligners, visible wedding smile makeover results
The name says it all: invisible aligners are your ticket to discreet teeth straightening. In fact, our users are surprised again and again by the fact that their aligners go unnoticed by friends and family. This is especially handy during a wedding: No fixed braces drawing attention or food getting stuck between the wires. Simply pop out the aligners and put them back in when you're ready. 
Even though they should be worn for 22 hours a day to achieve your results, some users also decide not to wear the aligners at all on their wedding day. The great thing about this system is that, on rare occasions like these, skipping one day is completely fine. Just compensate by wearing the aligners for an extra few days before switching to your next set, ensuring that the necessary movement has been achieved. 
Hassle free teeth straightening solution
In today's busy world, few people have time for repeated dentist visits, let alone trying to fit them in around wedding preparations. The advantage you have with Straight Teeth Direct™ is that all worries around appointments and long treatment durations are lifted off your shoulders because the entire process is completed online. From your initial free e-consultation to your very last aligner review, an assigned orthodontist plans your treatment and a team of expert dentists monitors your progress and compares it to the predicted results programmed for your current stage. If any changes need to be made to your plan, they can be made immediately.
Another advantage is that everything you need to achieve your final goal is delivered to your door: from your impression kit to all the clear aligners and retainers, you never need to worry about picking up anything from the dentist's office. Your aligners are also delivered in stages according to your progress, and you can change your delivery address part way through the treatment at no extra cost, perfect for a wedding smile makeover.
Your best smile, guaranteed
Despite our best efforts, not every wedding day will go 100% according to plan, so it really helps to know that certain preparations are airtight and fail-safe, such as your wedding smile makeover. We have come up with these industry unique guarantees to set your mind at rest, covering your entire journey from start to after you finish: 
Evaluation and impressions guarantee:

Once a dentist has approved your case, you can be 100% sure that this teeth straightening method is suitable for you.

Lost or broken aligner replacement guarantee:

Your treatment includes the guaranteed replacement of an aligner if necessary, so you can continue with as planned.

Results agreement guarantee:

Before even starting your treatment, you'll receive a 3D smile simulation and comprehensive treatment plan to ensure you know exactly what results to expect at the end of your journey. Once you sign the Straight Teeth Plan, we promise to deliver the expected results with no hidden costs, giving you peace of mind that your investment will pay off.
#6 Leave nothing to chance with your wedding smile – Instant dental assistance 
We all know that there is more to a confident smile than straight teeth – they need to be healthy, too. That's why regular dental checkups are important, but this might not fit into your pre-wedding schedule. Now, there's an easier way to receive a dental screening through a digital dentist. Whether your everyday dental care regime needs a personalised upgrade or you have a specific and urgent issue: Our sister health platform Instant Dentist™ provides you with the professional dental advice you need anytime, anywhere. This innovative solution provides cost effective private dental advice through a unique smartphone app, connecting you to an expert digital dentist online. 
So, for instance, if you have a specific dental issue and aren't sure how to treat it before your wedding, simply complete the online consultation for a digital dentist to evaluate your situation. They can then recommend any necessary products that can all be delivered to your door, or flag any specific issues that need in-clinic attention. This way, you can rest assured that the health inside your mouth is getting exactly what it needs with no added stress.
#7 Wedding smile makeover tips from 5 brides who went through it
Now that you have all the hard facts on how to go about achieving your wedding smile makeover, it's time for some tips from our experienced users. We reached out to 5 of our beautiful users who finally got the smile they deserved, and they want you to be able to do the same. All of them chose this innovative method for their wedding smile makeover, and they have a few tips for you: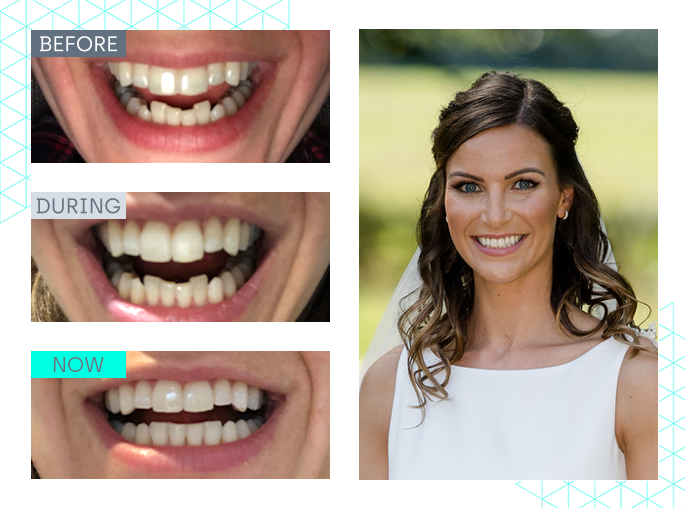 "Do it sooner and don't delay! It was the best decision I made and money so well spent! It's also a great way to stay healthy as you don't snack and I drank so much more water" – Sarah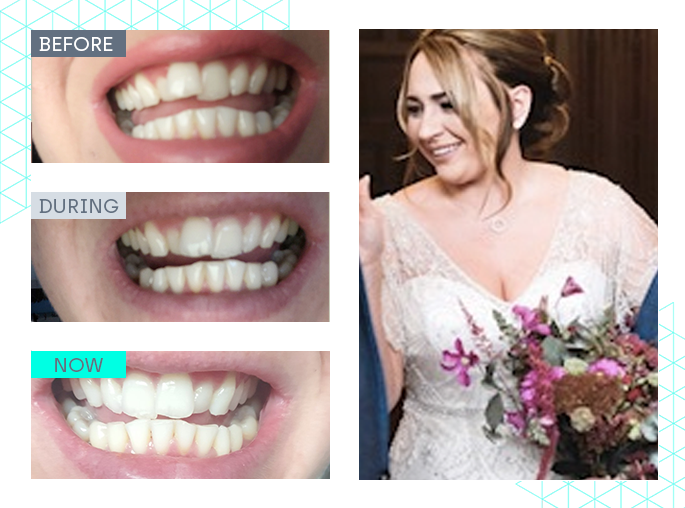 "The difference it made was incredible! If you are conscious about your smile and have the same dread that I did, I would advise that if you are able to, factor the cost of correcting your smile into your wedding budget and start the process right at the beginning." – Chanelle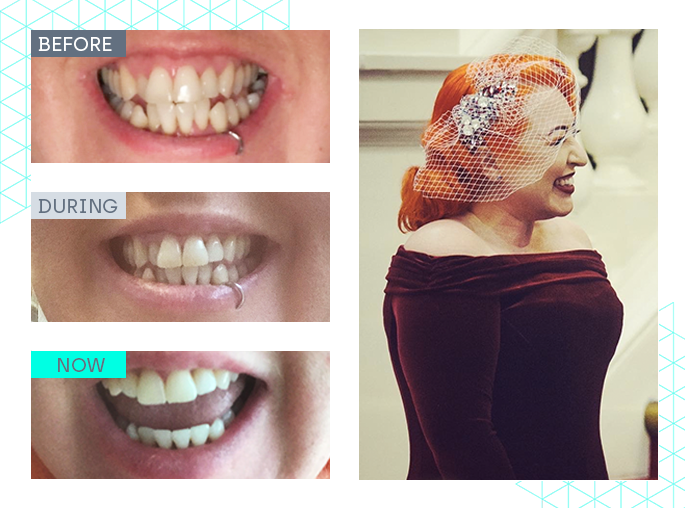 "For me, aligners are just part of my day, absolutely no hassle at all. One tip I would add is get good lipstick that dries well, one that doesn't transfer onto the aligners to avoid them stealing your lipstick!" – Jo-Anne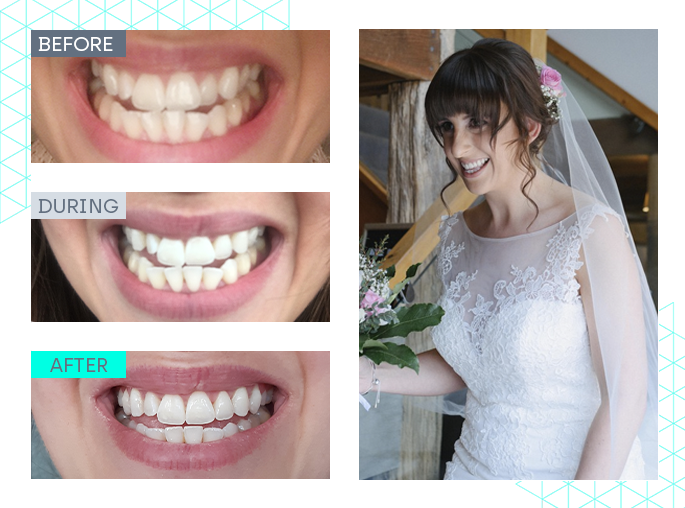 "Start early – I left it a little late which meant my teeth weren't 100% complete by my big day. I still felt amazing and was so pleased that my teeth started to move so quickly." – Lauren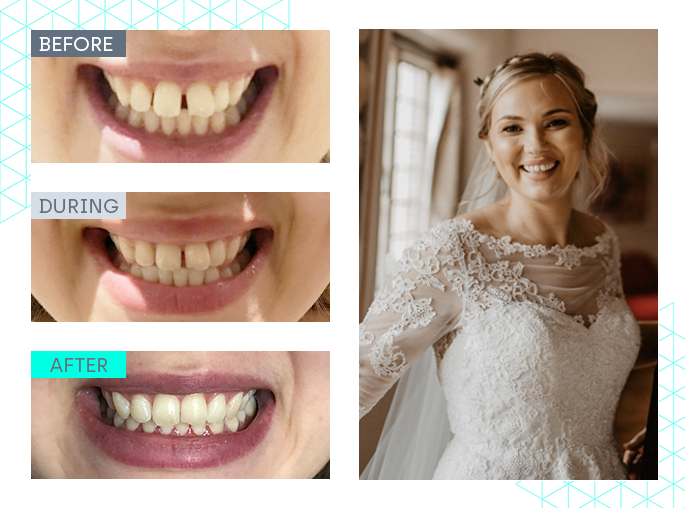 "Opt for a service/treatment that doesn't add onto the stresses of planning a wedding. You want it to be non invasive, which is why I chose Straight Teeth Direct. The process was really simple without affecting my daily life and still achieving the results I wanted." – Rhian
With all that said and done, the most important thing is for you to feel confident in your smile on the day of your wedding. Whether that means straightening, whitening or both, we're here to make it happen! If there's anything that we didn't cover in this guide and you still have questions, feel free to complete your free e-consultation and contact us through your account so we can best assist you in your own wedding smile makeover.
We would like to offer our gratitude to our lovely brides, who we can't thank enough for sharing their Straight Teeth Direct™ wedding smile makeover journey!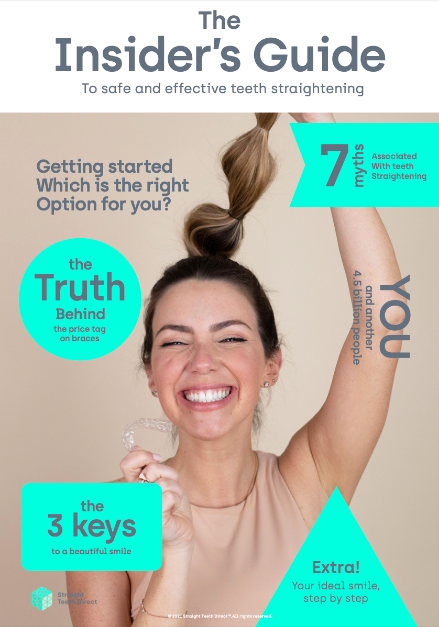 Still thinking about it?
Fill in your email to receive
your free guide!