Environmentally aware teeth straightening – Making the planet smile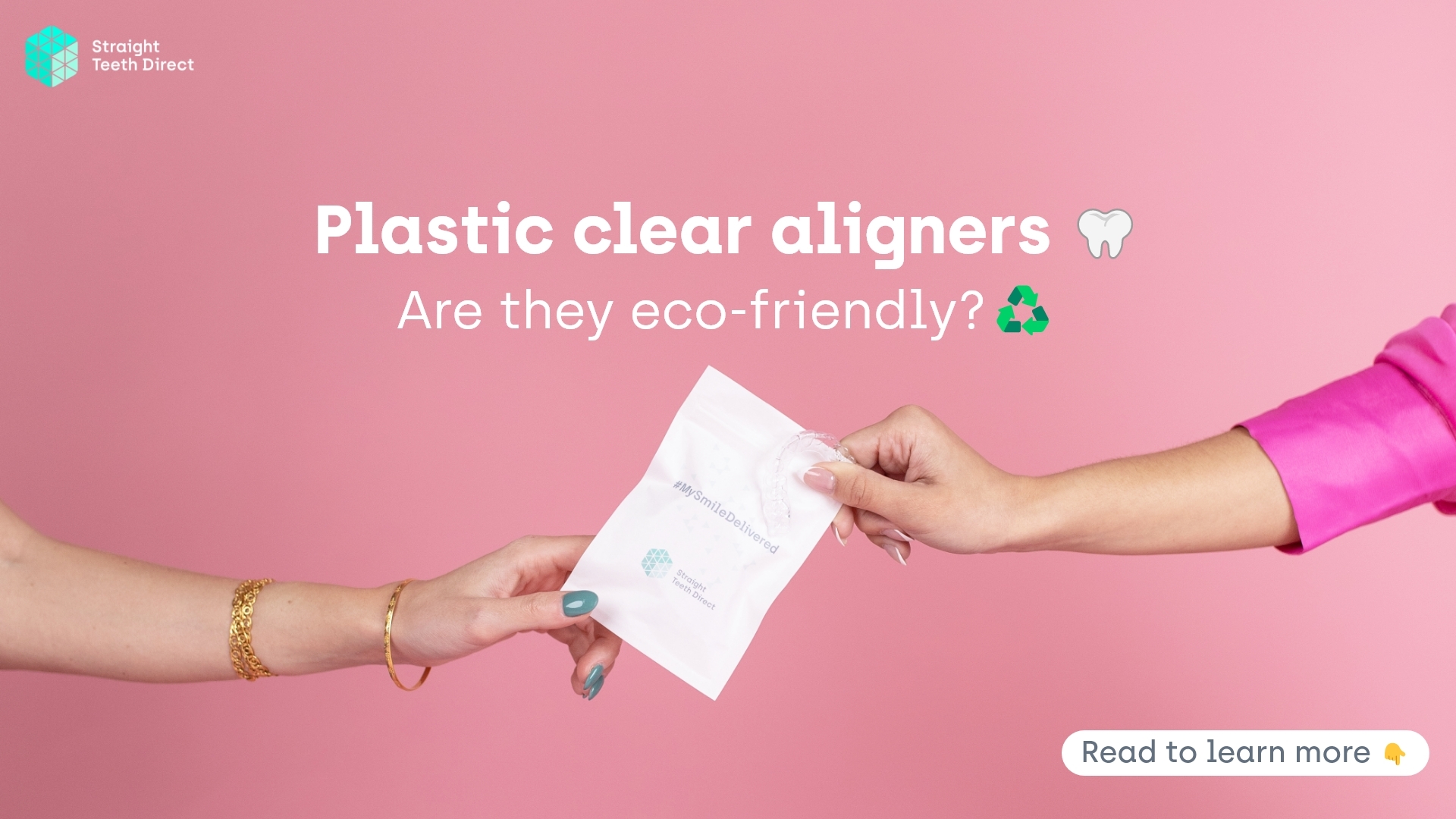 Key points
Each set of plastic teeth aligners needs to be properly packaged and labelled.
Plastic bags and boxes that can take up to 450 years to degrade in a landfill.
We thoroughly reviewed and upgraded our packaging and purchasing activities, opting for eco-friendly alternatives wherever possible – now you can reuse & recycle throughout your smile journey!
Up to 2021 we have manufactured over 150,000 individual aligners. So environmentally aware teeth straightening became a priority for us and we managed to make aligner therapy more eco-friendly than ever.
So how did we manage to go greener and make aligner treatment more eco-friendly?
Are plastic teeth aligners recyclable?
Aligners are medical devices, meaning they have to fulfil the highest material and production standards first and foremost. Some companies use a multi-layered material to create aligners, which is, in fact, NOT recyclable.
What about Straight Teeth Direct™ aligners?
In order to ensure each set is perfect for you AND has as little effect on the environment as possible, our aligners are all made of a BPA-free plastic material that IS recyclable providing it is clean and uncontaminated. All our aligners are designed, produced and quality assessed by our own expert team of dentists, orthodontists and dental technicians. We produce these at our very own aligner production facility & lab in the UK.

Other remote aligner providers
Usually, other aligner providers outsource their aligner production, meaning they have little to no control over the material or production process. Not only can they not guarantee eco-friendly facility practices, but the aligners also have an extra shipment journey before heading off to the smile they were made for, adding to the carbon footprint, thus making them a less environmentally aware teeth straightening option.
Are pouches & grip-seal bags necessary to ship each aligner in?
As mentioned above, it's important for each set of aligners to be packaged and labelled according to their respective treatment stage, which is why individual pouches are quite essential. Plastic pouches are very easy to source and also very cheap, so you would understand why almost all remote aligner companies use them. However, easy doesn't always mean right, so we decided to invest in eco-friendly pouches and grip-seal bags.
All our biodegradable pouches can be decomposed by microorganisms! All you need to do is add them to your biowaste or residual waste bin. Furthermore, to ensure your products don't fall about inside their packaging and stay hygienic, grip seal bags are the most practical option. However, they are also usually made of – you guessed it – plastic. Luckily, we have also been able to source grip-seal bags that are eco-friendly! We're particularly excited about the fact that investing in these new, eco-friendly packaging options supports the sustainable packaging industry to continue researching and growing for a greener future.
Reuse and recycle your boxes & envelopes!
You too can have an active role in this ecosystem. You can reuse our SmileBoxes and StraightBoxes to store your aligner accessories, your old aligners (in case you'd ever need to use the last few again post-treatment), or pretty much anything else!
Our boxes are made of high quality cardboard and are just perfect for storage, but if you want to dispose of them, just add them to the respective cardboard packaging bin.
Last but not least, our return envelopes are:
100% recyclable;
Biodegradable;
Compostable;
Plastic-free.
Remote orthodontics can reduce environmental impact
Apart from being extremely convenient for the user, teledentistry is also incredibly effective in reducing PPE and carbon emissions! Treatment monitoring via a teeth straightening app, enables our dentists to guide users without using dozens of protective gloves, masks and other plastic equipment. This translates into a drastic reduction in plastic and medical waste production in contrast with in-clinic providers.
Traditional orthodontic treatment also requires patients to travel to and from clinics, with multiple trips needed to capture impressions, fit new aligners, monitor progress and resolve any unforeseen issues – all in separate visits. Our solution addresses each of these steps remotely. To put this into numbers, we estimate that we were able to save around 34,672 trips to the dentist clinic, saving a total of around 53,311 kg of CO2!
Eco-friendly aligner treatment tips
Use a bamboo toothbrush (did you know that every plastic toothbrush produced since the early 1900s still exists today?);
Turn off the tap while you brush your teeth and between rinsing your aligners to save water;
If you live near a DHL drop-off location, consider returning your impressions this way rather than scheduling a van pick-up;
Inform yourself on correct local recycling and waste practices – bins differ from region to region!
Office practices count too!
To continue doing our part in more sustainable practices for remote aligner treatment, we have also established corporate campaigns and events related to sustainability. All forming part of this work in progress that we are highly committed to continue! So what do we do at the office to promote more eco-friendly practices:
Reduce, reuse and recycle;
Keep paper waste to a minimum, encouraging more digital practices;
Refillable cartridges and energy efficient printers;
Open windows instead of air conditioner whenever possible;
Provide and use branded refill water bottles and shopping bags.
This way we hope to lead the way to more sustainable processes in the orthodontic field.
Plastic teeth aligners FAQs
What are Straight Teeth Direct clear aligners made of?
Straight Teeth Direct clear aligners are all made of a BPA-free plastic material that is recyclable providing it is clean and uncontaminated. That is how we ensure to make our planet smile!
Can aligners be recycled?
Not all aligners are made of recyclable materials. Quite a few aligner providers use a multi-layer polymer material that makes it hard to recycle aligners. At Straight Teeth Direct, on the other hand, the material we source to make our aligners is recyclable and the aligners CAN be recycled as part of clinical waste.
Are aligner packages recyclable?
Our pouches are biodegradable and can be decomposed by microorganisms in residual waste bins or bio waste. As to the packages, our Smileboxes and Straightboxes are made of high quality cardboard. Meaning they could (and should!) be reused to store whatever you need to – including your old aligners. If you don't want to reuse them, they can easily be recycled if you throw them into the correct bin.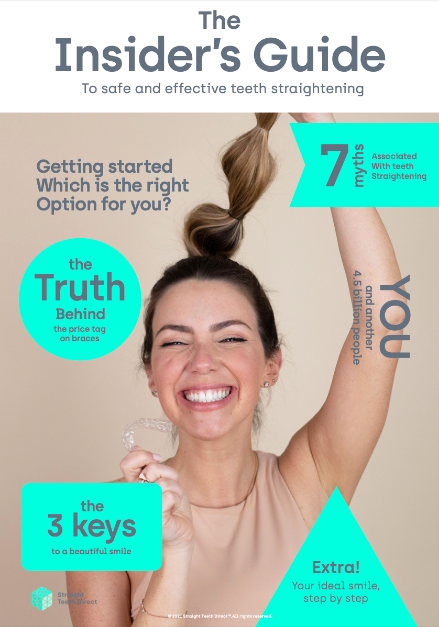 Still thinking about it?
Fill in your email to receive
your free guide!