Teeth Straightening At Home – Not For Everybody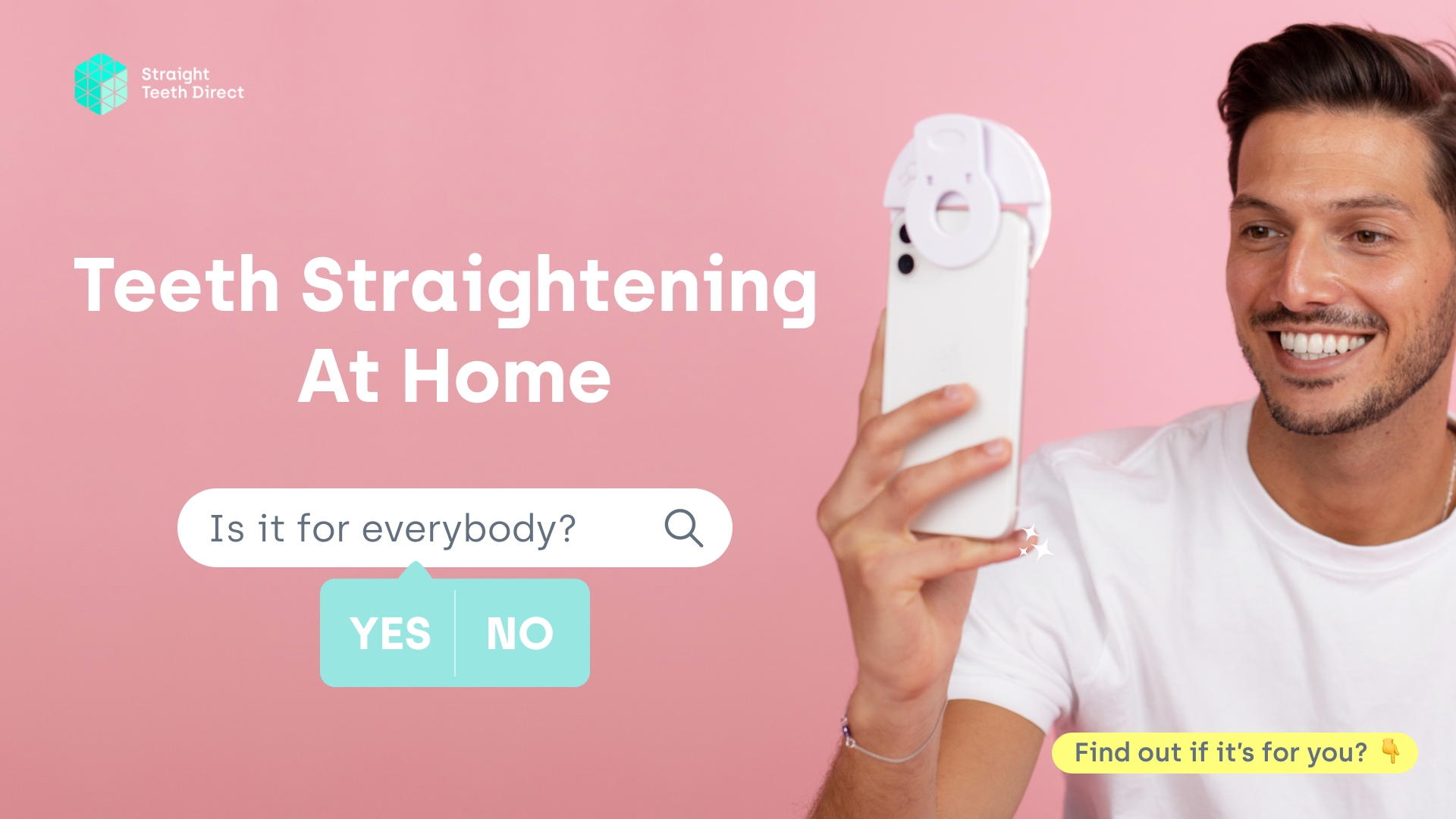 Key points:
Clear aligners are a great way to correct crooked teeth, crowded teeth, and gappy teeth in 5 to 9 months.

You can improve your dental arch shape in a very discreet way with aligners.

Virtually invisible, teeth aligners are designed to fix minor to moderate dental alignment cases.

Some people are not suitable for teeth straightening at home. Among a few reasons, your case might be too severe, or you may not have all natural teeth. Also you will need to be dentally healthy (unhealthy gums, tooth decay or severe bit issues might be an issue).

A successful and safe treatment always starts with good screening performed by a real dentist. For this reason, not all cases are approved for treatment. Last year, at Straight Teeth Direct, we've had a ratio of 74.99% approved cases against 25.01% unsuitable ones.⁠
How does teeth straightening at home work?
Designed for minor to moderate dental alignment cases, removable braces are hardly noticeable. Designed to fit snugly over your teeth and gently apply pressure, so that, over the course of a few months, they're moved into that ideal arch shape, which creates the space for your teeth to easily align into a straighter smile. This process may differ among companies, if you're wondering how the Straight Teeth Direct method works, take a look at the video below:
After submitting your free e-consultation photos, an expert dentist will review your case. If you're suitable for treatment, you'll then be able to order your impression kit. After sending off your dental moulds to our in-house lab, the clinical team will create a 3D simulation of your predicted smile development and results, so you'll be able to see what your new smile could look like.
Is teeth straightening at home for you?
As clear aligners address the position of your front teeth, they're ideal for people who want to straighten their smile without train-track teeth braces whilst saving time and money. When checking each individual case, dentists consider the following factors to determine your suitability:
Teeth position

The first, and most obvious, aspect that our dentists take into consideration when reviewing your case is your tooth position. This includes the space available in your mouth for your teeth to move and align, as well as your jaw shape and size. Invisible aligners work by adjusting your dental arch, so the above factors will determine how much movement and alignment is possible in your particular case.

Dental health

Another very important factor is your general dental health and it must be considered in combination with any orthodontic treatment. Oral health issues can lead to complications in your teeth straightening treatment if not addressed properly. Gum disease and tooth decay, or even replacement teeth and other physical factors are a few of the main issues to tackle – if present – before any treatment.

Tooth shape & size

Tooth shape and size greatly contribute to the look of your final smile. If a tooth has a slanted upper edge, it may look crooked even when perfectly aligned. Factors like skinny, severely worn and misshapen teeth could also compromise treatment if the forces applied by the aligners to move the teeth aren't withstood correctly.

Your goals

Invisible aligners at home are a great way to achieve cosmetic results, meaning straighter teeth within the parameters of your individual dental structure. Our method gently and safely aligns your teeth into their straightest position without the hassle and high cost of traditional methods. However, if you wish to change the physical shape of your teeth to achieve a perfectly symmetrical smile, fixed braces or invasive procedures such as IPR would be recommended.
What makes a suitable candidate for teeth straightening at home with invisible clear aligners then?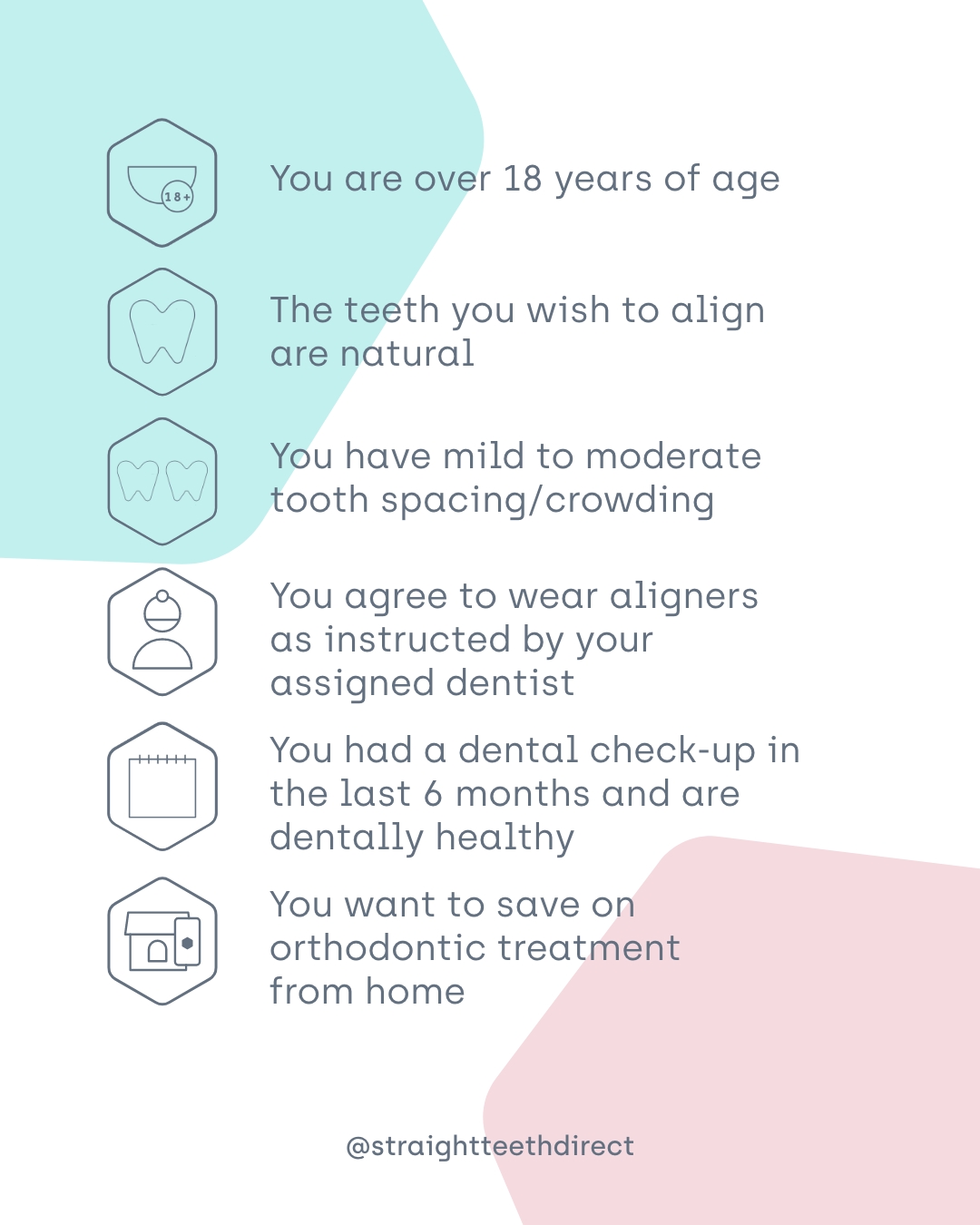 Who is teeth straightening at home not for?
There are a few reasons why some people might not be an ideal candidate. Let's take a look at the three most common reasons why you might not be suitable for aligners:
1) Your case is too severe for teeth straightening at home

Remotely monitored clear aligners are great in most cases. Other more acute cases will require different methods and in-office supervision. Your teeth might be too crowded or spaced for aligner therapy at home, or you may require a tooth to be pulled downwards into its correct position, in which case one-to-one care in person would be best suited. Aligners can only do so much, there is a limit to the type of movements you can achieve using them. Teeth can be realigned and moved, but if a tooth needs a large vertical movement or an extreme rotation, it won't be possible with a completely remote method.
2) You don't have all natural or permanent teeth
Bridges, veneers, crowns, and implants can interfere with the process. People who have replacements on the teeth they wish to move (the front ones) will unlikely be suitable for remote invisible aligners. This is due to replacements being a permanent solution, designed to fit in with the current alignment of the teeth. Straightening the teeth alone wouldn't solve the problem, which is why these cases are best treated in a clinic.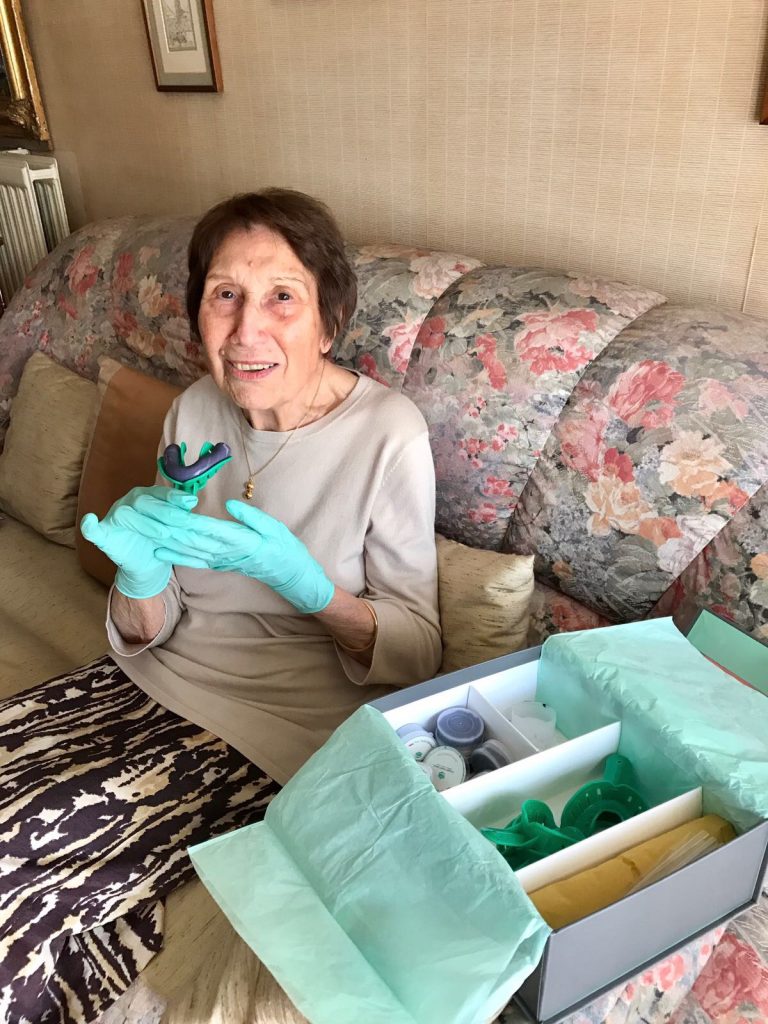 Hence why we don't recommend you try this on your grandma 😉 *
(*disclaimer: In loving memory of our founder Lucie's grandmother who had fun posing for the camera for a mock impression)
3) You are not dentally healthy

You can't start any orthodontic treatment if you currently have unhealthy gums, active tooth decay, or severe bite issues. To help ensure suitability, you might need to provide your dentist with a copy of your most recent x-rays. Additionally you should share your BPE gum scores during the course of the impression stage to confirm that you have no issues with your teeth or roots. Your dentist will also want to make sure there's no presence of active gum disease, which could otherwise cause teeth to become loose over time.
Check out our guest blogs and YouTube reviews playlist to see just how effective a teledentistry model is! Your case is supervised from start to finish according to your 100% personalised treatment plan and by a licensed dentist, who will ensure each clear aligner is modelled perfectly to your dental structure and adjusted to your specific needs.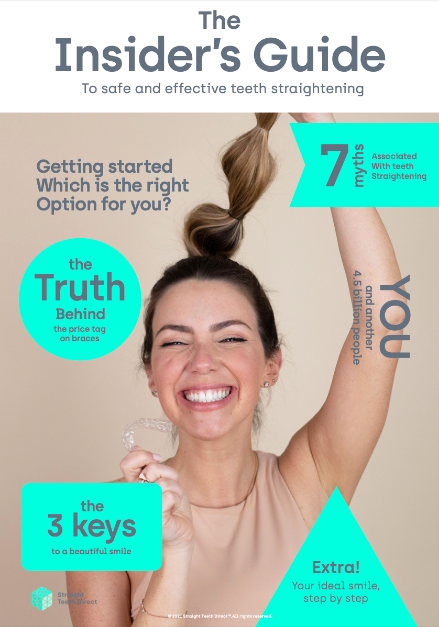 Still thinking about it?
Fill in your email to receive
your free guide!