11 Measures Straight Teeth Direct™ Takes To Ensure Patient Safety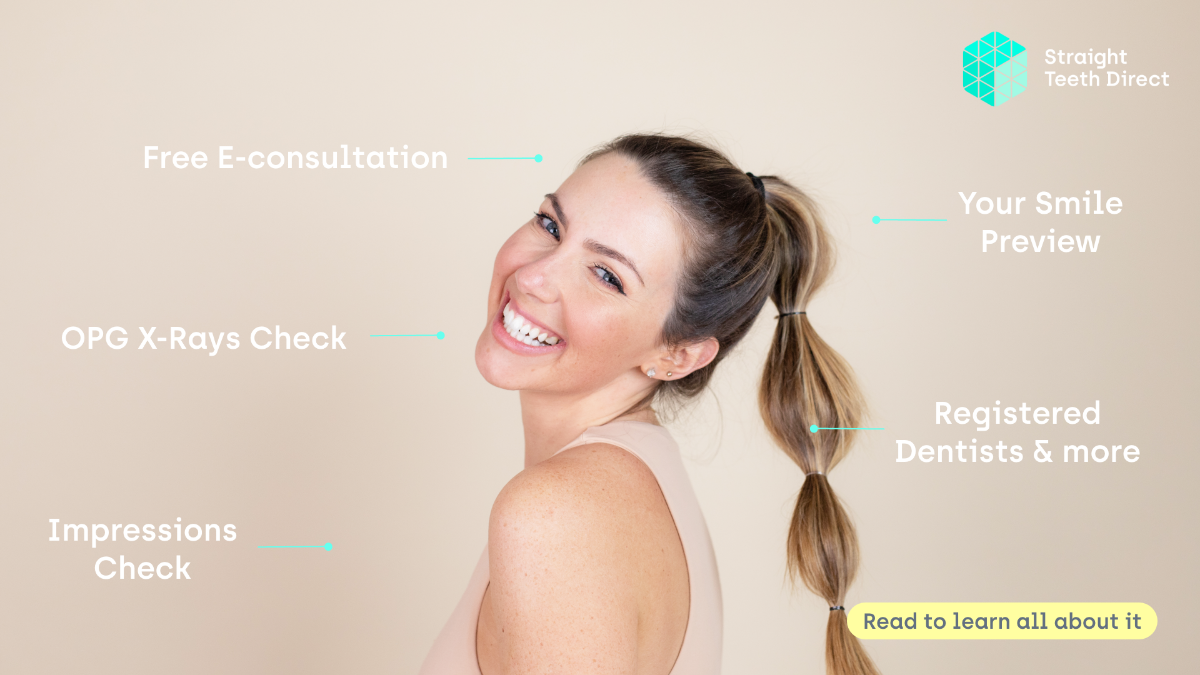 If you have just discovered clear aligners from Straight Teeth Direct™, you must be thinking about patient safety and questioning the risk factors of straightening teeth with clear aligners at home.
In case the thought hadn't crossed your mind with the excitement of finding out you can have braces at home, it has certainly crossed ours.  With all health treatments, it is not a matter of keeping your fingers crossed or hoping for the best. You need to be reassured, and your continuing good health is our first concern. The whole Straight Teeth Direct™ experience has been designed around patient safety and security. Teledentistry is not do-it-yourself dentistry. Teledentistry is do-it-with-a-dentist via your smartphone.  In all aspects of your journey, from your free e-consultation results to taking the first impressions and your improved new smile, you are overseen by registered dentists.
Measures Straight Teeth Direct™ Takes To Ensure Optimal Patient Safety
1# The Free e-Consultation

 

Questionnaire
Your free e-consultation is reviewed as the first test of your suitability for clear aligners. Based on your answers, you will find out if this is for you or not. If your dental fitness is questionable, if you have tooth decay or gum disease, then  you will not be suitable until those issues are sorted.
2# The Free e-Consultation

 

Pictures

The photographs you submit are the next indication of your suitability. If you are not suitable, you will be recommended to visit a dentist for a different treatment (fixed braces behind the teeth for example).
3# OPG X-Rays Check
As part of your case processing, you will need to submit your recent OPG or small x-rays that were taken by your dentist during your last dental check-up. Without a recent x-ray, you will be referred to a dentist to have all your checks made before you can be considered. This is because an OPG x-ray is the best way to ensure you don't have any underlying issues with your jaw or teeth roots.
4# BPE Gum Scores Check
The same applies to your gum scores. From these, it can be established if your gums are healthy and you don't have gum disease. This means your teeth won't be at risk during the straightening and you are all good to continue further with aligner therapy. This is again a routine thing your dentist performs during a dental exam, and you are entitled to have access to your medical notes, so you can contact the practice you recently visited and ask for your x-ray and gum scores.
5# Impressions
 Check
The lab then scans your impressions using a 3D scanner making sure to get a precise measurement of your teeth and their position. At this stage, issues, if present, can also be detected by looking at the digital models.
6# Medical & Dentistry Form
With your SmileBox™, you receive a medical and dental health form for you to complete and sign. Your answers will be checked to verify suitability.
7# Risk Factors & Informed Consent Form
As part of your SmileBox™, you will also receive a risk factors and informed consent form so you know exactly and in detail what you are getting, what the risks are, and what you are signing up for. Everything is transparent and clear.
8# Personalised Orthodontic Report With All Options & Specific Information
You have gotten this far! That wasn't too difficult.  You will now receive a full orthodontic report with all your options for straightening your teeth and information specific to your case.
9# Your Smile Preview
This is where the wow factor comes in. You will receive your smile preview, a 3D image and smile simulation of how your teeth will look once straightened before you commit to wearing your custom-made clear aligners. This way, you'll see the treatment outcome so you know what a dazzling smile you are going to achieve before even starting.
10# Treatment Progress Monitoring
Through our software, you will receive notifications via the app and by email regularly to remind you to wear your aligners and ask you to update us on your progress. If you have any questions, we are here to help.
11# Registered Dentists
We only want the best for you.  We work with registered dentists to comply with each country's regulations.
If all this looks complicated, believe us, it isn't!!  With all the safeguards in place, you can now look forward to straight teeth and your amazing new smile.
If you have any more concerns before starting your own free e-consultation, contact Straight Teeth Direct™ or take a look at the FAQS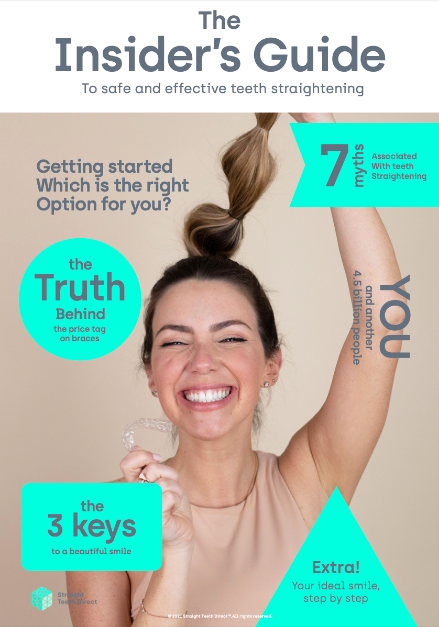 Still thinking about it?
Fill in your email to receive
your free guide!