What Can Go Wrong With Braces In Clinic VS Mail Order Braces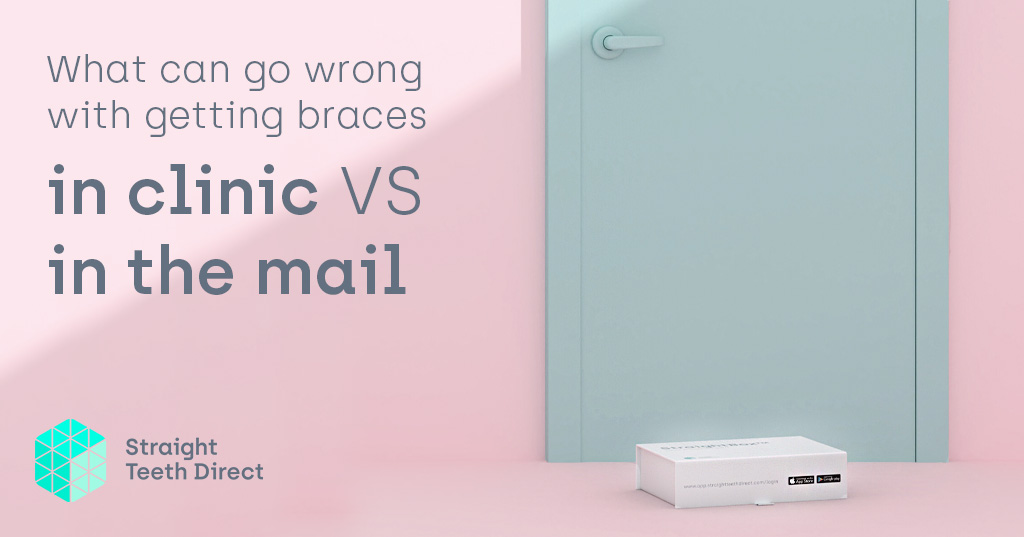 Getting braces from a clinic can seem like a very frustrating experience. It can be difficult to find transparent information on pricing, length of treatment and which options can work for you, this is why more and more people are looking into online solutions and mail order braces to straighten their smile. This can be a great solution however there are many opportunistic companies that have no dental background, nor dentists assessing and monitoring the teeth straightening treatment so you essentially just get plastic in the post which can lead to a lot of disappointment. This is why it's important to understand what you must look for when considering mail order braces.
#1 Remember It's a treatment not a product
The first thing to understand is that getting your teeth straightened is a treatment and braces / teeth aligners are just not solely a product, Any orthodontic treatment needs proper assessment, diagnosis, prescription and continued supervision.
In a clinic you would be assessed and so with mail order braces this should be no different.
You should be able to have an assessment first as there are several reasons you could be unsuitable for orthodontic treatment. Examples include – implants on front teeth, types of crowns, infections, severe tooth decay, severe gum disease, severe crowding, movements which are not currently possible with aligners (e.g bringing down high canines). If you start an orthodontic treatment without checking these items then you may not get the result you are looking for, and your dental health could possibly worsen. This is why it's so important to visit your regular dentist for routine check ups and x-rays when needed and keep seeing your hygienist.
#2 What can go wrong in clinic with traditional braces?
In a clinic the most common type of braces are fixed braces. Today 9 out of 10 orthodontic treatment is still done this way with metal and glue.
Fixed braces, how they can go wrong
They can be white fixed braces or silver fixed braces bonded to the front or the back of your teeth (lingual braces) but there are lots of things to be aware of here.
When having your braces fitted your tongue, lips and cheeks can get cuts and bruises from the brackets. This can cause pain and difficulty eating, it is very common for brackets to fall out and for patients to then swallow these brackets. This can also lead to the wire coming loose and cutting more, plus creating unwanted tooth movements.
Fixed braces and wires need careful monitoring and cleaning. And when the brackets or wire come off, which is super common, you have to find a new appointment your orthodontist can fit you in to repair it.
Fixed braces and oral hygiene issues
The other thing with fixed braces is that they are very difficult to clean, this means your teeth stain more (as there is a glue used to hold the bracket in position that attracts more stains). It's quite common if you eat a curry to suddenly have yellow braces and teeth which is not a nice look. The difficulty in cleaning teeth leads to gum inflammation and gum disease. Google some pictures of gingivitis and fixed braces and you will see exactly what we are talking about. The ability to clean your teeth during orthodontic treatment is critical.
#3 Getting aligners through a dental clinic
Getting aligners is a great way to get straight teeth without compromising on your oral health and appearance.
Getting started with aligners in clinic
In a clinic the dentist takes some molds of your teeth or 3D scans them and then sends that to the lab for designing your new smile. The lab is the place where all the computer aided design occurs, and they design the tooth movements needed based on what your dentist has prescribed. 30% of the time your dentist will need to redo the impressions as often the lab cannot see all the information needed so you will need a new appointment for that.
When your aligners come back you will be shown how to put them in. If they don't fit, your dentist needs to reorder the aligners based on a new impression.
Aligner monitoring during treatment in clinic
During your treatment you will need to attend appointments to show your dentist how your teeth are moving and then they can give you your next sets of aligners. If your teeth aren't moving right they will need to take a new impression and reorder them. You still need to maintain your dental health and will be recommended to visit your regular dentist and hygienist.
The overall process in clinic is basically the same as getting it done online through a reputable company like Straight Teeth Direct™ – the only difference is the cost and lack of convenience.
#4 Mail order braces – what to stay away from
If you are concerned with the results and your oral health then be aware that all mail order braces company are not all made equal. Stay away from those offering aligners sent to you in the post with no dental supervision.
5 things not to compromise on with mail order braces
1. No proper evaluation
No individual evaluation before ordering an impression kit is the first sign.
If you don't want to waste your time then make sure your smile is diagnosed by a dental professional prior to ordering anything so you know for sure if this solution is adapted and will work for your specific case.
2. No option to share your recent dental records (x-rays and BPE gum scores).
With any professional orthodontic treatment you'll always be recommended to have your teeth and gums checked prior to having braces.
The x-ray is to verify that you have no issues with your jaw or teeth roots.
The gum score is something that the dentist looks at during a routine check and the score is an indicator of how healthy your gums are. BPE stands for 'basic periodontal examination'.
For example in rare cases if there are some missing teeth in the mouth, there may be unerupted teeth (teeth hidden in the jaw) and then the other teeth may not be able to move as they are blocked by the unerupted tooth. If you have had gum disease then the x-ray helps evaluate the bone levels of the teeth. If there is severe bone loss you would usually see this from the gum level around the teeth but in extreme cases it may not be visible unless there is an x-ray.
The gum score is a way to evaluate the bone support around your teeth. If there is severe bone loss there will be something called periodontal pockets signified by larger numbers in the gum score such as 3 or 4. This if it indicates active gum disease needs to be treated first otherwise it could get worse if untreated.
3. No result agreement
A treatment plan is not just a video simulation, it should be presented in the form of a report or orthodontic assessment from your prescribing dentist telling you what you can expect and your specific recommendations. This is a medical treatment and it's essential that you have full information into what you're getting yourself into, what are the risks associated with it and overall knowing what to expect.
4. All the aligners at once
All aligners sent at once with no continued support and regular reviews of your photos telling you how you're progressing and receiving your next sets based on that.
When sent in one go, what happens if the aligners don't fit part way through your treatment?
Mail order braces done right
If you're looking for the closest thing to the in clinic model but from the comfort of your home and at a fraction of the cost then that's what mail order braces done right should look like.
With Straight Teeth Direct™ you get the reassurance of experienced dental professionals an guaranteed results.
Initial
Smile Diagnostic
, free of charge.
This is done safely
guided through an app
for detailed photographic views required.
Your teeth photos and dental health questionnaire will be evaluated by a dental professional (dentists and dental technicians working together to better assess your case); and only if you are found suitable you'll be able to order an impression kit.
Your results will be available on the same day and act as your suitability guarantee.
After your evaluation and ordering your SmileBox™ you'll be able to upload a copy of your recent dental records (x-rays and gum scores) so that your assigned orthodontist can review them when preparing your plan.
You'll get full guidance on how to take accurate impressions of your teeth using the manual, video tutorial but also impression photo reviews and guidance on how to take your 6 molds before sending them back to the lab.
Your Straight Teeth Plan is a fully designed report prepared by your orthodontist explaining exactly what will change, what won't change and how the movement will occur in a video. This acts as a clear specification and agreement over the result so you have no doubts. You will also be able to ask any questions you want at this point. If you are happy then you can order your aligners.
Continued tele-monitoring
Once you receive your first sets of aligners your orthodontist will contact you to conduct your first aligner review, and will ask you to share photos and info to get direction and support. This online appointment replaces the first visit to check your aligners fit.
You'll then be asked to send monthly photos to check your progress and together with the technicians who have designed your digital plan your dentist will check your current situation against the planned 3D model and let you know how much progress you've achieved in %.
Then as you progress along your new aligners are sent to you in batches, and if any changes are needed they are handled straight away. This means you have a continual feedback loop of support and monitoring to help you get the specified smile you want.
Always do your homework and ask specific questions before proceeding so that you can make the right decision for yourself and see if mail order braces are right for you.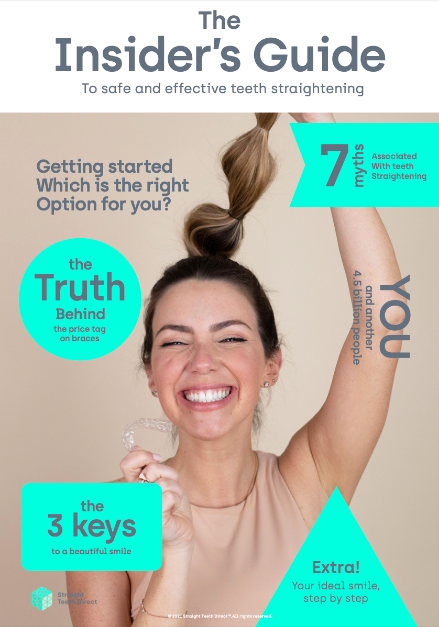 Still thinking about it?
Fill in your email to receive
your free guide!