3 reasons to trust the Straight Teeth Direct platform
Forget everything you've been told about teeth straightening! Through our unique app and technology, Straight Teeth Direct™ makes teeth straightening easy and affordable. The Straight Teeth Direct platform connects you to online dentists wherever you are, allowing you to beautify your smile completely at home with no trips to the dentist and saving up to 70% on the clinic cost.
If you still need convincing, here are 3 reasons to choose the Straight Teeth Direct platform:
#1 The Straight Teeth Direct platform is accessible
You can save up to 70% on the cost of braces and get everything delivered to you, saving you time with no trips to the dentist. How, you may ask?
1) Time is money – and in our case, saving time is saving money. By directly connecting you to doctors via the app and online platform, we can do away with lengthy clinic visits. But that's not all: clinics employ various people, need to finance and maintain their machinery, and outsource their aligner production to a lab. It all adds up, leading to extortionate rates for you to pay. By optimising all these factors and producing the high quality aligners in house, we are able to save you money for an even bigger smile 🙂
So, that means there are really no visits to the dentist? None?
2) That's right! If you've visited a dentist within the last 6 months and have been declared dentally healthy, you're on your way to straight teeth town. It's important to know that your teeth and gums are healthy before starting any treatment to avoid complications along the way. When it comes to your health and safety, there's no cutting corners.
All you have to do is keep up with your regular check ups with your local dentist as usual, no added visits.
#2 The Straight Teeth Direct platform is monitored by doctors
With our unique telemonitoring system you know you're on track every month and have access to a doctor at any time.
From your e-consultation, feedback on your first impressions, to your orthodontic report and continued monitoring, everything is checked by licenced dentists and orthodontists. Why are we so excited about this?
1) With the world's first teledentistry mobile app, Straight Teeth Direct™ are pioneers in aligner tele-monitoring. For the first time ever, you have the freedom to contact your dentist anywhere, anytime. Through that same app, you will submit pictures for monthly monitoring, which allows us to see how your teeth are responding to the treatment. Based on your progress your next sets of aligners are ordered, so we can guarantee your results and adapt/adjust if something goes off track.
2) Thanks to the digital dental experts, as well as the premium materials used every step of the way, from your SmileBox™ impression kit to the very last aligner and retainers, remote teeth straightening has been taken to a whole new level. Your entire teeth straightening journey is overseen by your assigned dentist, so if you ever have any questions or worries, you know professional help is literally a your fingertips.
#3 The Straight Teeth Direct platform is powered by technology
We constantly innovate to make the process better, faster and more comfortable and guarantee results. We can currently treat 80% of cases submitted at home with no visits. But how do they do it, you say?
1) Our innovative and state-of-the-art technology allows us to create realistic 3D rendering of your dental structure and predict how your teeth will shift to their optimum position.
Here you not only receive the very exciting smile simulation video showing how your smile is programmed to transform, but also a full orthodontic report explaining what you can expect and things you should be aware of before getting started.
With continuous monitoring you know exactly how far you've come and the clinical team has an exact history of your progress, allowing you to have better insights at any point during the process.
2) Straight Teeth Direct™ is at the forefront of aligner technology and research. We are constantly incorporating new ways to improve your experience and teaming up with other science backed brands, like REGENERATE Enamel Science™, to offer you additional ways to improve your dental health and beauty at home.
Have we sparked your interest? If you're looking to reach new smile goals, here're some more exciting news: you can find out if you're eligible by completing your free e-consultation today.
If you then choose to order your impression kit, you'll receive your plan along with your smile simulation, so you can see exactly what to expect at the end this exciting process.
Of course, all of this is absolutely obligation-free – we may apply pressure to teeth, but not to our users!
So, do you really need any more reasons to give the Straight Teeth Direct platform and your free e-consultation a go? 😉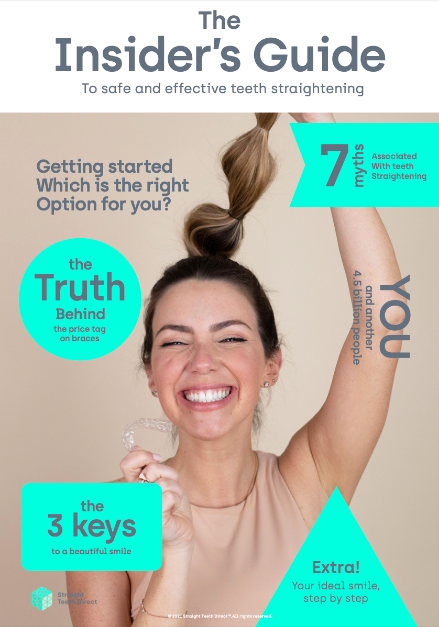 Still thinking about it?
Fill in your email to receive
your free guide!