How to achieve Cosmetic Improvement not perfection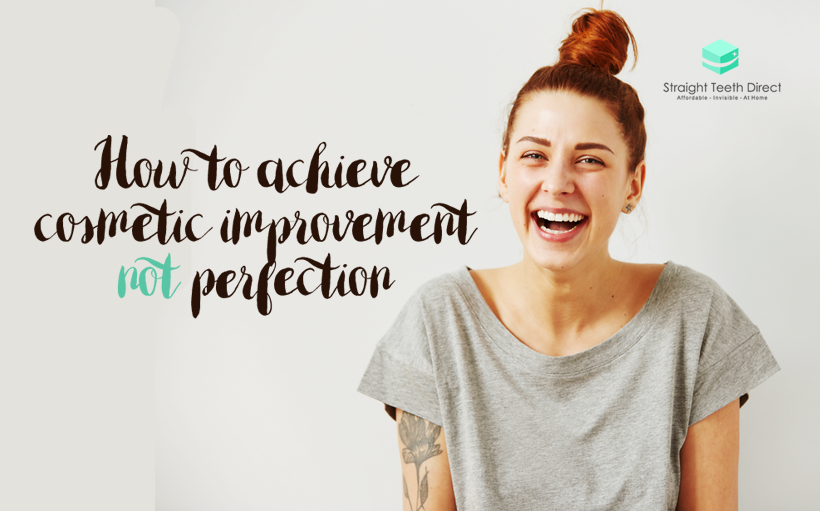 Everyone wants a nicer, straighter smile and aligners are great at gradually moving teeth to achieve this. They can give you a much straighter smile, and together with teeth whitening you can get even more beautiful results.
However, aligners at home can't deliver exactly the same results as 2 years of fixed braces with brackets and wires and teeth extractions. The goal with aligners is cosmetic improvement, not absolute perfection.
Why perfection isn't always possible
When doing your free e-consultation, you might get a result that says cosmetic improvement is possible but not perfection – so what does that mean?
The teeth could be much straighter but the jaw position won't change. So the top layer might still be in front of the lower teeth.
The teeth will be straighter but slightly overlapping, because there isn't enough space without extractions or IPR. This is the maximum improvement possible with an at-home treatment.
The teeth will appear much straighter but some teeth won't be rotated or moved just how you want them to – this isn't possible with an at-home model. This means your smile will still be nicer overall but the teeth positions won't be perfect.
The front teeth visible in your smile will be straightened but some of the back teeth that are extremely out of position won't be changed.
All of these results will be visible in your smile preview after you order your home impression kit: the SmileBox™.
When cosmetic improvement is the best option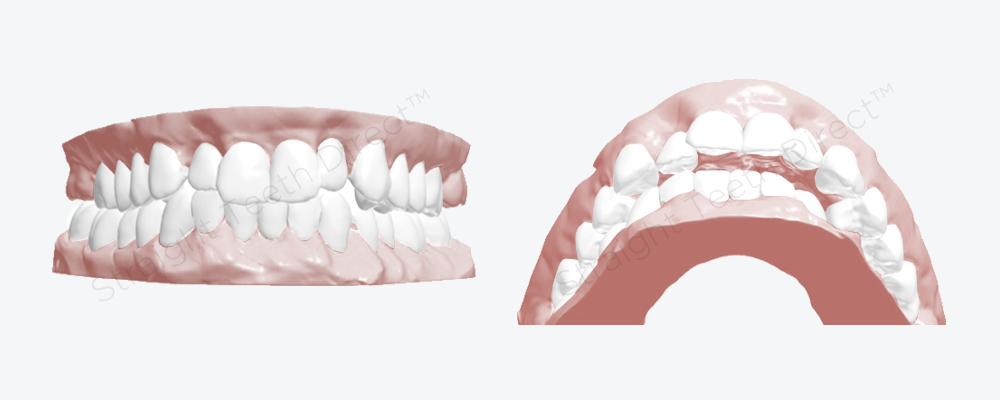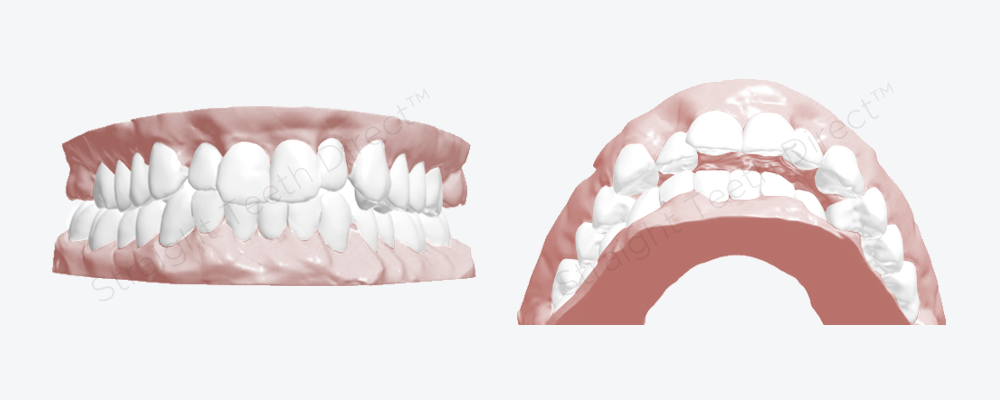 Here we can see an example. The image on the left shows the front side two teeth are behind the front two teeth. The lower jaw is smaller than the upper jaw which means the lower teeth are further back. This can't be changed without surgery, so the cosmetic improvement available would be straightening the upper teeth. The view on the right shows the crookedness of the upper teeth better and you can see where the lower teeth rest behind the upper teeth. The position of those lower teeth can't be brought forward because the lower jaw is smaller.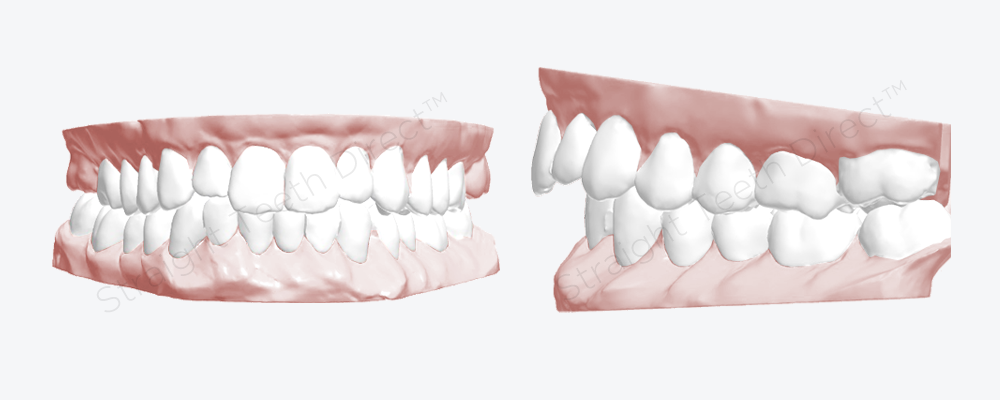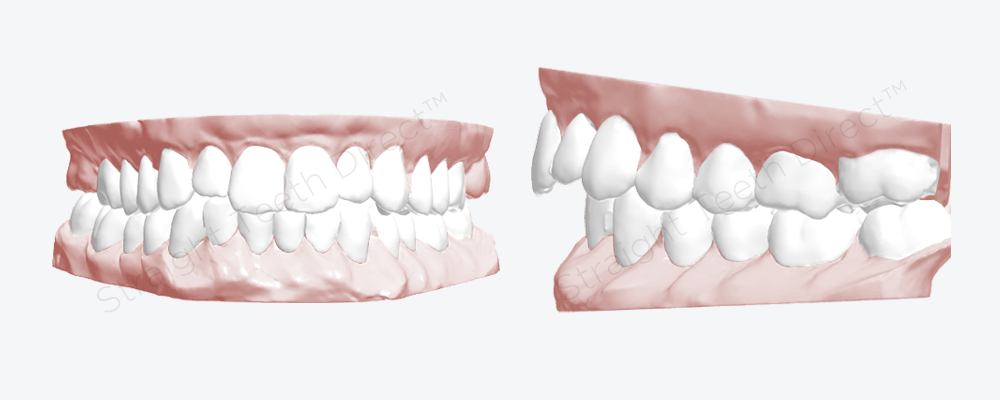 When straightened, they'll look like this. We can see a nice, straight smile from the front and straight teeth from the side. We can also see the lower teeth have stayed straight where they were.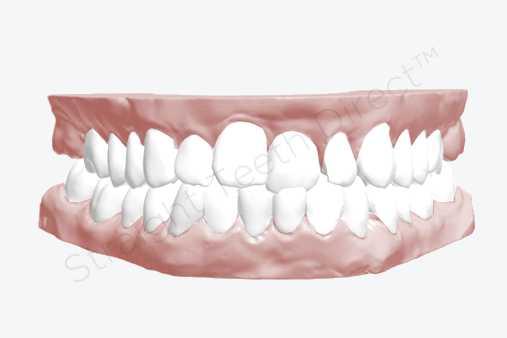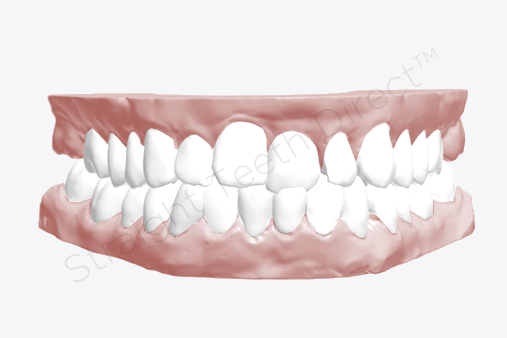 Here's another scenario. The front teeth are uneven and crossing over the lower teeth, they're also at different heights. Using remote aligners can straighten teeth but they can't move teeth up and down, which won't tackle the height disparity. That is only possible with brackets, wires or attachments on the aligners through in-office treatment. So if you want a better smile let's see what's possible with cosmetic improvement.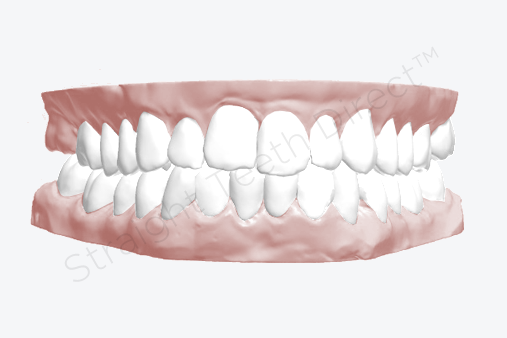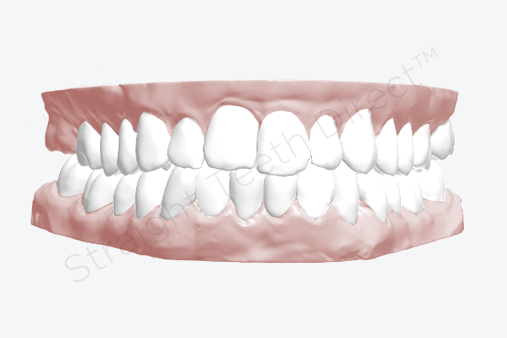 After using aligners they're much straighter and more even. The edges of the teeth could be improved further with cosmetic bonding/contouring to even them out.
Here's another example. We can see the lower teeth are very crowded and uneven, so there isn't much space for them to move into.From the front onwards the individual lower tooth that sticks up really catches the eye. After straightening with clear aligners you can see a much more even arch form, but it's not quite perfection.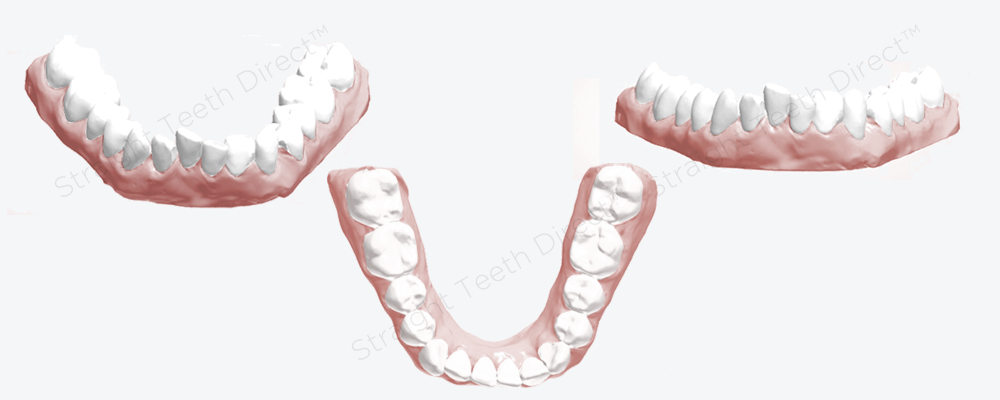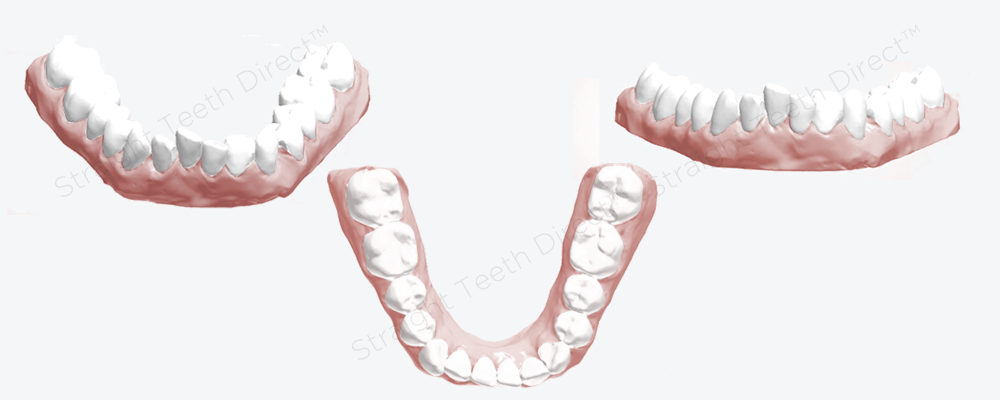 From the front on you can see the edges don't stick out like they did before. The teeth aren't perfectly straight but the smile is much better – a great example of cosmetic improvement.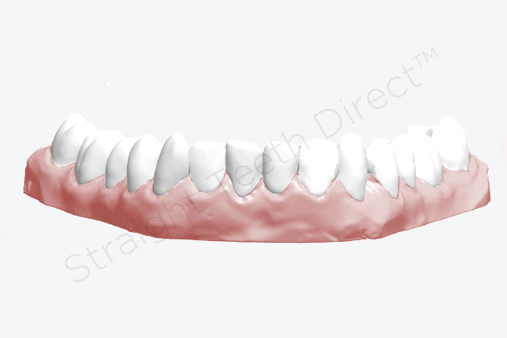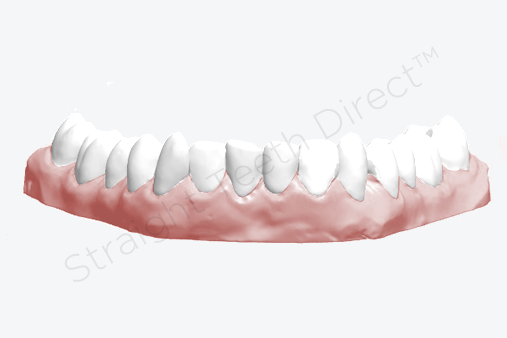 If all of this sounds good and you're unhappy with your crooked teeth and want a much nicer smile without all the hassle and expense of going to a clinic, then Straight Teeth Direct™  could help.
Find out if your smile could be transformed with cosmetic improvement. Upload your photos to receive your free e-consultation.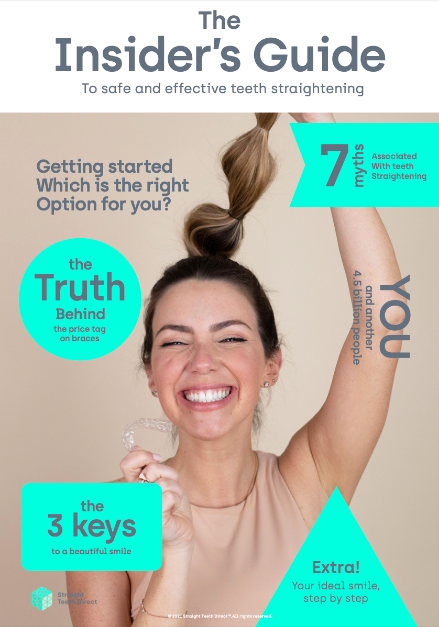 Still thinking about it?
Fill in your email to receive
your free guide!