Top tips for travelling with aligners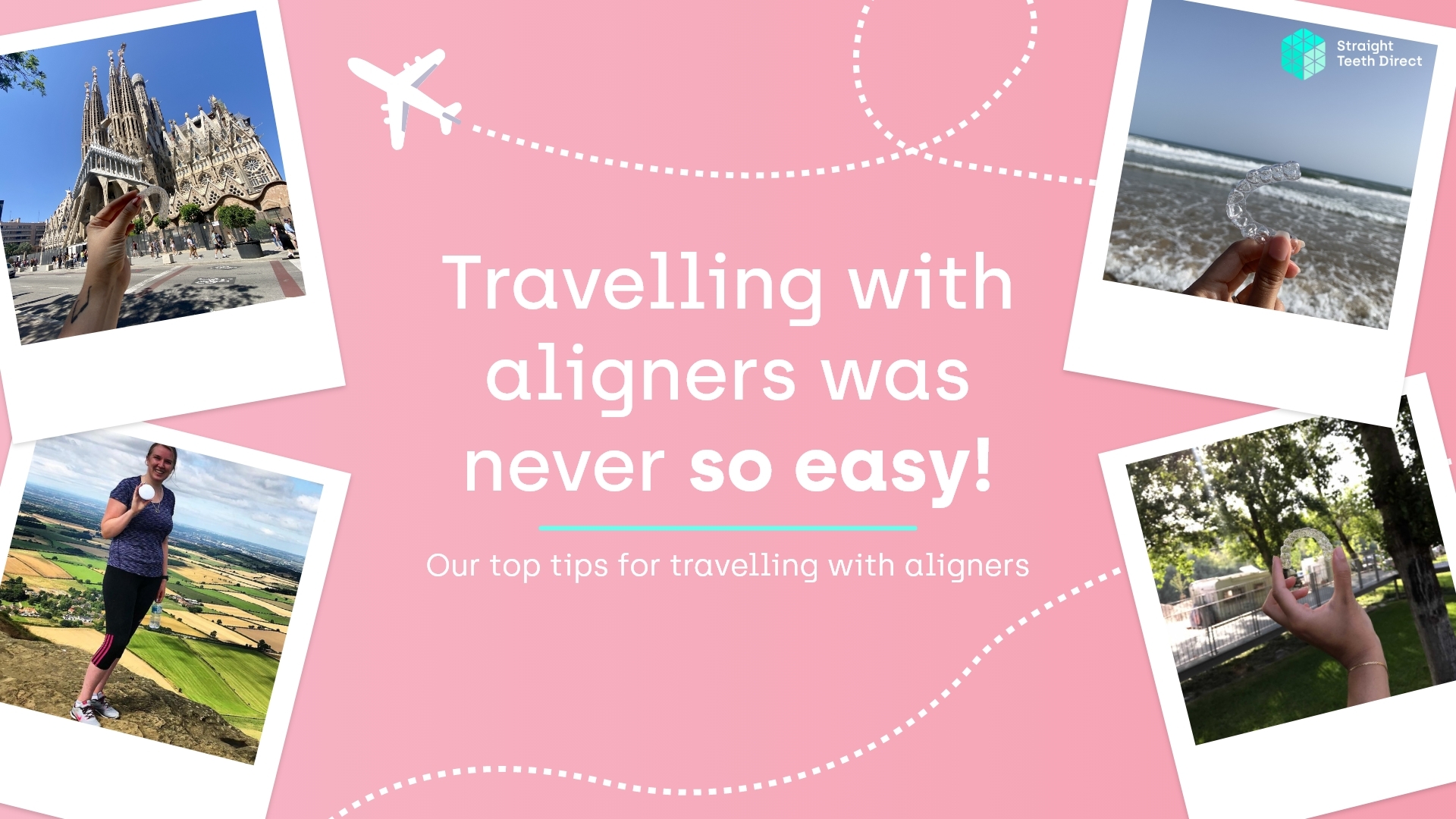 Key points: Is travelling with aligners possible?
If you can travel without aligners, you can travel with aligners!

Travelling with aligners requires little to no extra effort. Clear aligners are hassle-free and easy to keep clean. Just make sure to bring your aligner case, as you would normally, so you can store them safely while eating out and about, and give them a brush whenever you brush your teeth to keep them clean – simple!
(Keep reading to find our top tips for travelling with aligners!)
4 tips for travelling with aligners
The great thing about at home clear aligners is that the entire process is done at home anyway – so it really doesn't matter where you are! We've put together a few tips to make travelling with aligners super easy for you.
Aligner care essentials on the go
Remember to keep your aligner case, chewies, a toothbrush and toothpaste with you at all times (just like in everyday life) so you can safely remove and store your aligners when eating out and about. Brush your teeth before popping them back in and you're good to go! We also recommend bringing hand sanitiser to avoid getting bacteria on your aligners while handling them.
If you're away for longer, it's also a good idea to pack some aligner cleaning tablets to soak your aligners in, keeping them sparkly clean and free of plaque and bacteria.
Oral care essentials on the go
We're sure you know this, but we'll add it for good measure. You might be on holiday, but your oral care routine is not! Make sure to care for your smile the same way you would at home. Bring a good (preferably fresh) toothbrush, toothpaste, your dental floss, and sugar-free chewing gum to keep your smile healthy while out and about.
Bring your previous and next set of aligners
In the event that your current set of aligners gets damaged or lost (though unlikely, because you know how to take care of your aligners 😉), if you get stuck somewhere or if you're away longer than expected, it's a good idea to bring your previous and next set of aligners. This will ensure you don't lose progress in case of an aligner emergency, or that you can continue your treatment if your getaway is extended. In this case, remember to always consult your dentist before changing aligners!
Drinking enough water is especially important if you're in a warmer climate! Dehydration can also cause your lips and gums to become irritated more easily, which we don't want during aligner treatment.
If you're drinking anything aside from water, remember to remove your aligners or drink carefully through a straw (some people carry a reusable one with them) to minimise contact with your aligners. 
And don't forget: not all tap water is drinking water. Inform yourself before travelling and remember to have bottled water with you on the go. In an emergency, you can also use it to wash off your aligners and brush your teeth after meals wherever you are, like our CEO Aalok had to recently 👀
How to manage aligners on a road trip?
If you're planning to go on a road trip there are a few things to keep in mind regarding your aligners and aligner care routine:
Roadside bathrooms can be nasty (and usually not where you need them to be!).

There will be a lot of eating in the car.

Unless you own a RV, you will not have a sink or a comfortable place to clean your aligners.
To tackle these issues you might need to get creative on how to properly clean your aligners in between meals, such as cleaning them roadside on the way to your destination. Same applies to brushing your teeth before popping them back in.
Can you wear aligners on a plane?
Wondering if you can wear aligners on a plane? The idea of metal braces and TSA scanners might raise this concern, but there's no need to worry: aligners are made from BPA free plastic material and won't cause you any trouble going through airport security.
How to manage eating out while travelling with aligners?
First and foremost you must not forget you cannot eat with your aligners in! Here are a few tips for a comfy eating out experience:
Always have your oral hygiene kit of choice at hand!

Remove your aligners in the bathroom if you don't feel comfortable enough to do it at the table.

Store your aligners in your aligner case.

Brush your teeth before putting the aligners back in.
In case you were wondering what a real situation would look like…here's our growth team lead Margarida's take on how to eat in public with aligners:
Can I go swimming with aligners?
You can swim with your teeth aligners on.
In order to move your teeth, clear aligners are made to fit them perfectly, so there's no risk of them falling off of your mouth while swimming.
If you'd rather take them off to swim it is also fine. However, remember that if you're going to swim for longer than two hours a day that could clash with the 22 hour rule. So make sure you stick to your plan and take that into consideration.
How do you clean your aligners while travelling?
While travelling with aligners you may feel compelled to overlook your aligner care routine. So make sure you have a soft toothbrush and water at hand wherever you go. Head over to a place where you feel comfortable cleaning them but don't forget to do so every time necessary! 
There's one downside to cleaning your aligners with only water as natural bacteria and plaque can be hard to brush off.
In order to have sparkly clean teeth aligners you'd most definitely want to clean them with either one of these two:
With non coloured nor scented hand soap (to not stain your clear aligners)

With some cleaning tablets for aligners – it is usually as easy as just popping an aligner care tablet into a glass of water with your aligners, letting them soak for 15-30 minutes before gently brushing and rinsing with water.
Can you continue aligner treatment abroad?
You might go on a trip, but what if you love that place so much you decide to stay there?
We've got good news for you…you can continue your treatment after moving abroad!
But how exactly can you do that? Is there an option that allows you to continue your aligner treatment after moving without switching dentists?
How to transfer orthodontists mid-treatment
Switching orthodontists can be hard as it poses a few challenges:
The new orthodontist may have a different point of view when it comes to treating patients.

Some local dentists won't accept mid-treatment cases.

In some cases you will have to pay them for treatment all over again.
Your checklist on switching dentists mid aligner treatment:
Inform your current dentist you're moving as soon as possible.

Research and select your new orthodontist in your new area.

Make sure you know of all legal aspects and take care of all paperwork beforehand.
With Straight Teeth Direct aligners
If you go for Straight Teeth Direct, you won't need to transfer your aligner therapy for a new dentist!
From your very first e-consultation to confirm suitability, to your dental impressions and final set of aligners, the whole process is completed remotely, without the need for any clinic visits. Any physical equipment or medical devices that you need, such as dental impression material (SmileBox™) or your aligners and accessories (StraightBox™), is sent directly to you, wherever you are.
How do you receive professional monitoring? We're glad you asked…
In-app, dentist-led prescription and supervision
We have developed our teeth straightening app to be your ideal pocket-assistant throughout your entire remote treatment journey. Everything from monthly reviews with our team of dentists to ensure your treatment is on track, your progress photos and videos, treatment plan details, and nifty progress tracker can be found in the app – just a click away, wherever you are.
Whether it's time for your monthly progress review, or you have any questions or concerns for our support team or dentists, the Straight Teeth Direct app gives you access to the answers you need – no clinic appointments needed! Simply head to your account's Message tab and a right team member will be in touch soon (usually within a matter of hours). The app also gives you access to support material, resources and tutorials for every treatment stage.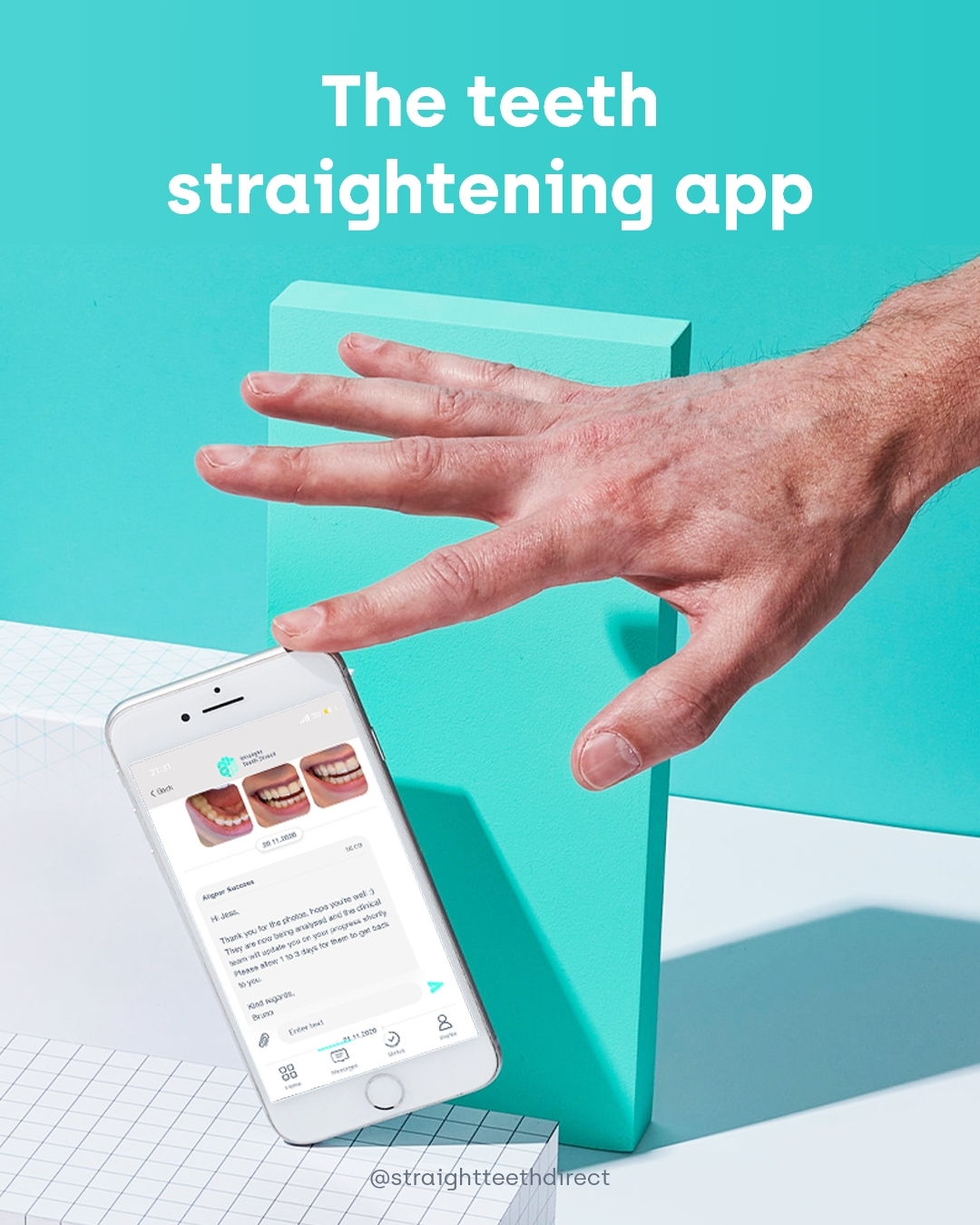 Unlimited and free address changes
As you know, we never send all your aligners in one go. Instead, your aligners are produced and delivered according to your real time progress, as monitored by our dentists through the app. If you're on holiday or travelling at the time of your next aligner delivery, simply change your address in your app account and send us a quick message to confirm that we have received the update. Your next aligner shipment will then reach you wherever you are at no extra cost (UK and EU, other countries may incur additional shipping fees)!
For more information on why the Straight Teeth Direct remote model is the #1 choice for globetrotters, check out this blog!
A sneak peek into our team travelling with aligners
We love quality testing our own products, and so many of our team members have gone through aligner treatment and travelled during the process. Here are their pictures and personal experiences travelling with aligners: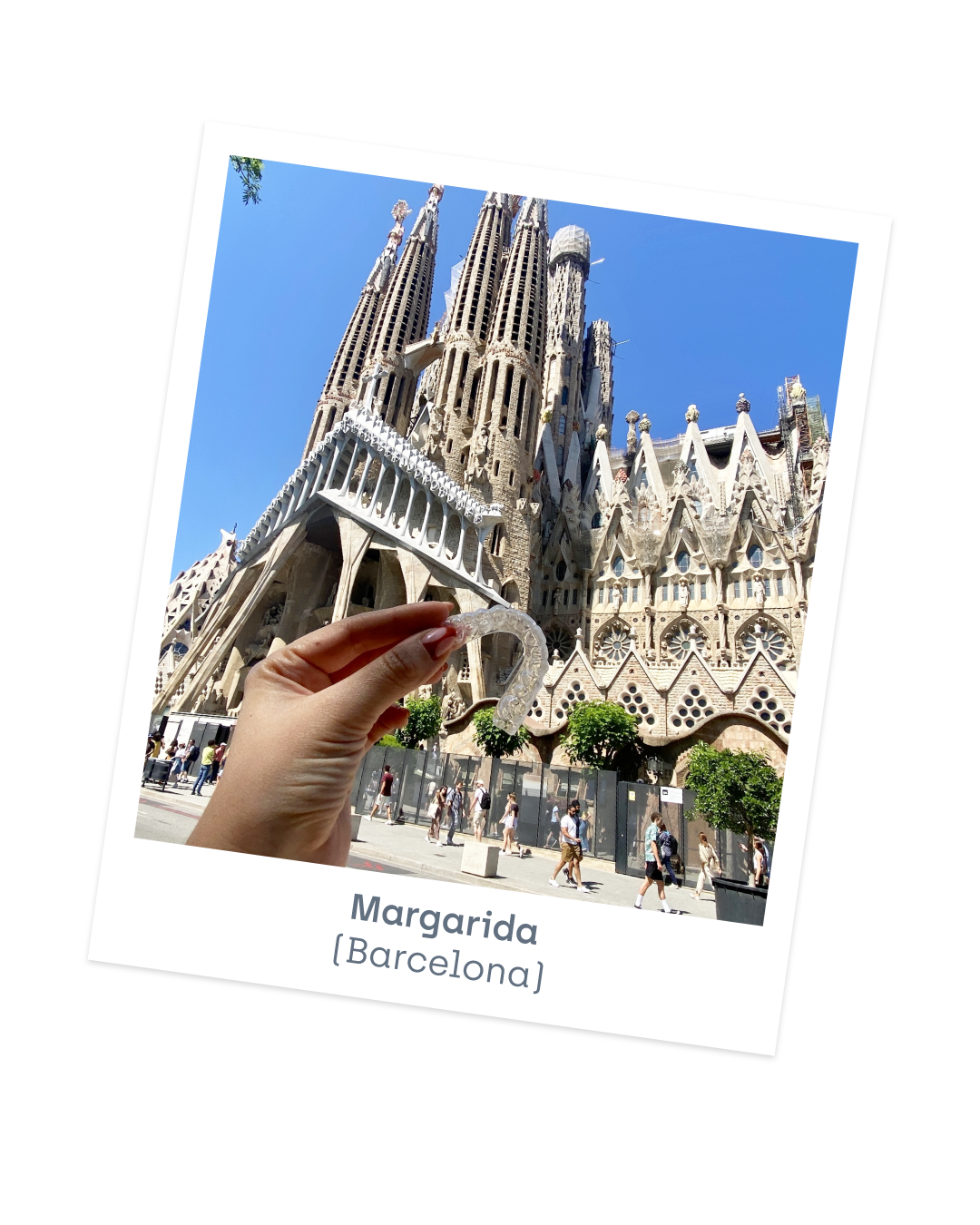 "I love trying all the local food when I'm travelling, and aligners are perfect for that: I just take them out, eat, and quickly brush my teeth before putting them in again and I'm ready to go!"
– Margarida in Barcelona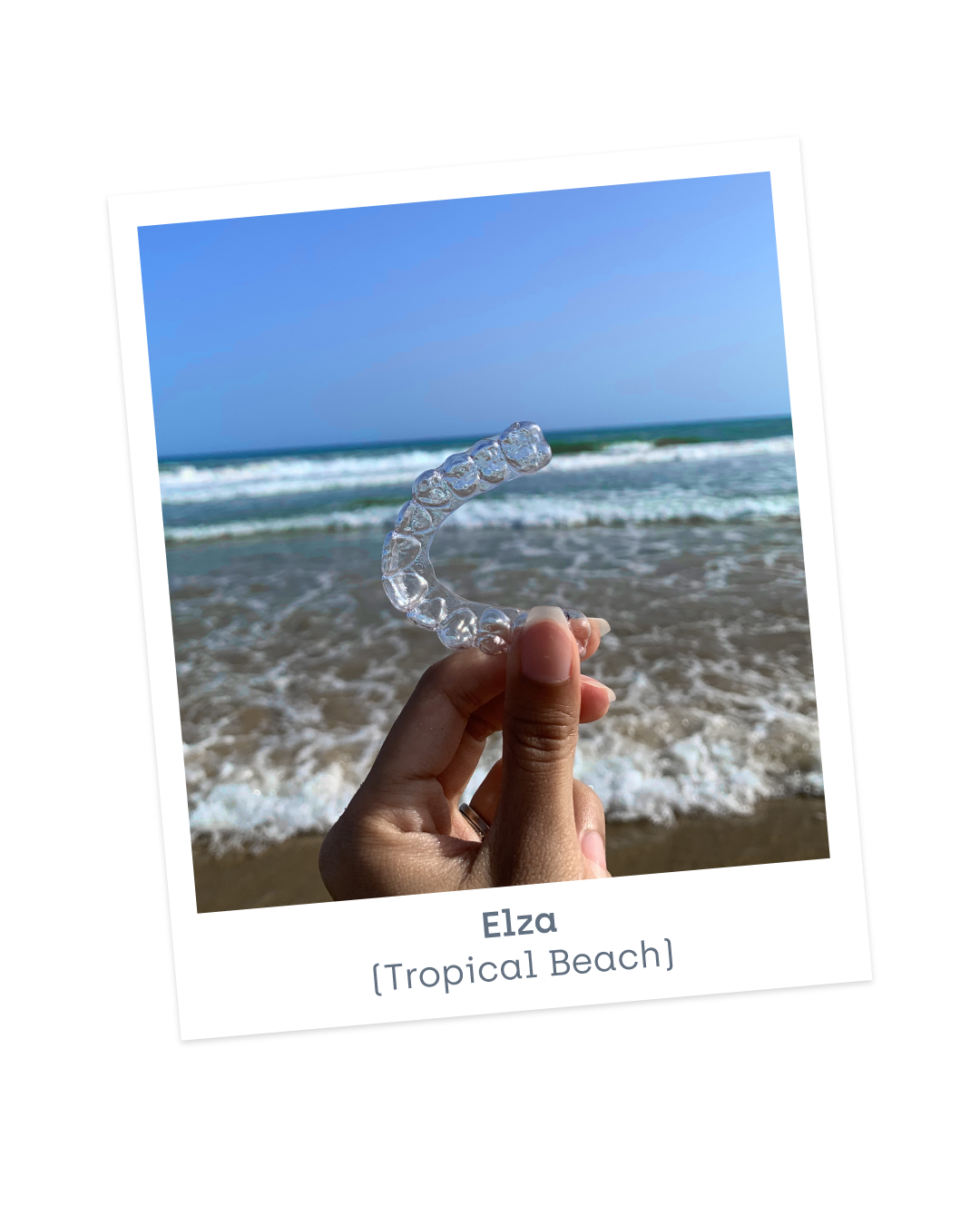 "The aligner case is the ideal travel companion because it keeps my aligners clean and protected no matter where I am or when I want to remove the aligners."
– Elza at a tropical beach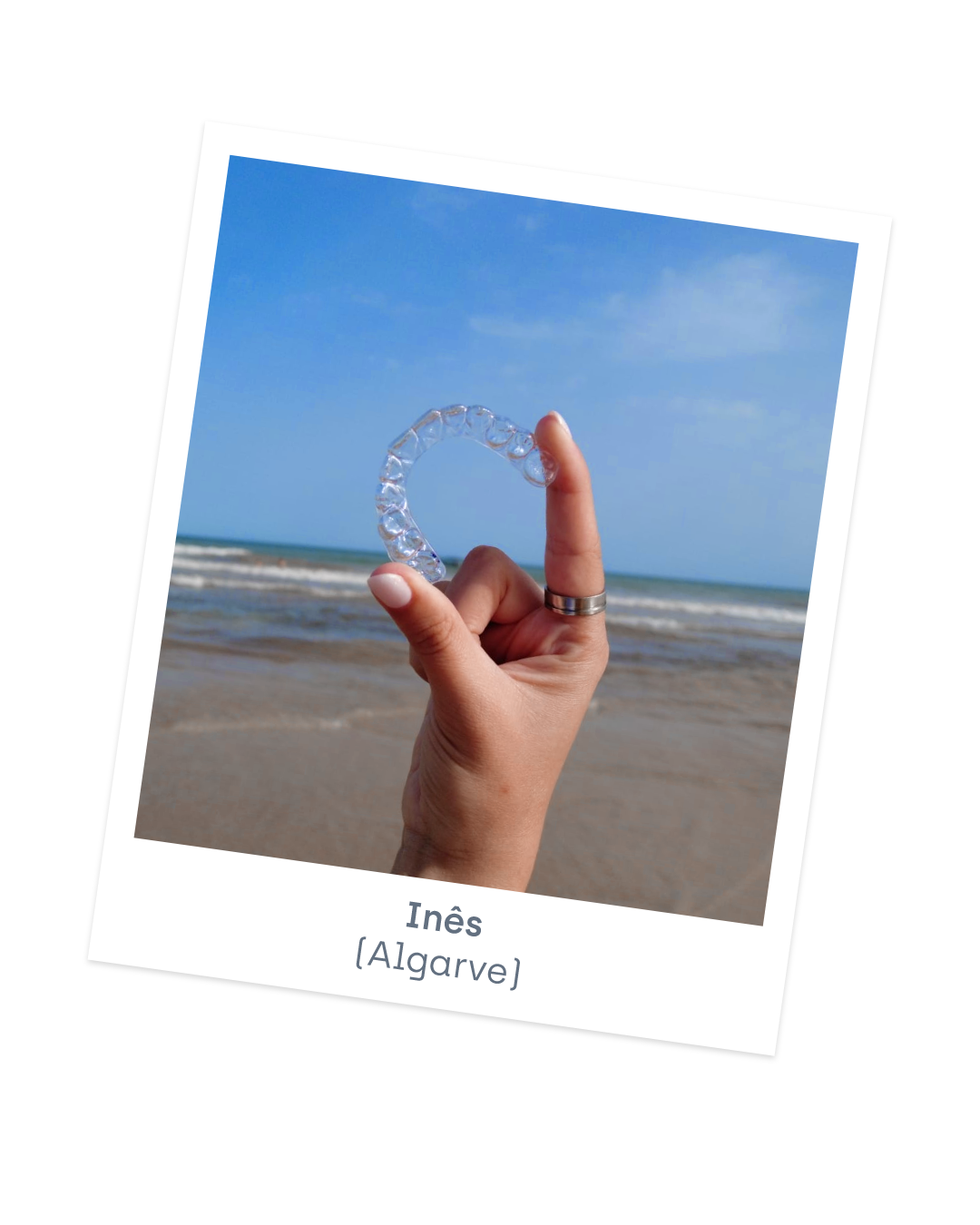 "I love how invisible the aligners are so I never have to think twice about the fact that I'm straightening my teeth when taking holiday pictures and making amazing memories."
– Inês in the Algarve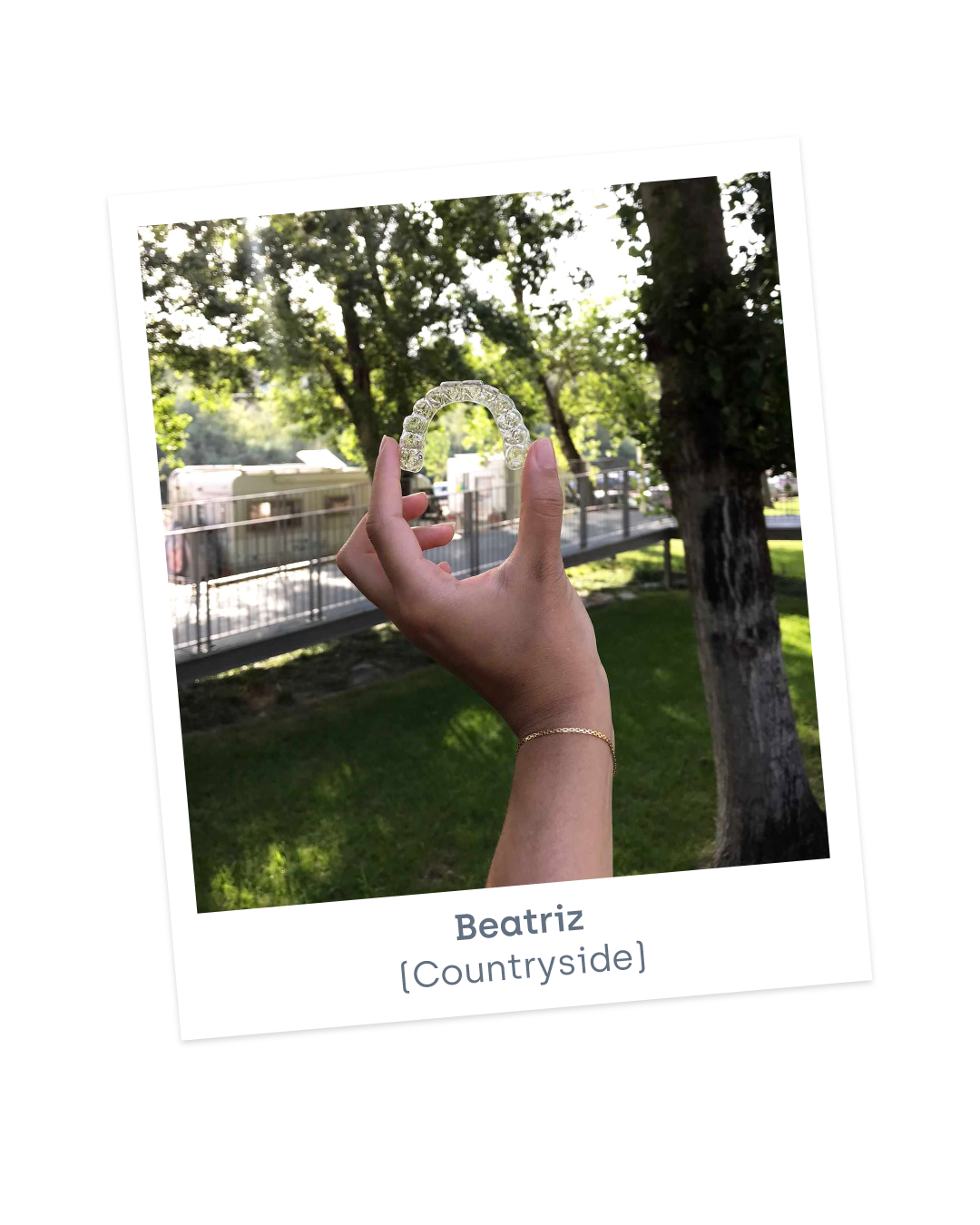 "I enjoy short getaways to the countryside and what's great about aligners is that they require minimal effort or accessories while I'm on the road, everything easily fits into my purse!"
– Beatriz in the countryside
…our team loves to travel. But the same goes for our community!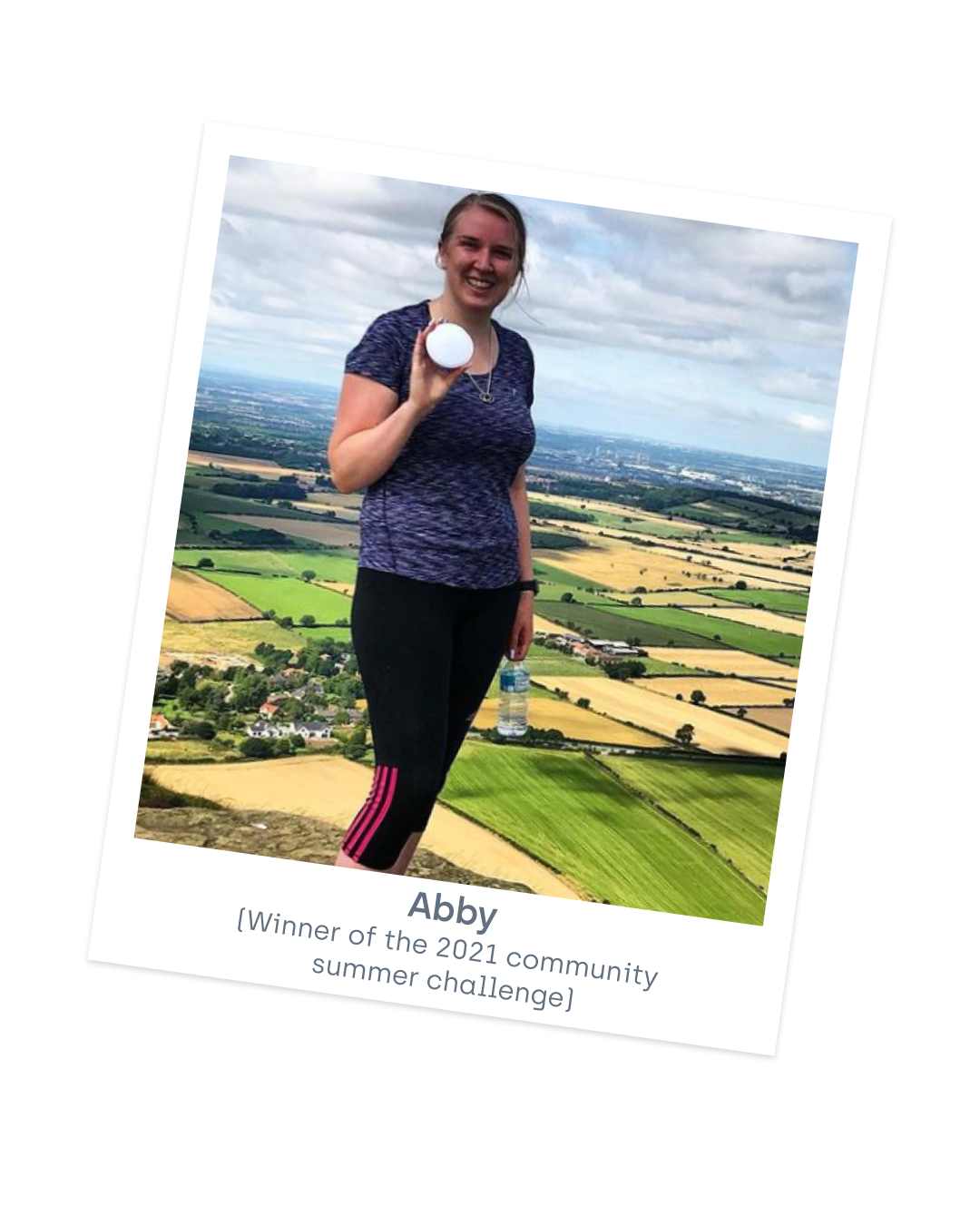 "Taking @straightteethdirect clear aligners to new heights ⛰
Yesterday we climbed up Roseberry Topping! It was hard work 🥴 but we made it and here I am at the top with my aligners still in and holding my aligner case 😁 which felt like we reached the top of the world 🌍 #alignersoutandabout "
Abby – winner of the 2021 community summer challenge
To sum it up…travelling with aligners is not hard. Don't stress!
And don't forget…you're on holiday: enjoy yourself!
Final thoughts: If you find yourself wearing your aligners less than 22h a day because you're trying lots of new food and drinks, don't worry. This won't ruin your treatment and it certainly shouldn't ruin your holiday. Just wear this set of aligners for a few extra days before switching to the next set. This  will ensure your teeth are properly stabilised in their new position and ready for the next treatment stage.
With all this information in your bag, you should now feel confident about travelling with aligners. Ready to set out on your own remote teeth straightening journey? Complete your free e-consultation to find out if you're suitable!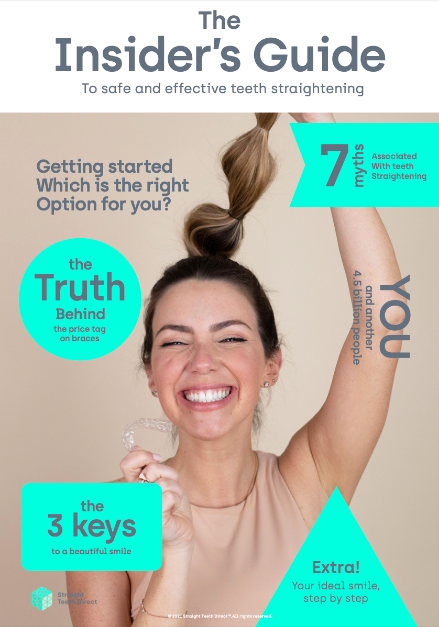 Still thinking about it?
Fill in your email to receive
your free guide!