Straightening teeth before getting a missing tooth replaced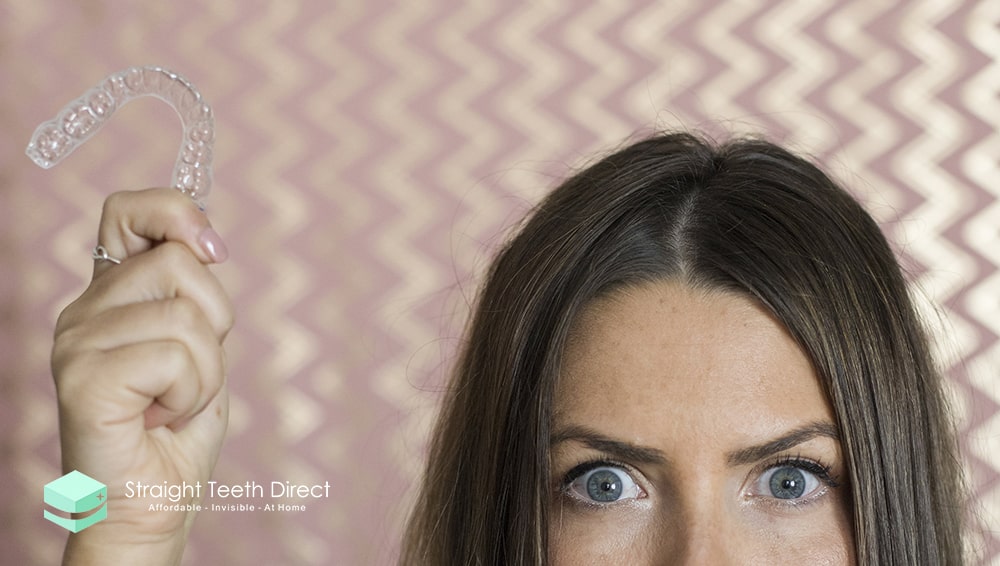 1 out of 3 adults have at least one missing tooth. Sometimes when we are younger we don't take the time to look after our smiles, too many sugary drinks and snacks often result in problems with back teeth and it's very common for an adult to have lost at least one tooth. Often when you smile widely the missing tooth space can can be visible.
One or multiple missing teeth can just be one of the things that bothers you about your smile. It could also be the fact the teeth are crooked and chipped as well.
This starts to become more of a concern as we want to have a nice smile, but can seem overwhelming when you think about all the dental work you think you need. The usual questions arise, how much will it cost, how long will it take, and how much time do I need to spend at the dentist?
#1 Where to start with a smile makeover without breaking the bank
1.Planning and budget
So you know there are a few things you may need, including straightening, whitening, bonding, white fillings and implants too, to then give you back the full straight smile you had when you were younger or wish you always had.
Replacing a missing tooth, especially if it's visible when you smile can do a lot to restore your smile, make you look younger and boost your self-confidence.
The problem then becomes budget – if teeth straightening costs £3500-£5000, and an implant costs £1500-£3000, then you have already had to commit many thousands before even looking at whitening and cosmetic bonding.
2. Interdisciplinary dentistry
Dentistry is composed of several disciplines:
Orthodontics: Teeth straightening
Periodontics: Restoring gum Health
Prosthodontics & Implantology: Restoring missing/broken teeth.
Endodontics: Treating tooth nerve infections and pain.
Oral Surgery: Removing teeth/infections & bone augmentation procedures
There are specialists available in each field but for the best smile you want the most modern approach – this is called Interdisciplinary dentistry – a treatment involving the best of each discipline to give you the best smile possible by combining for example teeth straightening (orthodontics), gum level improvement (periodontics), tooth shape enhancement by fixing chipped edges (prosthodontics), and replacing a missing tooth (implantology)
Luckily with Straight Teeth Direct™ you don't have to choose either or. You can have it all.
Straight Teeth Direct™ means you know the cost of the aligners to straighten your teeth (and can save a good 50% compared with other orthodontic options), and you can choose a plan which widens your whole arch to enable the other teeth to be in the right positions so you can then get an implant to fit.
#2 The process of straightening teeth and getting lost ones replaced
So you want to replace your missing teeth but you don't want the new tooth in the wrong place.
1. Missing tooth replacement journey
You should think of this process in steps in this order:
Step 1: Get
dentally healthy
– get any fillings, gum disease treatments needed first to make sure the teeth and gums are healthy
Step 2: Plan the end goal and get your smile simulation – make sure you communicate your goal of replacing your missing tooth when submitting your smile diagnostic.
Once you have seen how your new smile can look and planned your new straight smile talk with your dentist about your tooth replacement options.
Step 3: Once you have decided the right option the next step is to straighten your teeth – get the teeth moved into position using aligners according to the simulation agreed which takes into account the tooth replacement choice you made.
Once the teeth are straight, get your tooth replaced using your choice with your dentist, then get the chipped tooth edges fixed as well.
Don't forget to have
retainers
that fit over all your new teeth to hold your new smile into its final position.
2. 4 solutions to replace a missing tooth
You can replace missing teeth in different ways; let's look at the options for replacing a single tooth.
Implant – an artificial tooth root placed into the jaw to replace the missing root, so a new crown can be placed on top, this remains fixed in the mouth at night.
Fixed bridge – the teeth on one or both sides are cut down to be smaller so a crown can be attached over it which has an extra tooth bonded to it, this remains fixed in the mouth at night.
Adhesive bridge – a replacement tooth is glued / bonded to the neighbouring tooth, this remains fixed in the mouth at night.
Denture – a replacement tooth is placed on a plate to be worn to replace the missing tooth. This is removed at night.
#3 Can braces remove the gap of missing teeth?
If you are missing a full tooth and there is a full tooth space then the best solution is to straighten all the other teeth and then have the missing tooth replaced. Aligners are good for closing spaces between teeth, not closing spaces because of missing teeth.
If however you are missing a lower front incisor or had it removed for example because your teeth are so crowded and there is only a half tooth space or less, than yes aligners are good for straightening the surrounding teeth and helping to close the spaces. We have users worldwide who are using Straight Teeth Direct™ aligners with the help of their local dentist who is doing the dental health treatments and restorative treatments to improve their smile as part of an interdisciplinary solution. This means that for your budget you get the best smile possible.
#4 The benefits of clear aligners for straightening teeth when there is a missing tooth
When choosing to straighten your teeth before getting the missing teeth replaced you can choose different options. You can choose fixed braces or aligners.
Fixed braces are great for complex cases but are uncomfortable to wear, eating is difficult and socially they are awkward.
Aligners are hygienic and if they are suitable for your tooth movement goals then they make straightening hygienic and socially acceptable. Aligners can even be specially designed sometimes to have a replacement tooth in the aligner! This means that while straightening your teeth you can still look like you have a full smile!
Aligners can also be precisely programmed to allow fine movements on some teeth and no movements on other teeth, making sure that you can be ready for your implants or adhesive bridges which require more detail.
Overall improving your smile doesn't have to mean hours and hours at the dentist.
With Straight Teeth Direct™ and your progressive trusted local dentist you can get the solution you always wanted, get your teeth straightened first and your missing tooth replaced at the end, at a price you can afford.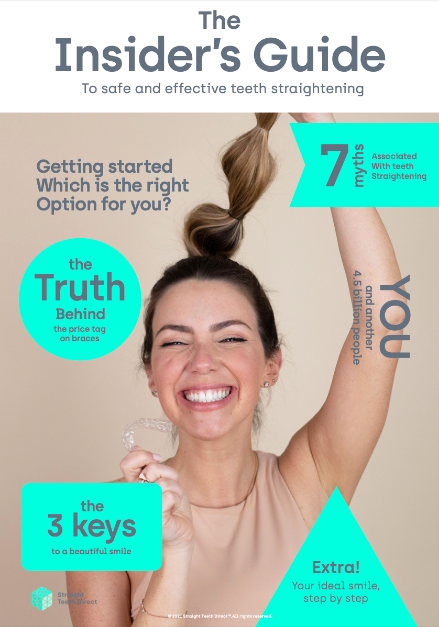 Still thinking about it?
Fill in your email to receive
your free guide!