Why Straight Teeth Direct does not offer Night Aligners?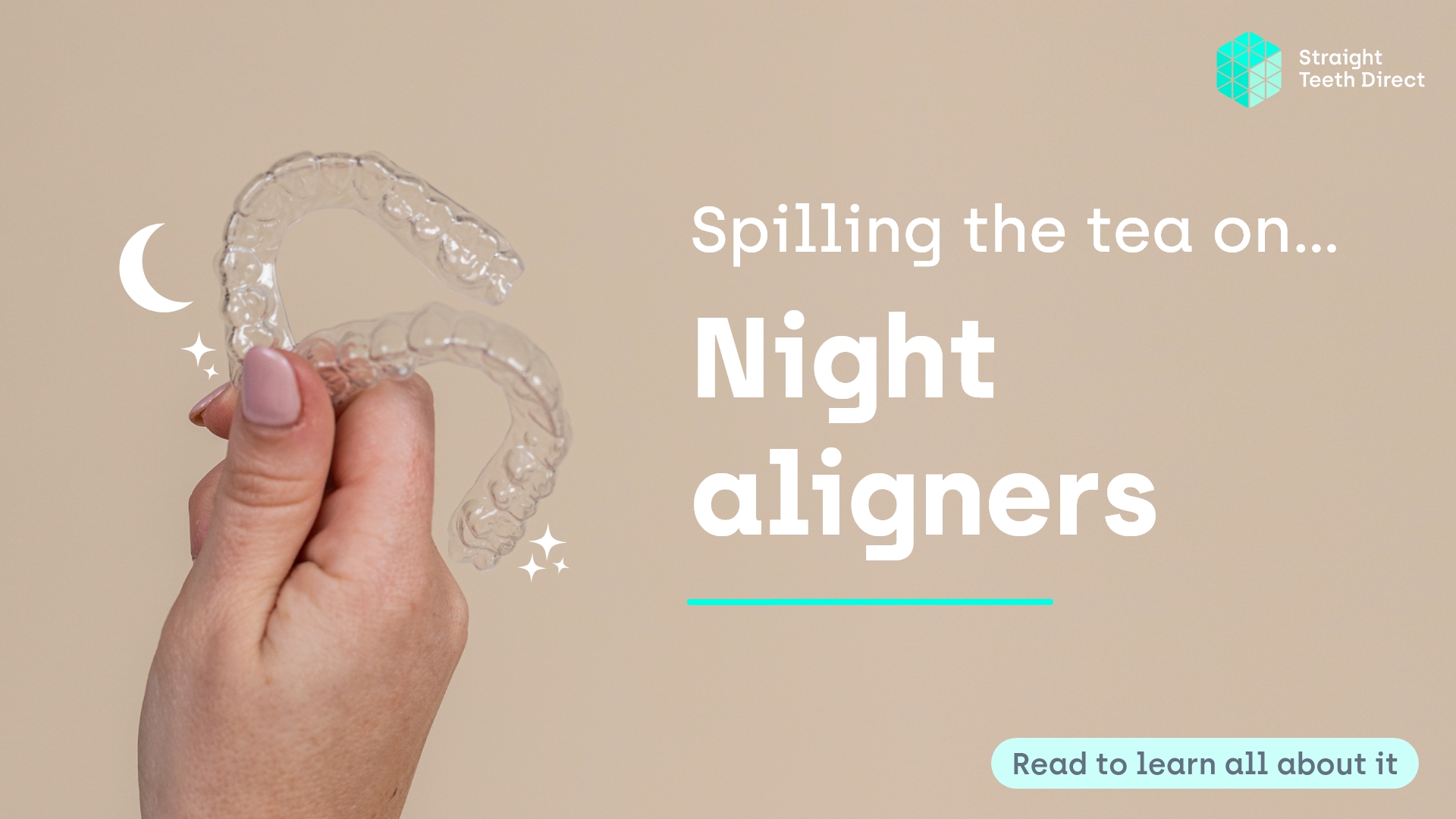 Key points
Night aligners

are the same as day aligners but instead are worn for 10 hours a day contrasting with the 22 hours minimum normally required for clear aligners to work.

Wearing aligners only at night means your teeth have about 14h during which they are exposed to relapse. This makes it very difficult to predict tooth movement and results.

Nighttime aligners may work for some cases and not all cases of teeth straightening.

There is little to no scientific evidence on the safety and efficacy of nighttime aligners.
Night Aligners: Are they too good to be true?
As attractive as "only night aligner wear" sounds, when looking into the science of orthodontics,  the biological threshold for tooth movement is forces acting on the teeth for a minimum of 16 consecutive hours a day. This is the figure used when forces are generated through fixed braces or special appliances with springs inside them.
Invisible aligners do not have any external power so more time is needed, in this case 22 hours is required for force transmission. Unless aligners are worn for that amount of time the teeth won't move fully and won't have time to settle into the new position.
By wearing aligners only when you're asleep (and for many people let's be honest that's less than 10 hours a day!) the tooth movement process is constantly interrupted, meaning your teeth never get enough time to move and settle in their straighter position ahead of the next tray.
What are the risks of night only clear aligners?
There are three main risks and drawbacks of using nighttime aligners: relapse, unpredictability, and extra fees for additional aligners.
Relapse

:

There is no evidence that night time aligners work, with no time to settle there is a high chance of teeth moving back during the day. 

Unpredictability

:

Night aligners are worn less than half the usual recommended daily duration. Not only does this delay the treatment process, it also makes it virtually impossible to track and predict tooth movement progress.

Incomplete tooth movement and extra fees

: If expectations are not met – which is likely given the fact teeth may not track as planned – your chosen night aligners company will probably charge you extra fees for additional aligners, or ask you to wear your current aligners for longer periods of time (which defeats the original purpose of only nightly wear).
22 hour clear aligners rule
Every hour you don't wear your aligners increases chances of a tooth position relapse. So, how long should you wear your aligners per day? The short answer is 22 hours, and here's why:
You can't rush tooth movement. Your teeth, the surrounding tissue and bone require constant targeted pressure to change position.

Unless they are held in place by aligners or retainers, teeth will naturally want to shift back. They need time to settle in their new position.

Wearing aligners for 22 hours a day ensures teeth are gently moved into the planned alignment, while allowing the surrounding tissue and bone to adapt and keep them straight.
What's the consequence of not wearing aligners for the recommended duration? Insufficient force activation and incomplete tooth movement. In short: not your desired smile result! This is why wearing nighttime only aligners for around 10 hours gives teeth less time to achieve movement, making it unlikely for tooth alignment to be fully completed.
Daytime Vs nighttime aligners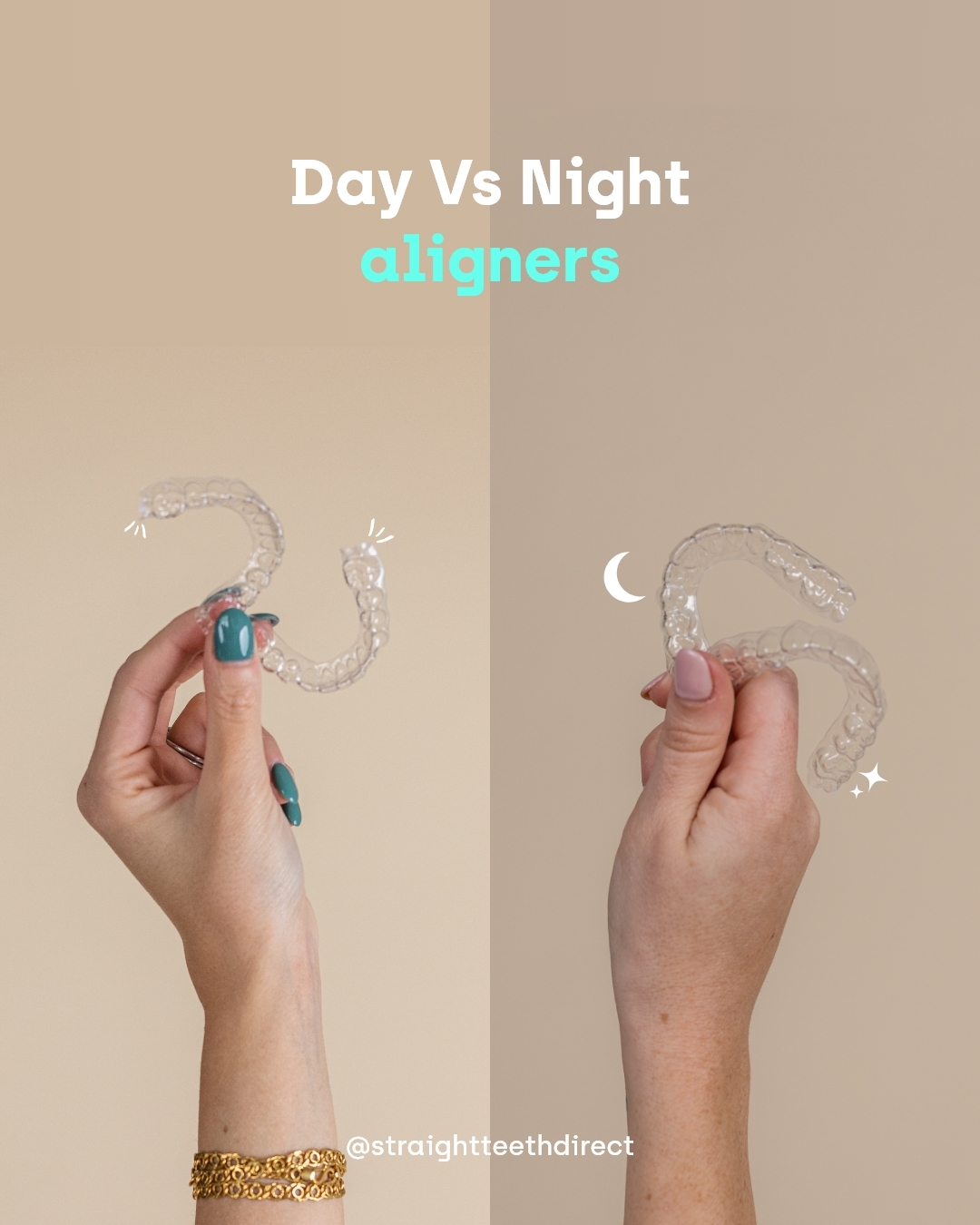 | | | |
| --- | --- | --- |
| | Daytime clear aligners | Nighttime aligners |
| Daily use | 22 hours | 10 hours |
| Predictability | Very predictable | Less predictable |
| Treatment duration | 5-9 months | 10-12 months |
| Price | £ | ££ |
| Cases accepted | Mild or moderate | Mild |
Night aligners FAQs
Do night aligners really work?
Even though you might find teeth straightening reviews online with night aligners that show this method works, these are usually very mild cases that do not need much work. There is no scientific evidence to support the idea that night aligners work as well as other trustworthy procedures with daily aligners or braces. It is each person's choice to decide which method they want to trust with their teeth and smile.
Do nighttime aligners hurt?
Night aligners can hurt. You will most likely experience discomfort and soreness, as you will wear them for less time than regular clear aligners. The material is harder on your teeth, amplifying unpleasant sensations. The pain you feel may or may not disappear. This is highly subjective and specific to each person's predisposition to pain.
Do night aligners cost more?
As a rule of thumb, night aligners are more expensive than regular clear aligners. Some options from top brands cost up to £1000 more than the Straight Teeth Direct clear aligners.
Can I switch from night only clear aligners to day time aligners mid-treatment?
Yes, it is possible to switch to day time clear aligners mid-treatment! However, it is essential to re-evaluate your individual case and tooth position in order to ensure a smooth and safe transition. You will need to take new impressions/a new 3D scan of your teeth, and will receive a new, specially tailored treatment plan. You will then need to wear your new aligners for 22h a day.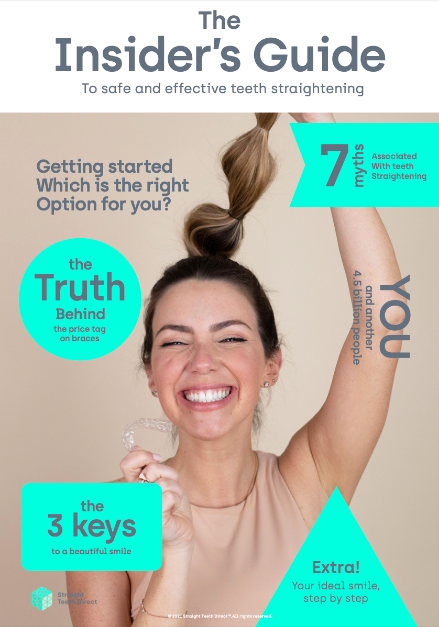 Still thinking about it?
Fill in your email to receive
your free guide!