Aligner planning : what happens after the impression stage in clinic vs. with Straight Teeth Direct™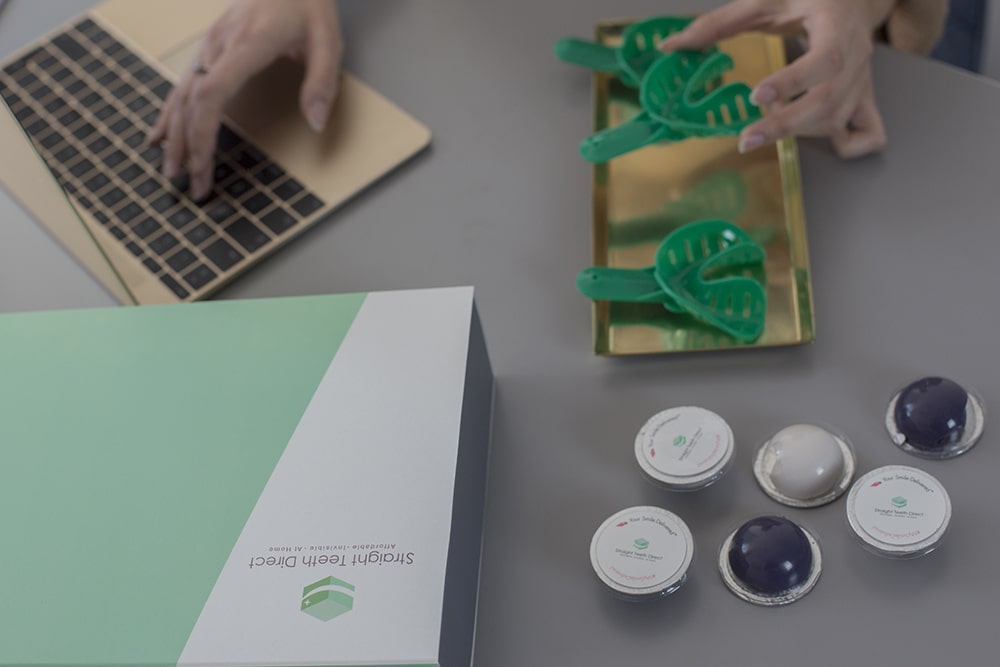 Wondering how it all works and what the difference is between starting aligners in a clinic vs. with Straight Teeth Direct™ at home? The stage after the impressions is where the magic happens and here you'll learn more about what goes on backstage during aligner planning.
#1 Teeth moulding for aligner planning:
Whether you opt for the in clinic or remote model, you'll always need to start with impressions of your teeth.
Impressions are detailed imprints which capture your teeth shape, size and position accurately. These can be done by a digital scan or by a conventional impression then 3D scanned. Either way, they are digitised to provide the lab with the 3D shape of your teeth and jaws, so they can begin to work on your case.
To order your SmileBox™ – impression kit – from Straight Teeth Direct™ you'll first be asked to send photos of your teeth and fill out a simple and quick dental questionnaire so that your info can be professionally reviewed and you can be sure to be suitable for aligner therapy at home before ordering anything. Once your results are available (generally on the same day), if you're an eligible case you'll be able to order the SmileBox™ – impression kit – through your app account directly.
If you aren't suitable you will be told so you don't have to pay any money to find out your options.
#2 Aligner planning in a clinic
Once the dentist takes your impressions and photographs, he or she will then write on a lab sheet (a prescription) your info and then posts it to the laboratory who will work on your case. They also email the photos sometimes to help the lab understand more.
Aligner planning kicks off: digital smile design at the lab
The lab will then create a record in their system with your info and then start to work on your case. They then pour and scan the impressions, make digital versions of your teeth and assign a technician to your case.
The technician will analyse and design your case. They will separate the teeth on the model manually by drawing around the teeth, so that they become individual editable elements. Then the technician uses their judgement and by reading the lab sheet prepared by your dentist see what they need to do for the smile, to move the teeth.
If they don't have access to the patient's photos they will use their judgement.
The technician moves the teeth to where they think the smile will look nicer, and they then look at where the teeth are touching and thus where there needs to be IPR (filling between the teeth to create space).
Based off that, that they create a template showing the dentist where the IPR is needed. They then estimate the number of aligners and send the digital simulation to the dentist.
Phase two: your time to see
Once received by the clinic, the dentist will check the simulation and ask the front desk team to call the patient back into the clinic to view the simulation. If the patient isn't satisfied with the predicted results, the dentist phones or emails the lab requesting some changes. Once the patient is happy the aligners can be ordered and made at the lab before being shipped to the clinic for the patient to pick up.
#2 Aligner planning with Straight Teeth Direct™
With Straight Teeth Direct™ your impressions are picked up by DHL using your prepaid return label included in your box. This can be done conveniently from work or home.
Your parcel will go straight to the laboratory and you'll get a message to let you know they've been received and logged into the system at the
Lab. This notifies our central system so the case can be tracked and you are kept in the loop.
Aligner planning phase 1: 3D scanning
They'll be put into a 3D scanning machine to create your 3D digital models
This then digitally creates the digitised models for your case and they are then digitally analysed and measured according to our unique criteria and protocols.
3D simulation and tooth movement programing
Based on your unique smile photos, jaw size, teeth sizes and desires written in your Smile Diagnostic, your 3D digital models are used to program your treatment and create a simulation of your predicted new smile. This is done in conjunction with your assigned orthodontist to ensure the best possible outcome for you, and all designed to improve your smile with no drilling/filing between the teeth (IPR).
Personalised Straight Teeth Plan
Your orthodontist then puts together your plan which will be shared with you through your app account.
Using the video simulation, they are able to help explain to you visually exactly how your teeth will move.
They will prepare a detailed report within which you will see a detailed arch measurement which shows your teeth sizes, arch shape and then using the specially designed case criteria exactly how your new smile could look from all the different angles: front on, side views, top down. This means you understand exactly what's possible from multiple angles leaving nothing to surprise.
#3 Aligner planning timeline with Straight Teeth Direct™
1. How long does the aligner planning stage take with Straight Teeth Direct™?
This whole process from the impressions received and logged at the lab to the plan being ready and shared with you might even only take as little as 15 working days, but this varies depending on your individual case.
Here, it's important to understand it requires the work of multiple dental professionals including technicians at the lab and your assigned dentist because you don't just get a video simulation you get a full report, you also get a detailed explanation of what will change and what won't change including specific elements to be aware of in your case.
The goal is to provide the easiest most transparent solution for you to help you makeup your own mind independently.
Your plan is also valid for several months so there is no pressure to go ahead straight away if you prefer to wait.
2. How do you know what you're getting? Consent and aligner production
Once you've reviewed your detailed plan and 3D smile simulation video you can ask all your questions and then e-sign your plan which acts as your results agreement.
You simply select your payment plan on your app account and your aligners will be automatically ordered for you. The lab will be immediately notified of your order and immediately start producing your first sets of aligners; you can also check in with our team at any time through your app account to find out the ETA of your first aligners. Once your package is out for delivery you'll be notified with a tracking number.
The first 2 months of aligners will be sent to you with your starter kit to make sure they fit properly and your dentist can check by asking for specific photos of your teeth and that's a chance also for you to ask questions about your aligners and get the reassurance you need at this stage.
You will receive continued supervision during your treatment and through our unique AIM (aligner intelligent monitoring) system your progress will be closely tele- monitored.
Why together is better: with Straight Teeth Direct™ you have one immediate advantage, through the platform, there is a controlled collaboration between you, your orthodontist and the dental lab. All of this places your smile at the centre of it all so they can all work together for better.
With this remote approach through the unique teledentistry platform, you can also ask questions whenever you want and get fast answers as opposed to having to book an appointment each time to visit your dentist or orthodontist to discuss your case.
Not forgetting: With this high tech approach, all your records and conversations are safely stored in one place so there is nothing to forget, just the guided step by step journey to improve your smile without any time confusion or pressure.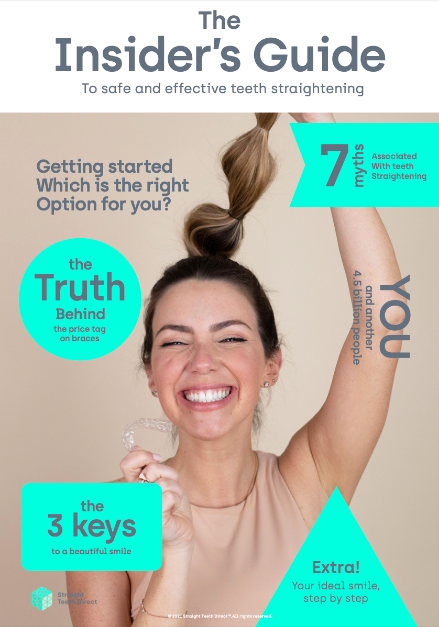 Still thinking about it?
Fill in your email to receive
your free guide!